In April we received incredible news that the Aviva Community Fund had chosen to support our Vitiligo Bear Project.
Over the past 40 days our crowdfunding campaign attracted 159 pledges, raising an incredible £4,418, smashing our original target! Not only have we help secure the funds we need for the project, we have helped raise awareness of the condition too.
What is the bear project?
We know that being diagnosed with vitiligo can be life changing and really tough. For children, it can be even more difficult. Currently there are so few toys out there designed with kids who have vitiligo in mind.
The project is to design and manufacture a teddy bear that children with vitiligo can identify with. The teddy's fur will mirror the patches that vitiligo causes in skin.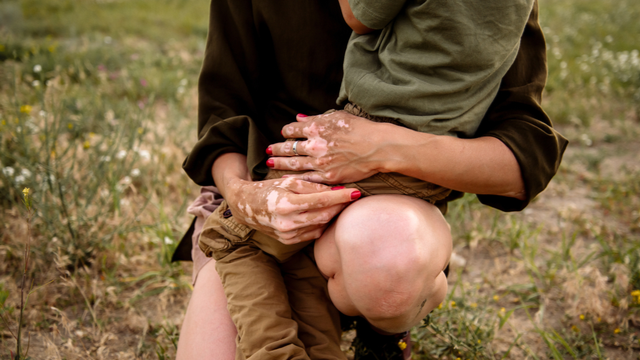 Why is the bear project important?
Manufacturing this toy and making it available will help to:
normalise the condition for young people
provide an educational tool when a child explains their vitiligo at school or to friends and family
offer comfort to a newly diagnosed child
The money we raise here will be used for the design and production costs of an initial batch of bears. The bears will be made available via our (soon to be launched) online shop and then money raised from the distribution of these will allow us to make more bears available and help support the work we do.
There has never been anything like this for children with vitiligo.
How did the Aviva Community Fund help?
Aviva gives all it's employees £25 to pledge to a project – £1,300 of the funds we raised came from these employees. In addition, Aviva gave us the platform on which to crowdfund and mentored us through the process.
What happens next?
We're working with our chosen bear manufacturer to finalise the design of the bear and then go into production. The Bear will be available to purchase on our online shop which we hope to launch over the next couple of months.