Our Support Services
Our friendly team of volunteers all have experience of how vitiligo can affect your life. Whilst our services should never replace the advice of medical professionals, we are here to listen and signpost you to accurate information about the condition.
Vitiligo Society UK Facebook Forums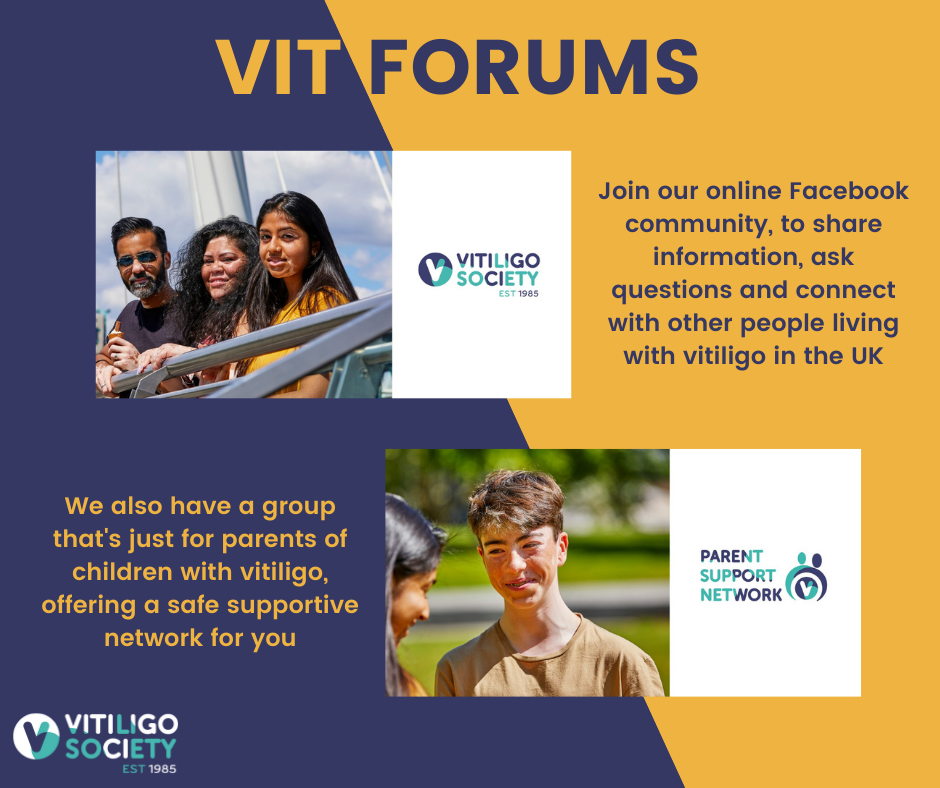 We believe in the power of creating a safe, supportive community. Our facebook forums exist to provide a safe space for people living with vitiligo to share stories, information, experience and ask any questions you might have. Our team of volunteers work hard to moderate these forums so that you are kept safe from miss-information and abuse.
Click HERE to join our Facebook group
Click HERE to join our Parent Support Facebook group
Please note that in order to be accepted into a group you need to provide all the request information in your application to join.
The VitLife – Our Online Community Magazine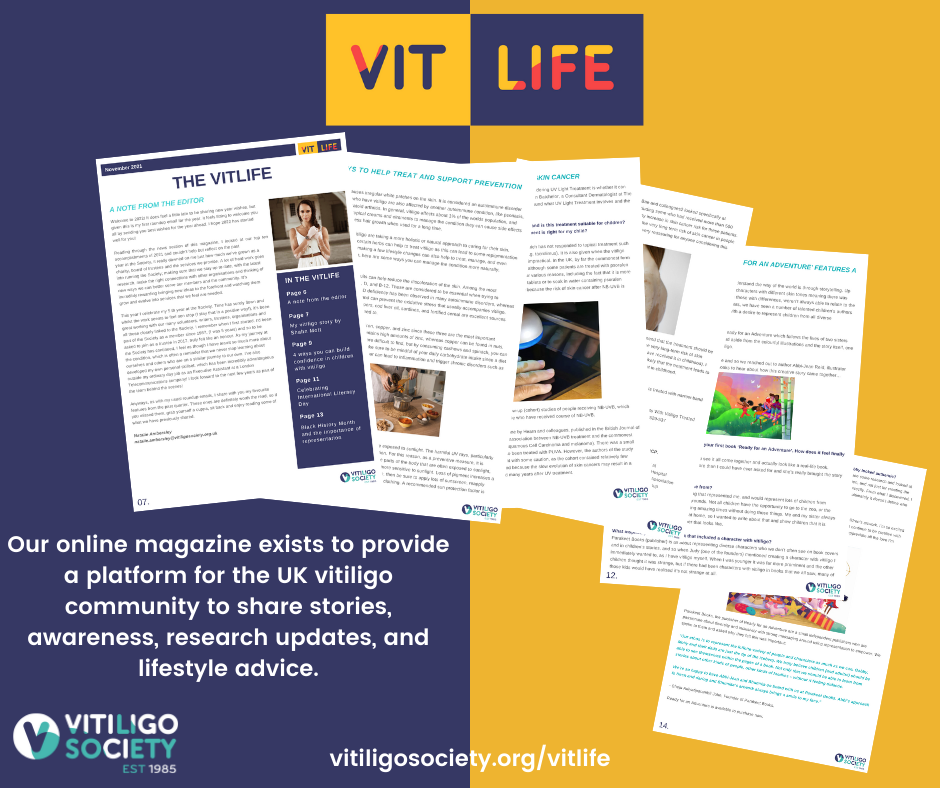 The VitLife is our online Member's magazine. Our members donate to the Society each year and enable us to exist and support people living with vitiligo. Our magazine is the way we thank our members for their generosity. We publish articles every month aimed at educating, creating awareness and helping people to live well with vitiligo. Non-members can access 2 free articles a month, and are welcome to JOIN our Society as members to help support our work. Members can log in, save their favourite articles, and comment or ask questions about articles.
VitSupport Service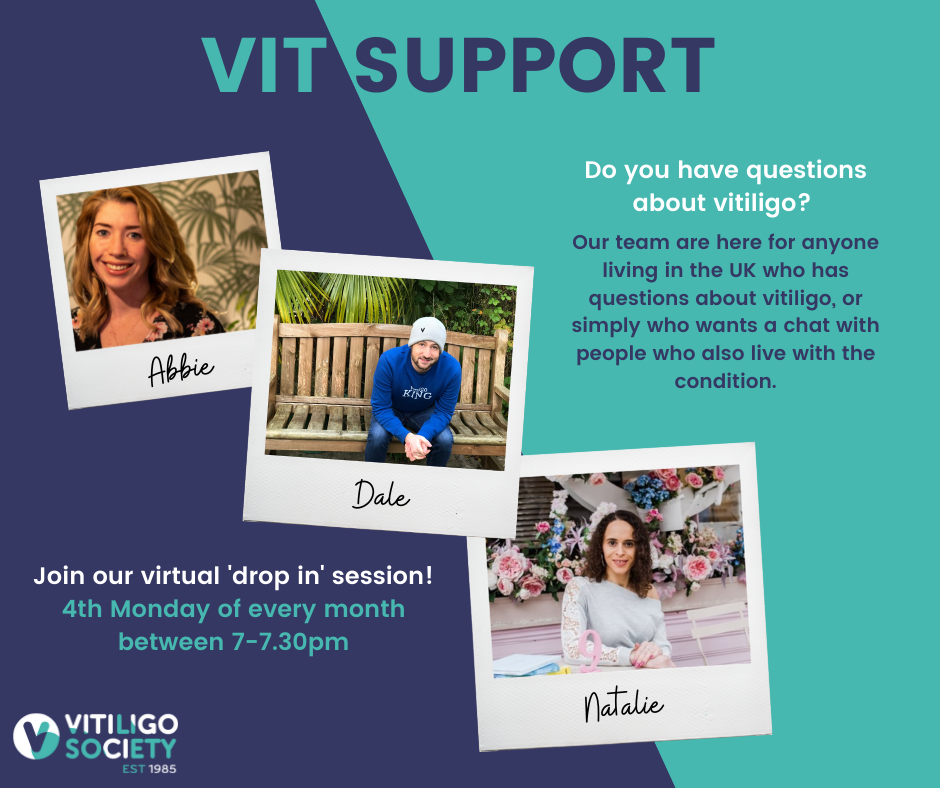 Beginning from April 2022 our new VitSupport Service gives anyone in the UK the opportunity to talk to our team. We'll be hosting an online chat and drop-in sessions where you can drop in, say hello to our team and others on the call and ask any questions you might have about vitiligo. We are volunteers and we won't have all the answers – but what we do have is lived experience of vitiligo and an understanding of what you're going through.
Register and get the Zoom link below:
Register HERE for VitSupport Virtual Drop In Session: Monday 27th June 2022, 7pm-7.30pm
Parent Support Network
The Parent Support Network will be led by a small group of volunteers all of whom have children with vitiligo, or have personal experience of growing up with the condition.
The network exists to provide support for those who have questions or concerns relating to vitiligo, and to create a space where parents can feel supported and listened to.
Alongside the Facebook group listed at the top of this page, the group also host online events to give parents, carers and children a chance to say hello virtually. The events are free to join, you can register below:
Register HERE for Saturday 11th June, 5pm-6pm
VitChat Live Chat Service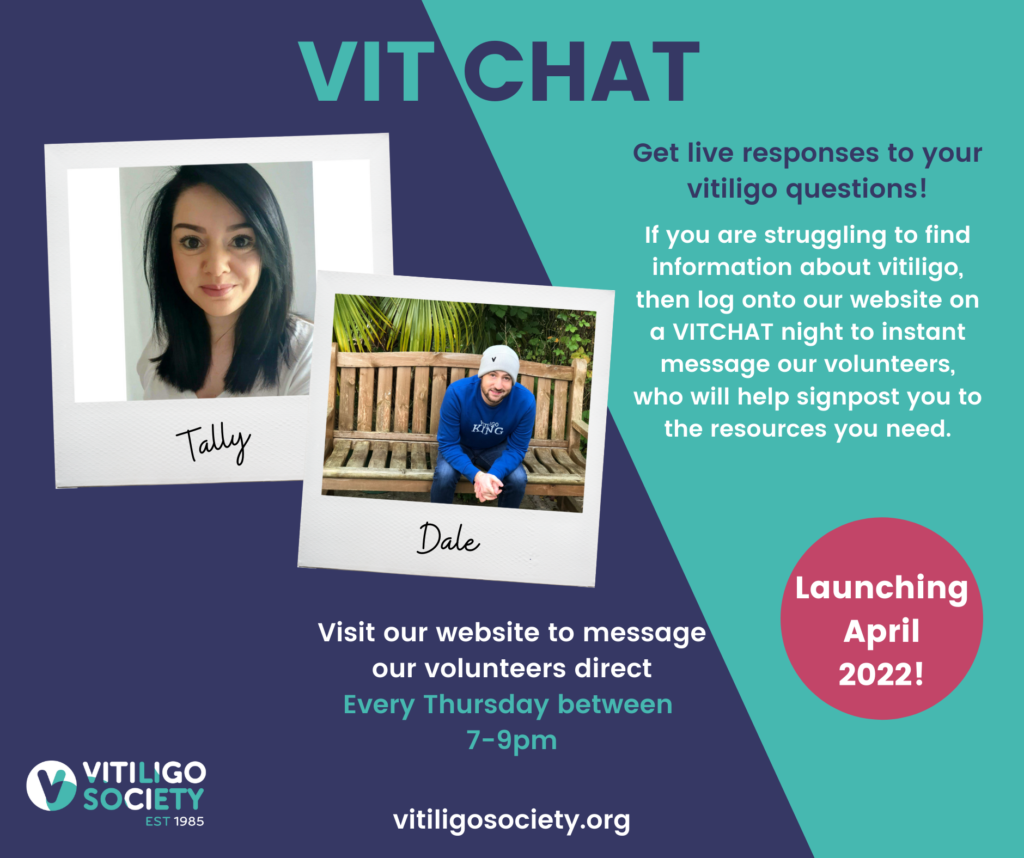 Launching in April 2022, our volunteer team will be available live to chat to. Our volunteers all have lived experience of vitiligo, so they understand how it feels to be diagnosed with the condition. They will be available for you to message and to help signpost you to information such as vitiligo treatments, diet tips, camouflage or useful articles. Our volunteers are not trained medical professionals so they cannot advise on what treatment is right for you, but they can help you find information on the different options available for people living in the UK.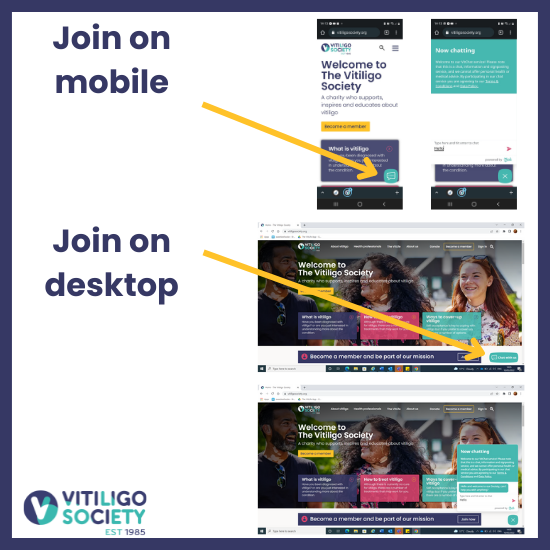 Our e-Newsletter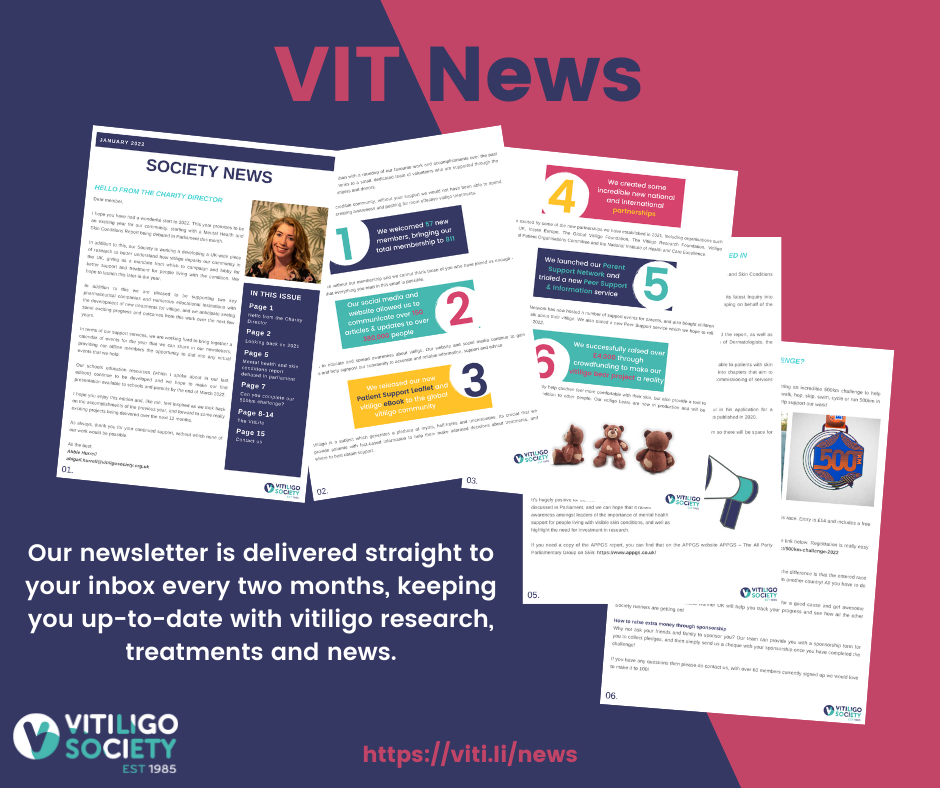 Did you know that we have a brilliant digital newsletter that brings you a roundup of all the vitiligo news, events and stories from the UK around the globe?
Sign up HERE for to subscribe to our mailing list to receive this and all our other vitiligo-related communications!