5 ways to build confidence when you live with vitiligo
My personal journey with confidence has been long and hard. I've struggled with confidence for as long as I can remember, and largely because of my vitiligo, which spread rapidly after I got it at the age of seven. Perhaps the hardest time of year for my confidence is summer, with long, hot days that call for exposed skin and swimsuits.
For many, the idea of summer conjures memories of pool days, sunshine, and tropical vacations. For me, the idea of summer brings flashbacks of crippling anxiety, mental breakdowns, and devastatingly low self-esteem. While my friends were picking out bikinis, I was typically picking excuses to avoid the pool. The idea of my spotted skin being seen by others was enough to have me crying on the floor some days.
After living with vitiligo for more than two decades, I've learned a thing or two about confidence – and what tears it down. I believe that confidence is something that must be built – and often takes practice over time. Here are a few practical ways that I work to build confidence in my own life, and actions you can take today to build confidence in your own.
Take small steps towards facing your fears
For years, I was scared to leave my house without wearing a full face of makeup and tanner head to toe to cover my vitiligo. The idea of being seen without either was anxiety-inducing. And yet, one evening, I found myself at the store for a last-minute errand without makeup on. Despite feeling anxious for the five minutes I was in the store, I was proud of myself for facing my fear. A month later, I went to the gym without makeup, and today, I've stopped wearing tanner completely. I'm still learning to love my skin, but taking one small step towards facing my fears gave me confidence I never thought was possible. How is your vitiligo holding you back? What small step you can take to facing your fear today?
Build positive thinking habits
The mind is powerful. They say that "you are what you think," and I've found this to be true in my own life. The negative thoughts that play on repeat in my mind can tear down my confidence. It's important to not only recognize these negative thoughts and re-wire my thinking, but also build habits of positive thinking. I do this by keeping a gratitude journal, also commonly known as a happiness journal. Each morning, I write down three things I'm grateful for in my life. The items on my list are typically small joys – for example, a sunny day the park, a kind gesture from my husband, or time spent with a good friend. The exercise is simple, but the benefits are lifechanging. Over time, I've taught my brain to actively look for the good in my life. Do you struggle with negative thinking? How can you carve out time for positive thinking once a day?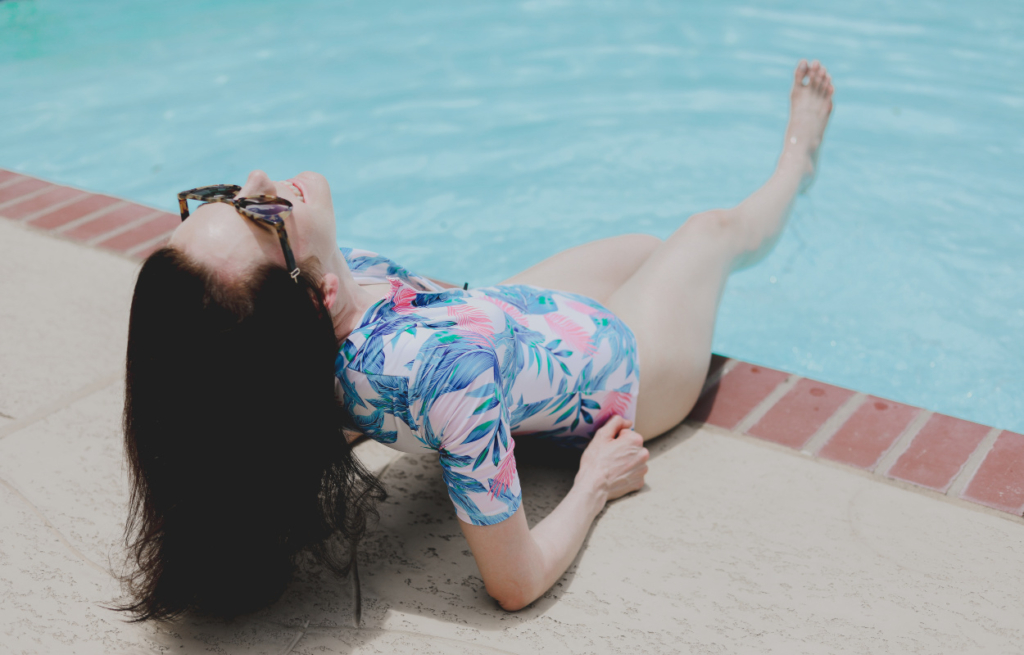 Conquer personal goals
I've always exercised, but rarely regularly – until last year. My husband and I started going to the gym every other day without fail. We did this for three months straight before we missed a single day. The impact on my confidence was huge. Feeling better about my body and tackling a major goal for myself gave me a huge confident boost. I noticed that I also started feeling more confident about my skin as a result. In other words, accomplishing a personal goal, even though it was unrelated to my skin, helped boost my confidence overall. Do you have a personal goal you've been wanting to tackle? No matter the type of goal, boosting confidence in other areas of your life can have unexpected benefits overall.
Surround yourself with body-positive influences
Perhaps one of the most damaging influences on my confidence is comparison. Consuming Instagram or media that worships traditional 'beauty' can be mentally taxing and ultimately emotionally damaging to my confidence. As a result, I actively try to surround myself with body-positive influences. On Instagram, I follow people who look like me – others with vitiligo – and influencers and magazines with self-love messages. I also listen to uplifting lifestyle podcasts. The goal is to fill my feed – and my media choices – with images and messages that support confidence building. What type of media are you consuming today? Can you fill your social feed with more body positive role models?
Rebuild your relationship with your reflection
You know what you look like because of a mirror. And yet, mirrors are most often used to critically evaluate our appearances – for example, applying makeup or putting on clothes. I believe this habit can have a negative effect on confidence. You're looking for "mistakes" and "imperfections" that need to be fixed. When I started working out regularly, the gym I visited had a large wall mirror. Working out in front of the mirror and watching myself love and strengthen my body changed my relationship with my reflection – and boosted my confidence. I started appreciating the way I looked in the mirror, instead of criticizing it. Try writing a positive note on your mirror or giving yourself a compliment every time you see your reflection. Practice this exercise for one week and see what happens to your own confidence.
Credit for all photography used in this article goes to Shawna Simmons