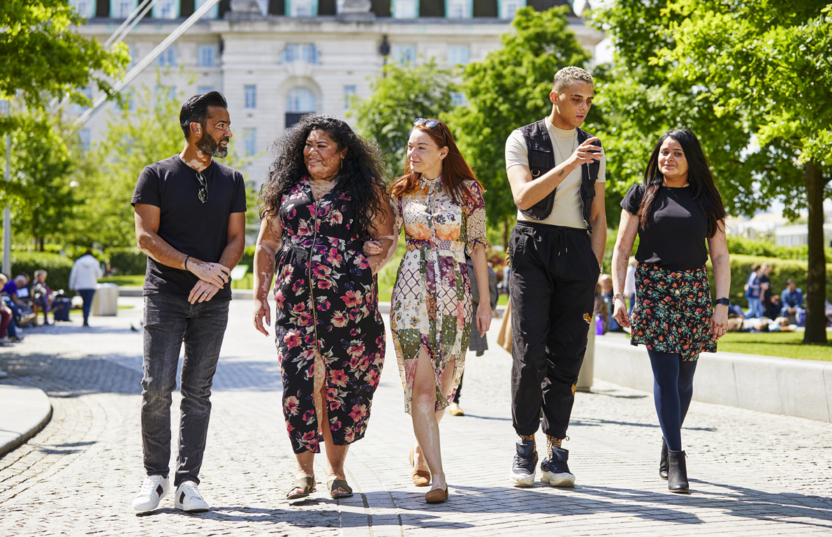 6 ways to become a part of the vitiligo community
If you live with vitiligo, you aren't alone. In fact, 1% of the world's population lives with vitiligo – more than 78 million people around the globe.
There's power in knowing you aren't alone – I know this from personal experience. After getting vitiligo at the age of seven, I grew up feeling largely misunderstood and lonely. It wasn't until I was in my early twenties that I first spoke to another person with vitiligo. That conversation was life changing and I remember tears of joy and relief streaming down my cheeks as I realised I wasn't alone in this journey.
Vitiligo is a condition that's hard to wrap your mind around. It's hard to imagine what its like to have your skin – something that has meaning in identity, race and beauty – change on you. That emotional and mental fall out can be devastating.
The good news is that despite vitiligo being uncommon, there are millions of other people with the condition and a thriving vitiligo community online and in physical locations around the globe. You don't have to be alone in your journey with vitiligo. Here's how you can get connected.
Join a vitiligo Facebook group
Perhaps one of the easiest ways to find community is virtually. Facebook groups have become a simple, accessible way to connect with others around the world. By searching "vitiligo" in Facebook's groups, you'll come across a number of communities dedicated to supporting, educating and connecting those living with the condition. Some of the biggest and most well-known Facebook groups are Vitiligo Experience and Support, Official Vitiligo Support Group and Vitiligo Pride. Members use the pages to introduce themselves, ask questions about their skin and get product recommendations from peers. The Vitiligo Society also has two Facebook groups – the Vitiligo Society and the Vitiligo Parent Support Network (PSN) group.
Follow a vitiligo Instagram page
Vitiligo is a visibly apparent condition – and as a visually-oriented platform, Instagram has become a hot spot for vitiligo communities. Instagram pages build pride, spread awareness and help share stories and information about the condition. Pages like the Vitiligo Research Foundation, Living Dappled and the Vitiligo Society provide education and support. You can also follow models with vitiligo like Winnie Harlow and April Star, and perhaps the most well-known dog with vitiligo, White Eyed Rowdy.
Participate in a vitiligo awareness project
Ready to share your story? Getting involved in a vitiligo awareness project is a great way to meet others with the condition while also doing your part to spread the word about vitiligo. Instagram pages like Vitiligo Beauty and World Vitiligo repost submitted photography of those with vitiligo. The Pigment Painter shares stories and drawings of those who submit images. And while photographers like Elizabeth Van Aalderen and Brock Elbank have done series on those with vitiligo in the past, there's always a new series around the corner. Keep your eye out for interesting projects that you can be a part of.
Join a vitiligo support group
If you're looking to connect in-person with local communities, support groups are a great resource. Support groups are often location-based, smaller communities of those living with vitiligo that host several meet ups or meetings each year. Support groups might have guest speakers, host social gatherings or create a space for members to share their stories. Some support groups are built with ties to local hospitals or health centers to create avenues for medical education around the condition. Some of the most prominent supports for vitiligo include VitFriends, Litty Ligo and the Vitiligo Society.
Share your story with vitiligo hashtags
Are you ready to share your story on social media? Posting about your experience with hashtags like #vitiligo, #vitiligobeauty and #vitiligopride not only raise awareness for vitiligo but give others with the condition a simple way to find you. There are countless body positive and vitiligo-specific hashtags in use today. Follow along to give support to others with the condition and use these tags when you're ready to share your own story on social.
Celebrate World Vitiligo Day
Last but not least, one of the most exciting ways to get involved with the vitiligo community is to celebrate World Vitiligo Day, recognized on June 25th each year. World Vitiligo Day was established in 2011 to generate awareness of vitiligo and advocate for research. Today, the event is marked by global, local and virtual celebrations as people living with vitiligo and their advocates and doctors share stories about life with this condition. Wear a vitiligo t-shirt, share your story on social media or host your own celebration to mark this significant day.
How do you find ways to connect with the vitiligo community?