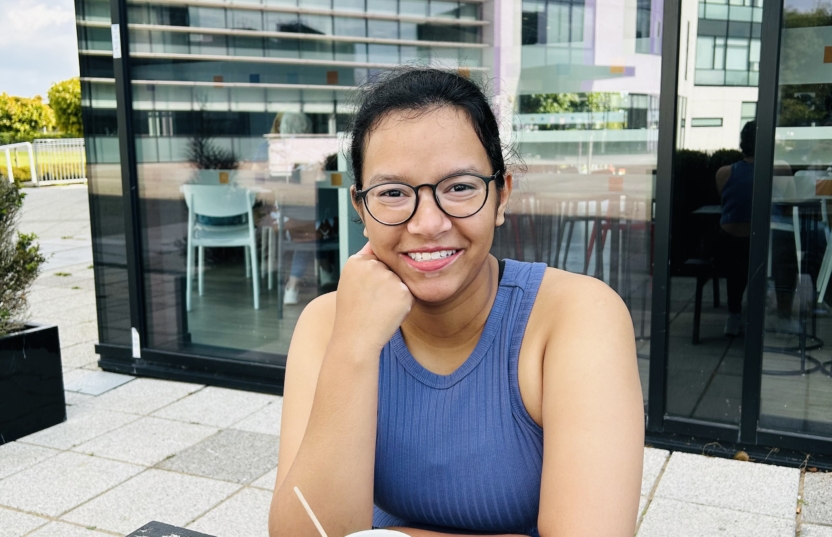 After I was diagnosed with vitiligo, I thought 'Why me', now I say 'This is me".
In 2016, aged 16 years old, Avanti Balki spotted the first signs of vitiligo on her lower lip. It wasn't her who noticed the distinctive white mark that was later confirmed as vitiligo, but rather someone else who had been staring at her skin through curiosity.
"My initial thought was that I'd reacted bad to something or had an allergic reaction to something I'd eaten, so naturally I thought it would clear up within a matter of days, however, little did I know that the mark was never going to disappear and that I was going to be diagnosed with a skin condition that couldn't be cured". Avanti says.
Diagnosis for many of us with vitiligo hasn't been easy. Often, we experience a long wait for an appointment with a Dermatologist and when we do get one, a firm diagnosis is sketchy. This often leads to many of us doing our own research via the internet and reaching out to support groups in search for answers. Avanti says "When my dermatologist told me that I had vitiligo, I was clueless because I'd never heard of the condition before, that's why I didn't know how to react. At the time I was still convinced that it might be a skin allergy and that it would clear up within a few days".
Life-changing is a repeated word we often hear in the community because vitiligo is very much that. It can turn our world upside down, forcing us to form a new relationship with our bodies through learning to accept we are no longer the person we were in the physical sense. Not only do we have to form a new relationship in the form of accepting such a highly visible condition, but worst of all, we have to navigate how the outside world is going to judge us and not just strangers, but family and friends too.
Getting your head around something unexpected that affects your appearance can take some time. Avanti says "Initially the patches didn't bother me as such but over time I started to understand the potential impact it could have on me. As time went on, the patches increased and became more prominent. Every day the only thoughts circling in my mind was, "Will people reject me because of my skin or will I end up being lonely and unable to make friends because of how I look. I questioned what I had done to deserve this'.
Reading Avanti's story and her thoughts around 'what she had done to deserve this', really resonated with me because I recall as a child feeling as though I was being punished for something I'd done in a past life because I looked so different. It took a while to shift the idea that vitiligo was a curse.
Naturally, Avanti's character started to change and she noticed it instantly in her behaviour. She says "I started avoiding public places and family functions because I felt embarrassed. I preferred being by myself. Medicines and ointments seemed like devils. We kept changing doctors as I did not wish to take the treatments they suggested like laser therapy, tattooing, and camouflage makeup to conceal my patches".
Aside from the struggles we face in accepting our 'new appearance', there is the damage vitiligo can cause to our mental health. "I went through a phase of depression and social anxiety. I questioned even the good things that happened to me and felt lost all the time. I remember one incident distinctly to this day. I was in the 12th year of high school and my board exams were approaching. I was already feeling the pressure when a distant relative visited me and added to the stress. That relative stared at me and told my Mum right in front of me that my white patches looked terrible. Her words hurt me a lot and I felt really bad for my parents who had to hear how I was being spoken about. I remember thinking 'How could she say something like that? Comments like that hurt".
It has now been seven years since Avanti was diagnosed and as with many of us, we go through the 'stages' of vitiligo. The confusing and worrying first stages as we navigate understanding the condition, getting to know our body and connecting with support groups and for some of us, the final stage where self-acceptance has happened and we're able to love our skin.
It has often been said that vitiligo is a journey and whilst many of us feel part of a tight-knit and supportive community, the pathway in which vitiligo takes us can still feel isolating. Avanti says "All these years of emotional struggle, self-doubt, distress, horrible remarks and taunts, made me realize that everything happened for a reason. Vitiligo helped me evolve as a person and gave life a different meaning. As time past I realised that the people around you, your friends, family and colleagues don't care about how you look. They love you for who you are. People who care about you support you no matter what, but the real healing happens when you love yourself. Journaling and reading self-help books helped me a lot on my journey. I am very comfortable with my skin now, but of course, there still are some low days".
Self-acceptance plays a big part in living the life we want to live and Avanti is very aware of this. "I would say acceptance is key. Many times people decide to hold things in because they feel like people don't relate which is very harmful. Open up about what you are going through to your parents, friends or any other person close to you. Opening up to those who care about and not being afraid of being vulnerable is so important. After all, we are all going through something and no one should be living life suffering in silence".
I don't consider vitiligo as a disease anymore but rather a blessing in disguise. The initial question of "Why me" has now changed to "This is me" and this very much sums up my growth.
Treatment is often a big part of the journey and Avanti says "In the past six years none of the treatments have proven positive and currently I am not taking any treatment. But this does not mean I have given up. I love my skin the way it is and if I come across any potential good treatment I am willing to give it a shot. Life is full of trial and error and so one should always keep trying and never lose hope".