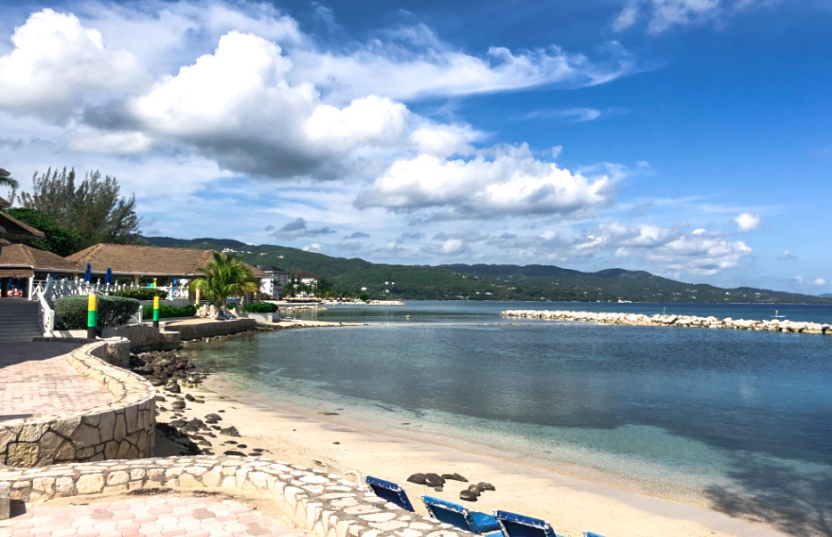 BLACK HISTORY MONTH AND THE IMPORTANCE OF REPRESENTATION
Every year in October the UK celebrates Black History Month; an important time that recognises and acknowledges the achievements and contribution black people have made, both past and present.
This year, Black History Month UK, launched 'Proud to Be', a month long campaign inspired by the Black Lives Matters movement in 2020 as a way of encouraging black people, including public figures, to share their heritage and culture 'in their own way' and 'in their own words'.
As a mixed race woman with vitiligo, I didn't want this month to pass without acknowledging Black History Month and sharing my personal connection to the Caribbean, a country I love and my experience with vitiligo as someone of mixed race heritage. So here goes….
My grandparents came to the UK from the Caribbean in the 1950's. My Granddad (from Kingston, Jamaica) arrived first, followed by my Grandmother (from Westmoreland, Jamaica), two years later. Along with thousands of other Caribbean's at that time, they were encouraged to come to the UK to help rebuild the weakened British economy after the end of World War Two which had lead to a huge shortage in workers. The very first boat arrived into Tilbury Docks bringing Caribbean's from Jamaica, Trinidad and Tobago and other surrounding islands, on the 22 June 1948 and was known as the Empire Windrush. There were 492 passengers on-board including children. On arrival and once settled, the most common sectors in which they worked were manufacturing, public transport and the NHS. 
My Grandparents settled in East London. My Dad was already born, but had been left behind in Jamaica with his grandparents, which was common back then. When he was old enough he would be called for by his parents so that he could join them in the UK, which he did. My Dad arrived alone from Jamaica into Britain in the 1960's and his most poignant memory when he stepped off the plane was just how cold it was! The tropical climate of the Caribbean, the incredible food, the family he had left behind and the Caribbean way of life, was very much a distant memory for him and it took him a while to fully adjust to a completely different environment. He was just 13 years old.
I won't go into how my parents met, but obviously they did and a few years later they had me! Their first child. I was born in the early 80's in East London. My Dad, as you've probably guessed is black and my Mum is white, making me mixed race with a caramel skin tone…. which didn't stay caramel for very long because I developed vitiligo.
I developed vitiligo when I was 3 years old; an age so young that I didn't understand what it was nor could comprehend how it might affect me in later life. I'll always talk fondly of my childhood because vitiligo didn't really cause me any problems as I didn't realise I was different. I was raised in a very multicultural community amongst all races, so it meant everyone was aware that I had patchy skin, but they didn't treat me any differently because of it. They just knew me as Natalie.
Vitiligo became a problem for me in my teen years and because it was a problem for me, I assumed it was a problem for everyone else. It also coincided with me moving to Essex, which at the time was predominantly white, so it meant, not only did I stand out because I had vitiligo, but I stood out because I was mixed race. Being mixed race meant that my white patches were instantly noticeable and given the vitiligo was all over my face, arms, hands and legs, it meant that I couldn't escape what it looked like. I remember it being difficult to hide, especially during PE lessons where there was no option but to wear the school uniform skirt – exposing my skin more and adding to my discomfort. I spent the majority of my teenage years feeling insecure, paranoid, unattractive and as though I was constantly being judged because of how I looked.
Having vitiligo is a different experience for everyone and whilst we may go through similar challenges and feel a sense of 'togetherness' when we learn the stories of others with the condition, but ultimately, vitiligo can be a very isolating experience. Vitiligo is noticeably more prominent on darker skin which means it can potentially be more distressing because of the stark contrast of the white patches against darker skin and whilst I would never disregard anyone's feelings about how they feel about their skin, there have been moments when I've wished I was fairer so it would feel less noticeable to me. I recall moments when I bumped into another patient with vitiligo during a hospital visit who was white and I could feel myself leaning in trying to see their patches, whilst wishing I was white so that my patches blended in like theirs seemed to. For some reason I felt like that would make my life a little bit easier.
Having a darker skin tone meant I was met with assuming and offensive questions and remarks such as asking whether I'd been burnt in a fire or people automatically having sympathy for me because 'it must be so hard to have skin like mine'. It was damaging moments like that, that made me feel my skin wasn't beautiful, or desirable.
The memories I share are from many years ago and thankfully since those times when vitiligo was a condition many of us were taught to hide and disguise from others, we have come along way….a very long way. As you have seen, a lot of work is being done to raise awareness, educate and most importantly, show others that people like us are deserving of being seen as equal to others in society and the media. Children are being taught about visible differences in schools, authors are writing more inclusive books which feature characters with vitiligo and most notably, toy manufacturer Mattel have released two Barbie Dolls, the first of their type, with vitiligo skin. For me, this feels like just the start.
Someone who has contributed to raising awareness of vitiligo through her work as an illustrator is Sylvia Prince, a mother of two from London. As part of this feature, I wanted to understand what Black History Month meant to Sylvia and why she felt it was important to represent vitiligo in the work she does:
"Representation is important. Whether you see people who look like you on the TV programmes, in books, or in positions of leadership in your place of work, it can have an impact on your self esteem. When you see yourself represented amongst society it makes you feel included and more importantly, feel valued.
When I attended school, I was taught – by deliberate omission – that people who looked like me had no history or contribution other than a story of misery. This narrative could have affected how I viewed myself, but just as importantly, how others viewed me. Luckily, I had a strong community around me, and like the vast majority of black children, I received an 'alternative' education at home. An education that introduced me to all of the amazing black activists, leaders, inventors, scientists, artists… you name it, there's a black person who did it.
Black History Month aims to educate the wider society about the achievements of black people. But for me, this inclusive history should be taught all year round, not just for one month of the year.
My personal contribution to ensuring more children feel seen and valued was triggered by becoming a mother. I recall a time when simple things like buying birthday cards for my children felt like a struggle because there were no images that represented who they are. Black children celebrate birthdays, so why aren't there cards to reflect that?
After years of buying cards with cartoon characters or illustrated animals, I decided to create cards depicting characters who looked like my children and their friends. I wanted my cards to be as inclusive as possible, including a variety of shades of black and brown, and so made a conscious decision to have children who lived with vitiligo and albinism as part of my collection. I now have 18 characters and am working on others with differing physical abilities.
I want our children to feel seen, valued and ultimately, I want them to see themselves celebrated."
Please do get in contact with us if you would like to share your story as part of Black History Month and beyond, together we can raise awareness of vitiligo and the impact it has on people's lives.