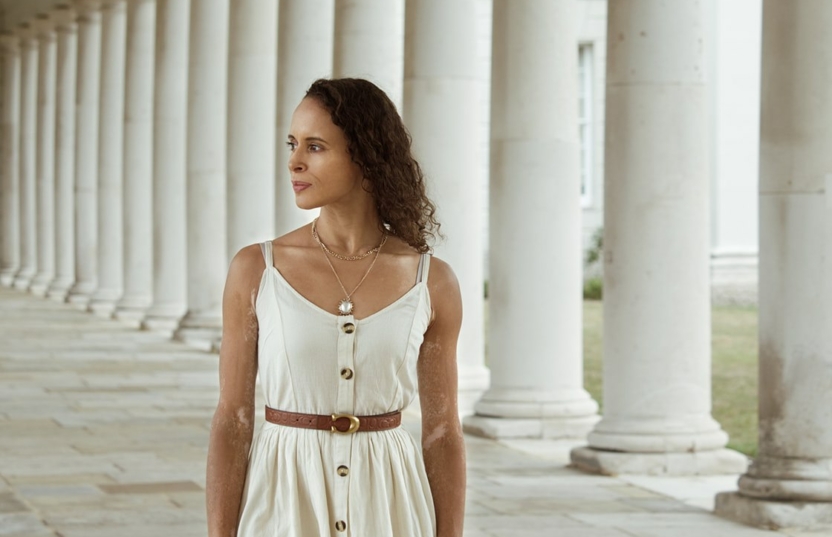 How Photoshoots Have Helped Build My Confidence
Since 2013, I've been speaking publicly about what it's like living with vitiligo. It wasn't something I'd planned or ever visualised, but when it happened unexpectedly it felt like a liberating moment; like I'd given myself permission to use my voice to speak about what it was like living with a visible difference.
Appearing on a live on a news channel all those years ago will always stand out as a poignant memory for me because it was an opportunity for me to share my authentic story and share in detail what it was like living with a skin condition that can hold you back in so many ways. It was after appearing, that I realised we as a community had a story worth sharing beyond our friends and family and that it was time for us to shed some light on life with a visible difference.
It wasn't long after my appearance that brands started to reach out wanting to hear my story and most importantly, on a wider scale, recognising the importance of representation beyond the standard type of beauty. Social media was seeing a significant growth in influencers and every day women were emerging with stories they wanted to share to empower others to live a life without fear of judgment because of disability or condition they had.
My first ever photoshoot was for a swimwear brand, and I remember feeling incredibly vulnerable as I emerged on set in a red two piece ready to be photographed alongside eleven strong women, all with their own visible differences. I felt completely exposed as the photographer placed us in position for the shoot, but the energy amongst the group was so positive that I was able to shake off the insecurities and find comfort in taking part in something so empowering.
Since then I've worked with some incredible photographers and have learnt so much about myself and the work of a photographer. Here's what I've experienced and learned as I reflect on the moments I've found myself in front of the lens;
Photographers see the world differently
For many years there has been a real lack of inclusiveness. Growing up in the 80's, I loved teen magazines however, flicking through each of the pages I would never see anyone that represented me. I didn't notice it at the time, it's only now on reflection that I understand just how damaging that was for my confidence and likely many others in a similar position. Fast forward to now and things are thankfully changing with more brands keen to cast models with visible differences supporting the importance of showing a more realistic view of what the world looks like.
Good photographers ooze creativity and imagination. They often see beauty in those things we wouldn't necessarily notice and have a way of powerfully telling a subject's story through a set of visuals. Working with so many photographers that have launched projects to celebrate vitiligo has taught me that our skin and the science behind why we develop the condition is fascinating. Photographers see the uniqueness in the formation of our patches; zooming in, getting close and really capturing the detail in our skin so that it's raw, authentic and helps to redefine what it means to be beautiful. Knowing that others see our skin from a different viewpoint that we often do, is a reminder that beauty has evolved and that the expectations that have been placed upon us in the past are being challenged.
Challenging myself and stepping outside my comfort zone
Agreeing to take part in a photoshoot where your skin is going to be exposed is always difficult to agree to in the first instance. Self-doubt often kicks in as you ask yourself whether you're comfortable showing your skin, will you be judged and will you look good enough in the photos. There is so much you need to consider before agreeing to take part. Each shoot has required me to step outside my comfort zone and whilst I've taken part in plenty, each shoot requires the same level of decision making.
Stepping outside your comfort zone will always be met with some resistance because we fear the thought of challenging ourselves in case we fail or make the wrong decision, however, the more we are able to do this the more we feel a sense of satisfaction and achievement. For me, it's helped to build my confidence, learn more about my body and appreciate it for what it is with vitiligo. It's taught me about the importance of loving the skin I'm in. It's also allowed me to grow, find purpose and recognise what we are capable of once we change our mindset.
A photoshoot that did help me to recognise the real beauty in vitiligo was the 'Shades of Pale' project by Elizabeth Van Aalderen. I recall travelling to Amsterdam feeling incredibly excited that I was about to take part in a shoot specifically for women with vitiligo and judging by her previous work, I knew it was going to be unfiltered, soft and natural. On a mission to photograph as many women with vitiligo from all over Europe, Elizabeth wanted to document the individuality of women and celebrate what she referred to as a 'beautifully painted canvas'. The project took just over a year to complete, and the end result was incredible. Around fifty women with vitiligo from all walks of life brought together for the purpose of showing the beauty in their skin. A final gift as a lasting memory was a 'Shades of Pale' photography book that featured each woman proudly showing their patches.
It changes how the world views visible differences
Often when we read or hear the word 'visible difference or disability' it comes with negative connotations such as unattractive, incapacity, life limiting and restrictive. But in the current world we live in more and more people with either of these are embracing what they have, whilst showing people that it's not all doom and gloom if managed correctly. Thankfully, this view is coming through by the work of photographers more and more. You only need to look at a project by photographer Anna Neubauer, who recently photographed people with disabilities and visible differences as a way of championing representation.
The focus for me and so many others in the vitiligo community is to raise awareness, educate others and most importantly normalise it so there isn't a stigma attached to the condition. We want those with no experience of what it's like to live with a skin condition to understand how having a visible difference can make us feel, how to respond when they meet someone with vitiligo and why having a visible difference doesn't limit us and the more we see ourselves being represented in the media, not only are we raising awareness, but we are helping to create a bigger picture of society today.
There is so much power in a picture and the story it tells which on some occasions is more powerful than words on a page, so when we see someone with vitiligo representing a brand, taking part in a photoshoot or being interviewed in the press, not only does it have a positive impact, it brings us, as a community so much joy.
Every shoot has acted as a reminder of how far we've come and the importance of spreading awareness and seeing the beauty in our skin from someone else's perspective will always be a humbling and amazing feeling.