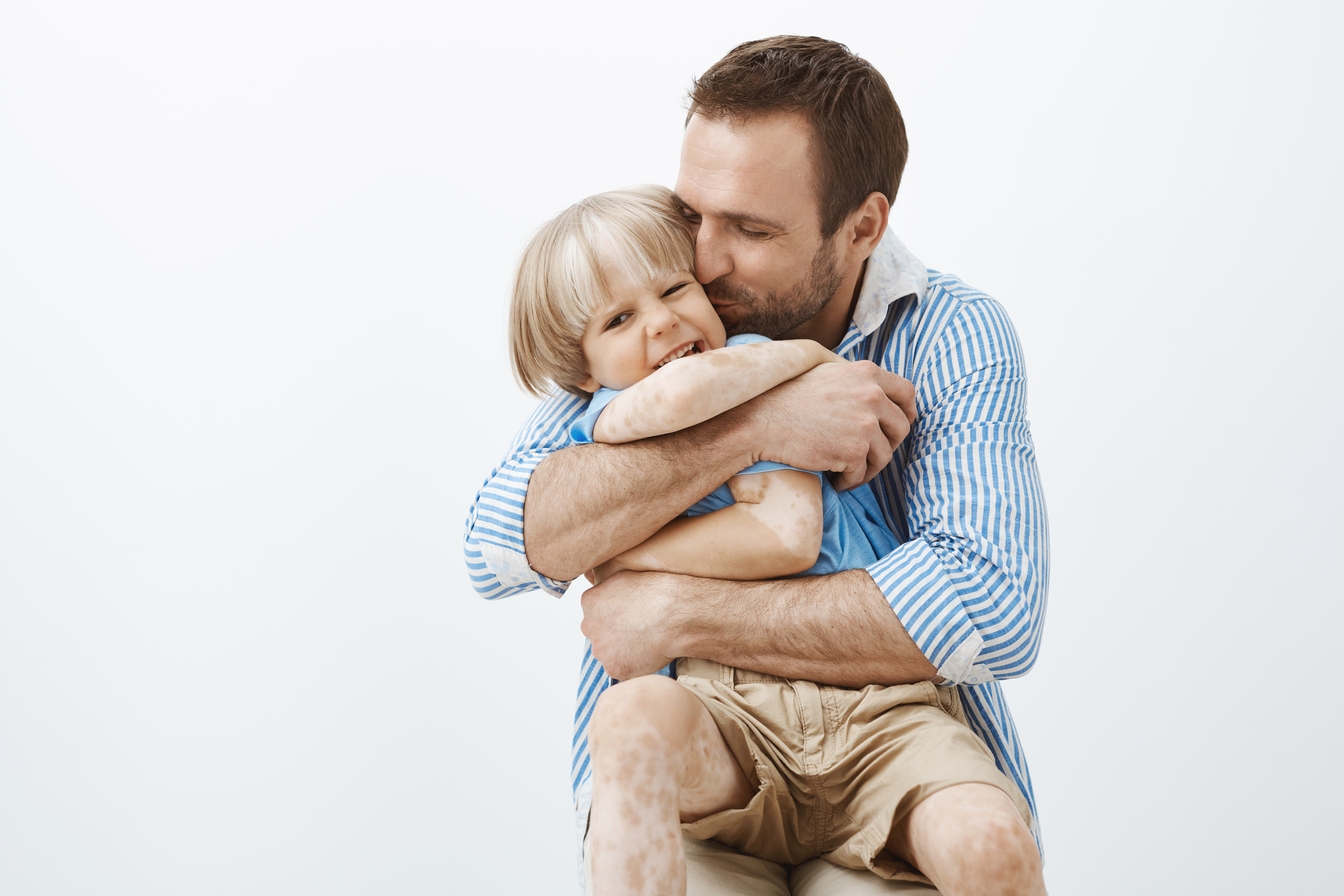 How to help your child live with vitiligo
While vitiligo can start at any age, 95% of those with vitiligo develop the condition before the age of 40. As a result, it is not uncommon for children to develop vitiligo and grow up with it. For the parents of children with vitiligo, the experience can just be as emotionally and mentally taxing as for someone living with it.
Lori Mitchell, the author of Different Just Like Me, knows this well. When her own daughter, April, got vitiligo at just eight months old, Lori learned how to help her navigate the social and emotional complexities of the skin condition. Later, she published Different Just Like Me, a book for children celebrating differences, in honor of April's journey and to help other children living with physical or mental differences.
Here are some of Lori's tips for helping your child live with vitiligo:
Celebrate your child just as they are
It is important to let your child know that they are okay just the way they are. Lori had pictures of her daughter all over the house – spots and all. She even painted a spot on her back one day to make a snowman out of her spots. April loved it. Finding ways to embrace your child and their skin can help them learn to love their skin too.
When April first developed vitiligo, Lori wanted to educate everyone who she caught staring at April's skin. At times, that made April – who preferred to ignore the stares – uncomfortable. Lori decided to follow her lead. "I tried to take her cues," said Lori. "I wasn't always going to be there to "fix" things for April so I wanted her to know she could deal with any situation on her own. I didn't always want to be the one explaining vitiligo either." April's response to questions was often, "It's called vitiligo, it doesn't hurt, you can't catch it and I am just like you." Lori and April would practice the reply at home every now and then and eventually created cards that had that on it. Lori recommends following your child's lead to help them feel like they have control of their skin and how they live with it.
Be honest and upfront about the condition
Letting the children and adults that will be around your child with vitiligo know about the condition can remove any mystery and misconceptions. Lori recommends addressing vitiligo and any questions up front with friends or families. "With April, kids just wanted to know that they wouldn't catch it," said Lori. "After they were reassured, they played and didn't give her skin a second thought anymore." You don't have to be an expert or have all the answers – you only have to be honest.
Let your child be sad and make space to listen
Living with vitiligo can be difficult, and it is important to recognize that and make space to process it. "If April told me she didn't like her vitiligo, I would try not to talk her out of it," said Lori. "I would just listen to her and try to empathize." The key, said Lori, was to be careful not to agree that vitiligo was "terrible" but instead let April know that she understood how she felt about it. Listen to your child and how they respond to their skin – and make space so they feel listened to and they can process their feelings.
Don't always put vitiligo first
Vitiligo may be a big part of your – and your child's life – but it does not have to be the focus. When April was young, she went to a Girl Scout camp in shorts and a t-shirt. Lori was worried about whether anyone would talk about her skin but instead of asking April as soon as she picked her up after camp, she decided to let her daughter bring it up if she wanted and simply asked about her day. Try to find ways to focus on your child as just that – a child who has hobbies and interests outside of their skin.
Despite vitiligo often being classified as a rare disease, there are millions of other people living with the condition. Over the past decade, online and in-person communities for those with vitiligo have started appearing around the globe. Lori found a support group and pen pals for April to help her meet others who looked just like her. "We had a big map with everyone marked on a flag so she could see how many others with vitiligo were all over the world," said Lori. You can explore some of the support groups that are available today here.