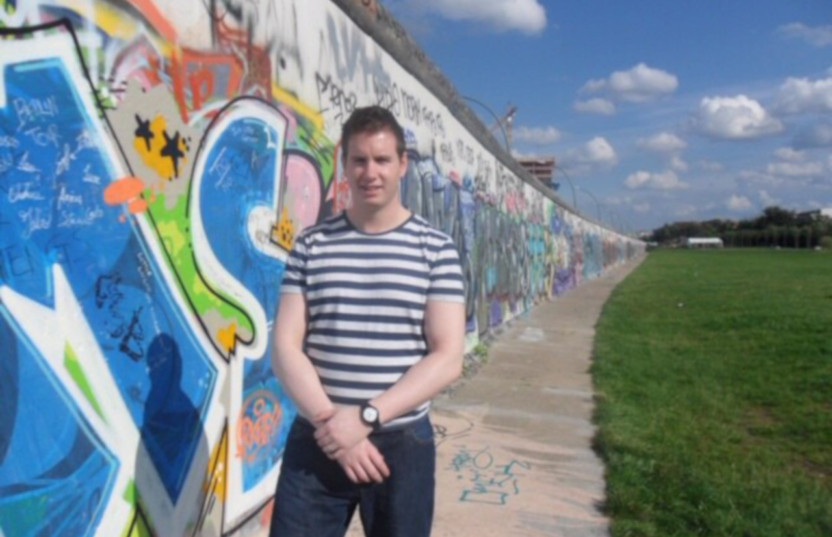 I started to re-pigment within 2 weeks – Joel Pimm
Joel Pimm, from Bristol, developed Vitiligo when he was 20 years old. Concerned that his skin was suddenly changing colour, Joel's natural response was to contact his Doctor in hope that he would find out why there were patches forming on his skin. The response from his Doctor wasn't surprising as it is one which many of us have heard before. He was simply told to 'live with it' as there was currently no cure for Vitiligo.  
Now in his 30's and having tried various forms of treatment, in August 2018 Joel invested in a home UVB lamp which he says significantly changed the Vitiligo on his skin. In this interview, we spoke to Joel about the UVB lamp, its benefits and how going through treatment has made him feel… 
Where did your first patch appear and were you diagnosed straight away?
I first noticed a white patch in my groin and went to my Doctor who treated me for a fungal infection. Various tablets and lotions were used; however, the white patch remained. One day I got badly sunburned and then noticed another white patch appear on my chest. I went back to my Doctor who then referred me to a dermatologist who diagnosed me with Vitiligo. Since then Vitiligo has continued to progressively spread all over my body.
Did you find it difficult accepting you had Vitiligo?
I did struggle in accepting that I had Vitiligo. I was a very social person, always outside, however, over the years I rarely ventured outside and tried to avoid events where I had to be social.
What types of treatment did you try?
At the time of my diagnosis in 2005 the only available treatments were: camouflage makeup, topical steroid creams, UVB and skin lightening agents. I was refused both topical steroid creams and UVB treatment and was told to "live with it". As my Vitiligo was spreading fairly rapidly I decided to apply monobenzone to my skin through the NHS. For around 10 years I lived with de-pigmented skin and according to those closest to me, I didn't have Vitiligo. However, it took a lot of maintenance, as my body would gain pigment, particularly on my arms, hands and face. I also grew tired of always avoiding the sun and not enjoying time outside with my family. It was only in summer 2018 that I decided to make an effort to spend more time outdoors and to see whether it stimulated any further skin re-pigmentation. To my amazement parts of my skin started to re-pigment fairly quickly. As a result, after consultation, I bought a UVB panel for my home.
You started using a UVB Lamp as a form of treatment at home in August 2018. What made you decide on trying this type of treatment?
I had heard and seen several success stories around skin re-pigmentation when using the UVB lamp. Given that I had never used this treatment before, and my skin had naturally started to re-pigment, I thought it would be worth trying.
How did you hear about the treatment?
Various scientific papers, social media and speaking to other people with Vitiligo and also through the Vitiligo Society.
Were you made aware of the risks associated with UVB Narrowband treatment (if any)?
Yes, I'm lucky that a member of my family is a GP, so I was made me aware of the potential risks.
Have you experienced any complications with the treatment? (For e.g. burning of the skin, bad reactions)
At the beginning of my treatment I did burn myself badly, however, this was an error on my part, as I'd stayed under the panel for too long. The light is relatively intense so the skin can burn very easily. Other than that I haven't had any complications.
Can you describe the process (i.e. how many times a week you go, what exactly it involves).
I would use the UVB panel three times a week alongside consumption of various vitamins e.g. Folic acid, Vitamin B12, Gingko Biloba and other antioxidants.
How quickly did you start seeing results?
I began to experience re-pigmentation within 2 weeks of UVB treatment.
How has having the treatment made you feel about yourself?
I have been overwhelmed by how well I have reacted to UVB treatment. However, on the other hand I am also trying to come to terms with the fact that my Vitiligo is now visible whereas before treatment it wasn't. Despite this, I am glad that I decided to use UVB treatment as a way to stimulate repigmention in my skin and am confident that when alternative treatments are available, my skin will hopefully react positively to any further treatments that I might use.
Would you recommend the treatment to others?
If people have not tried UVB treatment I would definitely recommend it. I do however; understand that UVB treatment is not available to all and not suitable to everyone who has Vitiligo.
What message do you have for others living with Vitiligo?
To this day I regret using monobenzone to help re-pigment my skin, however, at the time I didn't have the knowledge or understanding about Vitiligo as I do now. Organisations such as the Vitiligo Society have helped me greatly to gain a better understanding of Vitiligo, alongside the importance of nutrition and the development of new treatments. I've learnt that it's a great advantage to talk to those who also have Vitiligo and one of the strongest forms of unity is that we can now talk to each other. Attending events such as the annual Vitiligo Society open day helped me make contact with other people with Vitiligo and gave me the opportunity to ask questions and speak to medical experts within Dermatology. I do not believe there is "no cure" for Vitiligo and fully believe that one day (hopefully soon) there will be a breakthrough treatment that will help benefit those who are keen to re-pigment. I hope that my story illustrates the effectiveness of available treatments in skin re-pigmentation.