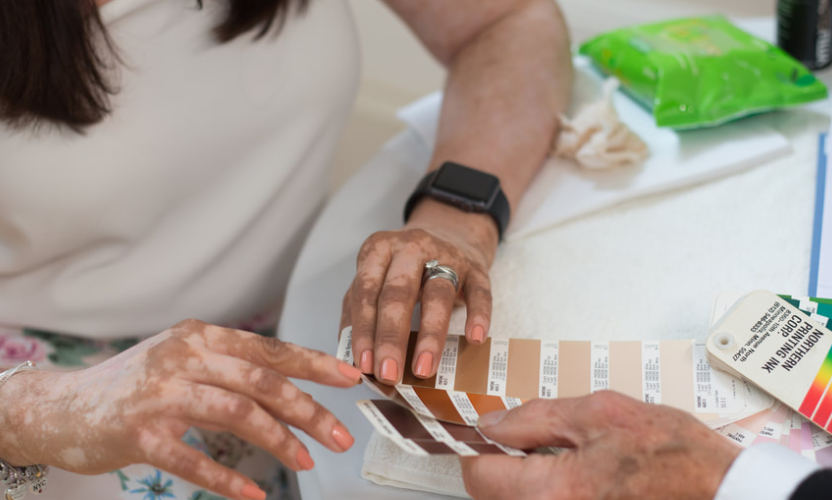 Introducing our new partnership with VITILIGLOW®
We believe in supporting people with vitiligo to live their best possible lives. Whilst many people in our community are embracing their vitiligo and celebrating the unique appearance of their skin, for others having the option to cover their skin is incredibly important. With this in mind we are delighted to be partnering with VITILIGLOW® who will be providing an exclusive 20% discount on their products to Vitiligo Society Members.
Introducing VITILIGLOW ®
In a world where visibility has never been more prominent due to social media; if you look different or have visual skin defects such as vitiligo it can feel like your identity is constantly being questioned. VITILIGLOW® Founder, Polly Gotschi has lived with vitiligo for most of her life. Tired of trying to cover her depigmented skin with foundations and make-ups, or products that just took too long to apply, Polly decided enough was enough. To get what she wanted, she would have to create it herself.
So began the story of VITILIGLOW®. Polly was asked why she creating VITILIGLOW®, "I wanted to create a product that is quick and easy to use daily and comes in a range of shades. I wanted to tackle common problems such as rubbing off, streaks in water and not looking like part of your natural skin tone." Polly worked tirelessly with specialists to create the formula and manufacturers to produce the product. It wasn't always easy, and she faced many barriers in the creation of VITILIGLOW®. Despite facing difficulties in the beginning, Polly continued with her passion to give those living with vitiligo a choice. Now, globally there are 8,000 people that are using VITILIGLOW® products and Polly is constantly amazed at the results and customer reviews.

VITILIGLOW® is available for worldwide delivery and comes in 11 shades, contains SPF 30 and has a 5* UVA/UVB rating. It is long-lasting, water resistant, sweat-proof, transfer-resistant, and has been designed to cover even the most awkwardly placed and largest of depigmented patches. If you are considering covering your vitiligo, VITILIGLOW® has you covered.
We are very proud and excited to announce our partnership with The Vitiligo Society, a partnership to continue supporting those with vitiligo to live the lives they want to live. Look out for further information on the partnership in the coming months.
Vitiligo Society Membership
Memberships are the way that individuals in the vitiligo community choose to regularly donate to support our work. Memberships start from just £3 per month and all the money raised from memberships help to support people living with vitiligo.
As a thank you to those who support our work through membership, VITILIGLOW® joins a number of other wonderful partners who provide an exclusive discount to our active members. Other partners include SunSibility, EvyScreen and UV-Buddy. Our charity does not profit from the use of the codes – they are just a small way for us to say thank you to our supporters who enable us to undertake all our charitable work.
You can join our Society as a member by visiting: vitiligosociety.org/membership
Current members can log into our website and access their exclusive discount codes here: https://vitiligosociety.org/member-welcome-page