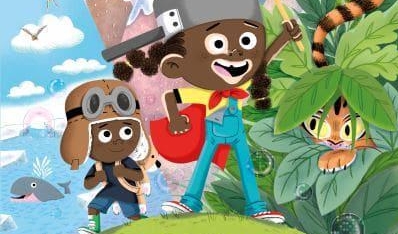 It's International Literacy Day!
Happy International Literacy Day! A globally recognised day created by UNESCO as a global reminder of the importance of literacy in all countries and cultures.
Reading and developing our literacy skills is something many of us do with ease. Immersing ourselves in a good book that allows us to enter a zone that takes our imagination elsewhere as we sink into the depths of a good plot that provides us with a moment of escapism, or allows us to simply learn something new about the world. Just thinking about the many fiction, non-fiction and self-help books on my own book shelf, is a reminder of the many moment's I've enjoyed in quiet spaces, reading something of interest and value.
Unfortunately for some, reading doesn't come easy because of a lack of resources in their location, in fact, according to the United Nations 773 million adults and young people lack basic literacy skills whilst 617 million children and adolescents are not achieving minimum proficiency levels in reading and mathematics (source: www.un.org ). Despite this shocking fact, reading is a necessary skill because not only does it empower us, but it's also a vital part of life long learning and is an integral skill that we need in order to navigate through daily life.
Every bookshelf, whether it be at school, home or your local library should include a diverse collection of books that gives everyone the freedom to learn and improve their reading and literacy skills, and so in this post, I wanted to share some great titles that have recently emerged which are closely linked to vitiligo and are worth a read.
We're Going To Find The Monster by Malorie Blackman / illustrated by Dapo Adeola
It feels like the right time to share this beautifully illustrated children's book which was released on the 2nd September and features an exciting character with vitiligo. Written by legendary young adults author, Malorie Blackman and illustrated by Dapo Adeola, 'We're going to find the monster' follows Charlie and Eddie as they go on an extended adventure in search of a monster! Creatively written with plenty of fun and descriptive phrases, there is no mention that Charlie, the character with vitiligo, has the condition, which is truly significant because it creates a sense of normality without the desire to highlight the characters skin. Definitely a great step in the right direction!
Authentically Addie by Stephanie Wolfe / Illustrated by Noor Alshalabi
Authentically Addie tells the story of a little girl in a wheelchair who learns about disabilities and unique indifferences whilst on a trip to the zoo. In this ultra-inclusive story, author Stephanie Wolfe was inspired by her own daughter, Addie, who was born with a life changing disability.
Whilst on her journey, Addie is accompanied by her zookeeper friend, Kiara, who has vitiligo and together they discover what makes them different makes them unique. Vibrantly designed with plenty of colour, Authentically Addie became a number 1 bestseller on Amazon and is definitely a story worth adding to your child's book collection.
All Bodies Are Cool by Tyler Feder
All Bodies Are Cool is a modern, body positive visual book that celebrates the beauty and uniqueness of all bodies. The focus is heavily on the illustrations which comprises of bodies of all sizes, types, shapes and colours and yes, it even features the body of a girl with vitiligo! The language tone is very warm and welcoming with a touch of humour and plenty of honesty about why your body is wonderful as it is. An inspiring book written with zero judgement, featuring empowering illustrations and plenty of self-love that encourages us all to welcome.
You Are Enough by Margaret O'Hair / Illustrated by Sofia Sanchez
Another great visual book designed as a reminder to simply 'be yourself'. This brightly illustrated story follows Sofia Sanchez, a 12-year-old model with Downs Syndrome as she connects with children from all backgrounds and abilities, including another character with vitiligo! Celebratory and positive, 'You Are Enough' is definitely one that highlights the importance of being proud of who you are. Currently available to pre-order on Amazon.
Strong In The Skin I'm In by Joti Gata-Aura
Moving beyond the wonderful world of children's books, next up is Strong In The Skin I'm In by Joti Gata-Aura. This moving story, which is Joti's first novel, explores the many themes often associated with vitiligo such as diagnosis; treatment options, developing self love and navigating through a world where there is such a strong emphasis on the way you look. If you love books based on personal experience, then this is a must read for you.
A No Nonsense Guide to Vitiligo by Yan Valle
A No Nonsense Guide to Vitiligo will always be very relevant when it comes to exploring vitiligo because it is exactly that; a guide to all things vitiligo which investigates topics such as symptoms, common triggers, diet, treatment, medical jargon and a long list of other topics that are prevalent amongst the community. Author, Yan Valle is a notable figure globally, who not only has vitiligo and speaks from experience, but is also the CEO of the Vitiligo Research Foundation and has been committed to vitiligo research and improving the quality of life of those living with the condition for many years.
How To Disappear Completely by Ali Standish
This endearing read falls within the young readers category and shares the story of 12-year-old Emma who experiences immense grief after her grandmother passes away, whom she was incredibly close to. After the loss, Emma discovers strange white spots on her skin which is later diagnosed as vitiligo and leads to her feeling isolated at school and on the receiving end of taunts and bullies. However, beyond the despair, there are plenty of magical moments relating to her love of journaling. And in this story, one of her journaling moments leads to a response by a mystery writer which significantly changes her life. A great story for secondary school readers.
All books mentioned are available to purchase on Amazon.