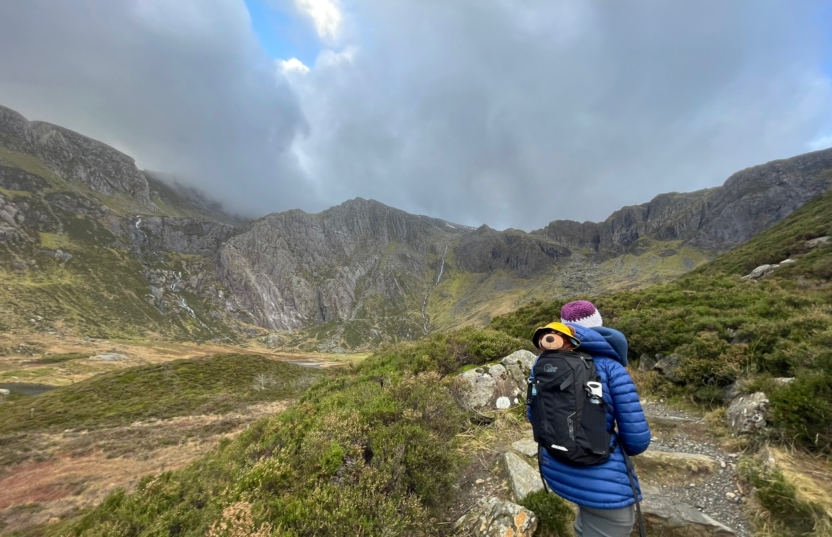 My partner had vitiligo and this is what I learnt
Later this year, Amy Matthews will be taking on one of her toughest challenges yet. She'll be taking part in the the Welsh 3000 Challenge with three of her closest friends in memory of her partner Mike who sadly passed away in July 2021 and who also had vitiligo. The challenge, which consists of climbing 15 of Snowden's highest mountains, all above 3000 ft, will cover 26 miles within 24 hours. In Mikes memory, Amy wanted to share his story with us and share what it was like for her as the partner of someone with vitiligo.
When did you first become aware of vitiligo?
I first learnt about vitiligo in college however I had never met anyone with the condition until I met my partner Mike. I hadn't noticed he had the condition until around 4/5 months after we first met because his patches weren't noticeable because we'd met in the winter. As the weather got warmer, it was harder to mask the vitiligo as parts of his skin would tan and others would stay pale.
What was your first reaction when you noticed he had the condition?
I remember lying on our bed one warm evening and just enjoying each other's company. It was a really still moment as weren't talking just absorbing the moment. I started tracing the outline of what I assumed was a birthmark on his leg with my finger. It was then he told me it was vitiligo and that he was diagnosed when he was a teenager. Once he had pointed out his patches, I could see the difference in skin tone around his hands, arms, face, legs and feet. I could tell he was worried about me finding out because he had convinced himself that no one would want him because of his skin. To me, it was a ridiculous thought that broke my heart because he truly was a beautiful man, inside and out, but I understood his concerns and why it made him think that way.
How was your experience supporting someone who had vitiligo?
It was tough. It's hard for someone who doesn't have the condition to try and convince someone who does have it, to love and embrace themselves as they often feel like no one understands. On a daily basis, he would make worrying comments about how the patches around his eyes were getting bigger and the ones on his arms were extending further. Most of the time I didn't know what to say to make him feel better because he was right, they were growing and there was nothing we could do to stop it.
How did Mike having vitiligo make you feel?
It broke my heart seeing the man I loved and adored, hate his skin and the way he looked but I also got to see the excitement when he would find little freckles of pigment starting to re-appear when he was having treatment. I also felt incredibly proud every time he ventured outside of his comfort zone.
Did it affect your relationship in any way?
It didn't affect our relationship but it did make it challenging at times. If he was having a bad skin day, or if I unintentionally said the wrong thing, he would shut himself away and become grumpy. It was all about being patient with each other and communicating every chance we had so that I could understand him and how he was feeling.
Do you have any poignant moments, good or challenging, that stand out for you?
We did have some breakthrough moments from time to time. Whilst researching treatment options, Mike found a company that created a range of lotions designed to help with re-pigmentation. They were distributed outside of the UK, which meant it could take up to 3 months for it to be delivered. The product had a very oily consistency, which meant it often ended up irritating his eyes. It also thinned the skin, which lead to redness and irritation. He couldn't drink any form of alcohol as his skin would react which meant he felt very restricted especially if he wanted to celebrate special occasions or just fancied a beer after a long days work. After a few weeks of treatment we did see a difference, tiny freckles would appear amongst the white patches. He would smile from ear to ear, feeling absolutely overjoyed to see the colour returning to his skin. Unfortunately he wasn't able to use the product long term, as his skin would become too sensitive. This left us both feeling frustrated as the negatives started outweighing the positives; the whole process was an emotional roller-coaster. In the end, Mike stopped getting his hopes up as he always felt deflated when he took breaks and started seeing the pigment retract again.
Summer holidays were challenging. We went on holiday to Croatia with our two friends Huw and Hannah and during the trip, Mike had to ensure he was always covered in the highest factor of sun cream because he would burn so easily. While at the beach, he would be conscious that people were staring at his skin. This often impacted his mood, but he always tried to by-pass it and carried on enjoying the holiday as best he could. I became accustomed to his behaviours, so I would always know when he was feeling under the weather because of his skin. He always had his sunglasses on and kept his hands in his pockets, keeping them hidden from everyone. Mike was always honest with me though and would confide in me. Towards the end of the holiday, we were going on a boat tour of the islands around Split and we were getting picked up for in the early hours of the morning. He'd forgotten to put sun cream on his feet and by mid day he noticed they were starting to burn. We had to keep them covered with t-shirts for the rest of the day and by the time we were back at the apartment, his feet were badly blistered. We had to smother his feet in after sun and cling-film while regularly applying ice packs. I felt so much empathy for him, I hated seeing him in such discomfort and pain and not being able to do anything to help him. He felt like he had ruined the holiday, but of course he hadn't. We were all so concerned for him and suggested we stay in the apartment for the rest of the holiday so he was as comfortable as he could be. That wasn't an option for Mike though because he was determined to continue the holiday as planned without letting the pain interfere but all knew he wasn't feeling up to it, but he was always putting others before himself. I admired him for being so strong and courageous.
Why was it important to you that you created a legacy for Mike?
Mike sadly passed away in July 2021 unexpectedly. Although vitiligo wasn't the cause of Mikes passing it did significantly impact his mental health. Mike was a very private man but I think if he had been part of the vitiligo community instead of hiding his condition away, he would have been more self accepting and less worried about what others thought of him. It the reason why want to carry on the conversation and create a legacy for Mike. I want to raise awareness so those with vitiligo feel more comfortable in their skin and to encourage them to lean on family and friends when they need support. Mike felt like he would never be wanted because of his vitiligo but he was wrong and I would hate for others to think the same. Mike having vitiligo did not change how I felt about him. I loved him for who he was, not how his skin looked.
The reason I chose the Welsh 3,000 is because it is mentally and physically exhausting and those dealing with vitiligo can feel like this every day if they are struggling with their skin. Mike also spent a lot of his weekends hiking up the mountains, which he loved. I would like the money we raise to go into research and help with supporting people struggling with vitiligo. In the 20+ years that Mike had the condition, there was never any real progress in finding a cure or even slowing down its development. Every time he went to the doctors, it would be the same response; a prescribed cream which he'd apply to his skin without even knowing the long term effects. Mike said he felt uncared for by medical professionals because he was made to feel like having vitiligo wasn't a 'big deal', after all it wasn't life threatening so it shouldn't be too hard to live with, but what wasn't considered was his mental health which is so important for those with the condition.
I hope to raise money to find a treatment which reverses or prevents the condition from spreading and also to help with educating others so that skin condition such as vitiligo are taken more seriously especially in today's society where its all about how people look on social media.
Finally, given what you have been through, what is your parting message for our readers?
I hope that I have provided some insight into what it can feel like living with vitiligo and how those closest to them can provide love and support. There is so much more awareness of vitiligo with communities being better connected but there are still people out there who do not know or understand the condition and I would like to reach those people and hopefully educate them. I also hope people reading this who have vitiligo know that they are beautiful and it gives them the confidence to speak freely about their condition to their loved ones.