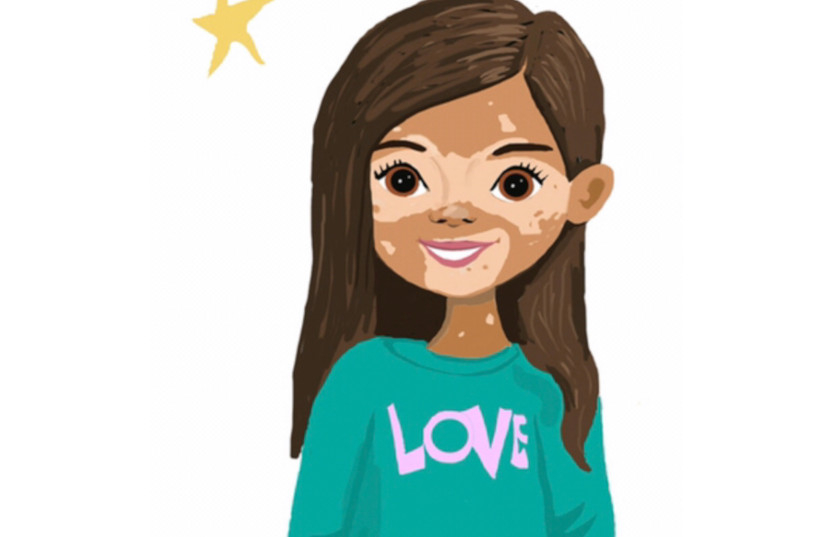 New children's book 'Little Miss Imperfect' features character with vitiligo
1. What inspired you to write a book that focuses on self confidence in young people?
In 2014, I founded a program for girls ages 10-19 designed to promote wellness and positive mental health. It is a one-year program that delivers a curriculum covering topics such as STD awareness, self-esteem and confidence, and taking care of the body.
Research shows that when girls suffer from low self-esteem, they are more likely to engage in risky behaviors such as drugs and alcohol, eating disorders, and teenage sex. I like to use social media to shed light on these issues. In August of 2019, I made an Instagram post sharing my past experience of allowing myself be subjected to an unhealthy relationship. My post highlighted that it was my insecurities that caused me to make those choices. The subsequent post led me to personify the dark side of insecurity and that's when "Demi Nicole Little Miss Imperfect" was born.
2. Can you tell me about the book; the story and its messaging?
Demi Nicole Little Miss Imperfect is about the main character, Demi Nicole, dealing with low self-esteem. Demi represents me as an adolescent dealing the struggles I had growing up that followed me into adulthood. Demi Nicole has a difficult time standing up for herself and allows others to mistreat in order to keep friends.
Demi Nicole's friend is Insecurity. Insecurity is a mean girl that appears to have it all together but has a bad attitude. Deep down inside, Insecurity doesn't like herself, and she says mean things to Demi which causes her to experience feelings of low self-worth. Throughout the story, she makes Demi Nicole feel bad about her hair, skin tone, and physical appearance.
Insecurity's sister, Confidence, is Demi Nicole's biggest supporter. Confidence has a skin disease called Vitiligo and always tries to encourage Demi to accept herself for who she is. Confidence knows that living with vitiligo isn't easy, but she loves herself anyway and doesn't allow her it to define her. Confidence always finds a way to speak positively by subtlety telling Demi that she is good enough the way she is.
The message I want to share is to self-love and acceptance and love yourself for who you are. This includes your skin tone, hair type, size and shape, facial features, etc. Although Confidence has vitiligo, she still accepts herself. If she can do it, we can too!
3. How did it come about that you would create a character with vitiligo? Do you know someone with the condition?
I personally know two people with vitiligo. My former neighbor that I've known since I was 6 years old, and a former classroom student.
When I decided to create the character Confidence, I wanted someone that was confident, but had a flaw with their physical appearance according to societal norms. Another prerequisite for Confidence was that I wanted her to be Native American or Hispanic. After days of searching, I finally decided to search through my Facebook friends' list looking for someone that met the criteria. Then I stumbled across my former student, Bex Rangel. I thought she perfect; confident, kind, and outgoing. A few minutes later it dawned on me that she was even more perfect; she had vitiligo!
Bex is a Hispanic American college student, and I was one of her 6th grade teachers. Although Bex had vitiligo, she always carried her confidently. She had a lot of friends, smiled a lot, and didn't seem to allow her vitiligo to define.
4. What did you learn during the process in writing Little Miss Perfect?
I've learned so much during this process. Since I'm a first time, self-published author, I now know what it takes to write a book!
While I'm trying to spread the message of self-acceptance and love to young girls, I've realized that I am also walking on this journey. I've always struggled with my weight and told myself that I'd be happy if I lost an extra 10-15 pounds. A few months ago, I thought to myself, "What if I never lose the weight? Will I stay unhappy for the rest my life?" At that moment, I chose to embrace and accept myself the way that I am!
5. How did you do your research into creating a character with vitiligo?
I had to research the medical definition of vitiligo since the book mentions Confidence's condition at the beginning of the story.  The story doesn't focus on the condition itself, but more on how Confidence loves herself.  She's there to encourage Demi Nicole and contradict the mean things that Insecurity says to her.  Confidence is there to represent the meaning of her name – Confidence.
If you would like to purchase a copy of the book, please contact Demetria via her Instagram page @dnicolerocks. You can also find further details on her website: www.dnicole.rocks