New Children's Book 'Ready For An Adventure' Features A Character With Vitiligo
One of the best ways that children can learn and understand the way of the world is through storytelling. Up until recently, children's stories very rarely featured characters with different skin tones meaning there was very limited representation and children of colour or those with indifferences, weren't always able to relate to the stories they were reading. However, over recent years, we have seen a number of talented children's authors and illustrators entering the world of book writing with a desire to represent children from all diverse backgrounds.
One of the latest children's books to emerge is Ready for an Adventure which follows the lives of two sisters who go on an adventure whilst being at home, and aside from the colourful illustrations and the story itself, one of the highlights is that one of the sisters has vitiligo.
We are always excited to see stories of this type and so we reached out to author Abbi-Jean Reid, illustrator Bhumika Jangid and the founder of Parakeet Books to hear about how this creative story came together….
Abbi-Jean; Congratulations on writing your first book 'Ready for an Adventure'. How does it feel finally seeing it come together?
Thank you so much! It's been amazing to see it all come together and actually look like a real-life book. Bhumika's illustrations are incredible, more than I could have ever asked for and she's really brought the story and the character's imagination to life.
Where did the idea for the book come from?
I really wanted to write about something that represented me, and would represent lots of children from different, lower socio-economic backgrounds. Not all children have the opportunity to go to the zoo, or the museum etc, but I still remember having amazing times without doing those things. Me and my sister always managed to have fun on a Saturday at home, so I wanted to write about that and show children that it is possible to have fun at home whatever that looks like.
What inspired you to write a book that included a character with vitiligo?
Parakeet Books (publisher) is all about representing diverse characters who we don't often see on book covers and in children's stories, and so when Judy (one of the founders) mentioned creating a character with vitiligo I immediately wanted to, as I have vitiligo myself. When I was younger it was far more prominent and the other children thought it was strange, but if there had been characters with vitiligo in books that we all saw, many of those kids would have realised it's not strange at all.
Tell us about Gabby who has vitiligo. What is she like as a character?
Gabby is very energetic and bubbly. She is always up for an adventure and is 100% confident that she can save the day (and she can). What we love about Gabby is that her having vitiligo isn't a topic in the story and we were really keen to make sure it wasn't. It is mentioned at the start of the story that she has the condition, but the story itself is about the adventure they go on whilst showing that her skin doesn't impact or make a difference to her life at all.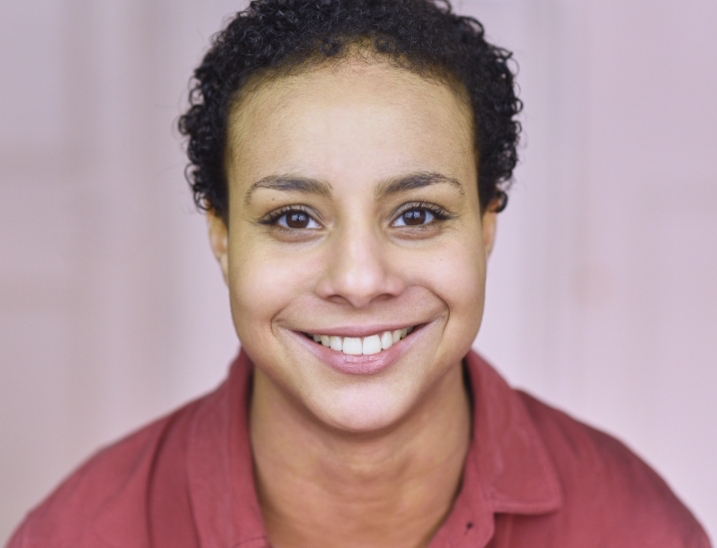 What do you hope children will learn from reading Ready for an Adventure?
There is so much fun to be had if you can tap into your imagination, and that all sorts of families exist. I also want them to see that children as individuals are all amazing in their own unique way.
What's next for you in the world of book writing?
I'm very lucky to be working in publishing and so am surrounded by so many incredible books. It couldn't get any better right? And if the opportunity to write for an amazing publisher like Parakeet Books arises again, I'd definitely grab it with both hands.
You can follow Abbi-Jean on the following social media handles:
Instagram @abbi.jean.reid / Twitter: @abbijeanr
Bhumika, as the illustrator what was it like creating Gabby, the sister with vitiligo?
When I created Gabby, I knew that I wanted her to look as authentic as possible with vitiligo. As a character, she is a cheerful, carefree and fun-loving girl and that's what I wanted to portray her as, the same as molly, the other character in the book. Whilst there is something different about Gabby in terms of her skin, I was focused on creating a character where her skin wasn't the centre of who she was. She is just Gabby.
The illustrations throughout are incredible! So colourful and imaginary! What was is it like to create?
Thank you! The story itself features so many themes such as adventure, exploration and kids dressing up and imagining themselves as different characters. There are so many different settings portrayed in one day that I wanted to use bright colours that fuelled the imagination and reflected the different places they explored. I had so much fun creating them.
How did you go about understanding how to portray vitiligo so that Gabby looked authentic?
I wanted Gabby's skin to look as authentic as possible and so to do that, I done some research and looked at other images as references. This allowed me to better understand the condition, and not just for creating the character but for my own understanding as well. I wanted to portray vitiligo correctly. From what I discovered, I understood that vitiligo can be difficult to manage because it is so visible, but ultimately it doesn't define who you are…. it's what's on the inside that does.
What's next for you in the world of illustrating?
I am at the start of my illustrating career and there is so much to learn about children's artwork. I'm so excited about learning of the different drawing styles and brushwork techniques so I can continue to be creative with what I create in the future. I'm very happy with where I am now and completely appreciate all the love I'm getting from Ready for an Adventure. I'm so glad I was part of it.
Parakeet Books, the publisher of Ready for an Adventure are a small independent publishers who are passionate about diversity and inclusivity with strong messaging around using representation to empower. We spoke to them and asked why they felt this was important;
"Our ethos is to represent the infinite variety of people and characters as much as we can. Gabby, Molly and their dads are just the tip of the iceberg. We truly believe children (and adults!) should be able to see themselves within the pages of a book. Not only that we should be able to learn from stories about other kinds of people, other kinds of families – without it feeling didactic.
We're so happy to have Abbi-Jean and Bhumika on board with us at Parakeet Books. Abbi's approach is fresh and daring and Bhumika's artwork always brings a smile to my face."
Sheju Adiyatiparambil-John, Founder of Parakeet Books.
Parakeet Books are currently running a Kickstarter to help with the funding of the book. If you would like to support and donate, please click on the link below: