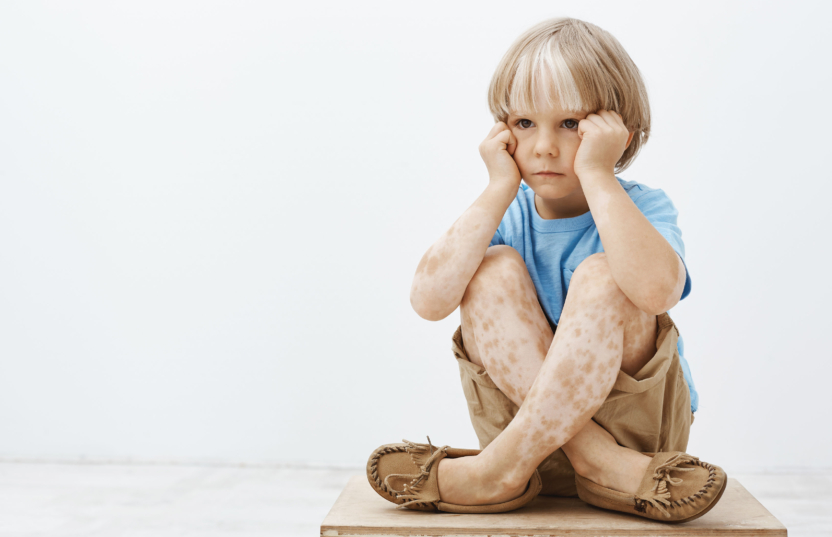 Our role as parents of children with vitiligo
Recently, we had a great question asked to the Society that made us step back and reflect. The question was 'How do you accept that your child has been diagnosed with vitiligo'? We asked a member of the Society who also has a son with vitiligo how she would respond to this question. She requested to remain anonymous but kindly produced this beautiful response for us to share with The VitLife readers.
---
I thought of my role as a mother with a child with vitiligo and asked myself the question. Have I actually accepted it? The answer is mostly yes. The how I got there and why I say mostly yes, I'm going to elaborate on in the following post.
First, let me introduce myself. I am a member and volunteer at The Vitiligo Society and have a son that was diagnosed with vitiligo at the age of two. I do not have vitiligo and before noticing his first patch, did not know anyone that suffered with the condition. The only thing I knew of vitiligo was that Michael Jackson had it. My husband was in the same position I was, until strangely, at the same time as my son, he too was diagnosed with Vitiligo. However, despite not knowing much about it, what I did know, was that it was wildly unpredictable.
I must be honest, that when my son and husband's skin started to depigment, I was shocked into complete stillness. I did nothing. I guess looking back I was in complete denial. I told no one. I researched nothing. I convinced myself it would disappear just as quickly as it had started (although I knew deep down it wouldn't). When the initial shock wore off, I sought medical advice. I asked questions, I cried, I prayed, I obsessively googled everything and anything that had any association with vitiligo. I looked for support and for a vitiligo community. I frantically researched almost to the point of going mad. This brought me to the work of The Vitiligo Society (I'll touch more on this later but I have to say the Society went a long way in bringing me to acceptance).
Overcoming a feeling of panic and anxiety
Let me start off by saying that personally, prayer is a massive source of strength for me. I am not stating this in an overly preachy way but in a way that is important to call out. Faith naturally comes with a sense of releasing control and accepting those things that don't initially make sense. It goes a long way to being able to draw strength and clarity while in a state of utter confusion. Beyond that, I realised the biggest impact that vitiligo has on children (and adults for that matter) is psychological. So I embarked on a journey to help my son accept and love his vitiligo. In our household, vitiligo is referred to as "beautiful spots". We kiss them daily and I constantly remind him how handsome he is, how loved he is and how special he is. My ultimate goal when discovering his first patch was to teach him how to be confident in his skin and understand what it meant to love himself for who he was. It was also a way for me to accept and see his beauty and uniqueness as well. He is already handsome and unique and his vitiligo only adds to that.
Having an awareness
Naturally, as a parent I have my concerns about what his school life will be like. How other children will treat him and whether or not he will be able to see himself for the gorgeous and wonderful person he is. I am completely aware when people, sometimes unknowingly, stare at his spots with a puzzled look on their face. I notice when a child who may have been standing close to him, suddenly moves away out of confusion. Of course all of these things have an impact on me as I worry about the impact they will have on him when he starts realising it.
All of these factors are what brought me to The Vitiligo Society. I decided if my son was going to love and accept himself, he needed to see that there are other people that are going through the same thing. That in the same way your hair colour, height, eye colour and other genetics make you who you are, vitiligo equally plays a role as well. I decided to become a member as soon as I stumbled across the society and then within a month I decided I wanted to take things a step further. The best thing I can do for my son is make an impact in the world he will grow up in, somehow take part in raising awareness, be an active part of establishing that community for him, and help other children and parents who may find themselves in a similar situation.
What you can do to help your child
My advice in relation to acceptance is for you to see your child as beautiful and unique. Find a local community where you can voice your concerns, welcome support and be around others going through something similar (The Vitiligo Society Parent Support Network is a great resource but I am sure there are others) and lastly, be kind to yourself. There are a lot of unknowns. It's ok to be anxious at times or feel as though you can't accept the situation. Allow yourself those days and moments, but don't get trapped in them. What your child needs the most, are supportive and loving parents. The rest will come naturally. Also, know that, finding it difficult to accept your child has vitiligo, doesn't mean you are giving up. You can continue to find new ways to support them, continue to talk to dermatologists, continue to raise awareness even if it is just in their classroom. Given the positive exposure we are seeing in relation to vitiligo, both within mainstream media and social media, now more than any time before, children are proud to have spots.
Teach your child exactly what being proud looks like.