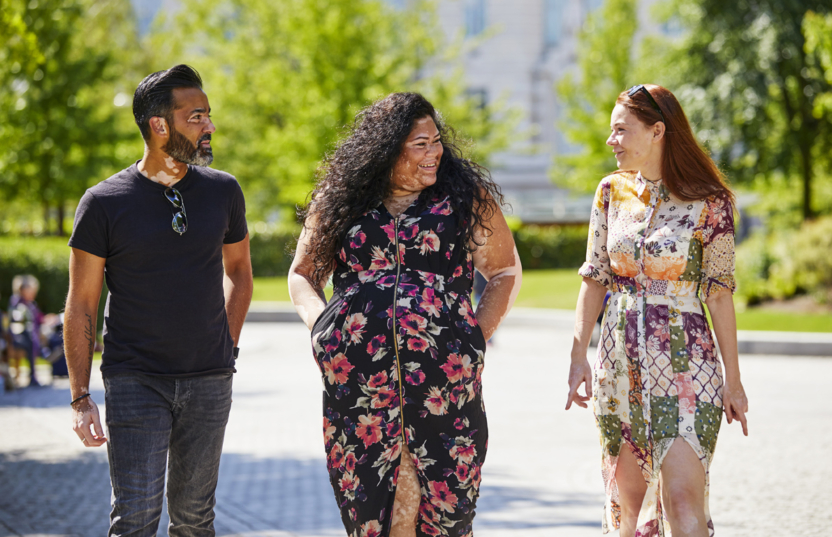 Research Findings: The Positive Lived Experiences with Vitiligo
Aasima Patel, a post graduate from Manchester Metropolitan University, recently carried out a study that aimed to explore the positive lived experiences that some people with vitiligo, can have. In this feature, Aasima shares her findings and some of the key things she discovered from interviewing those with the condition.
Hi Aasima, thanks for sharing your research, can you share what motivated you to focus your research on vitiligo?
I was born with what my parents assumed was a birthmark on my leg, but when I was about 7 years old a similar mark appeared under my eye and started spreading. Shortly after I was diagnosed with vitiligo. At the time there wasn't much information available about vitiligo and my parents were really concerned about how the condition would affect me growing up.
My parents initially tried to treat my vitiligo, however, as I got older and became accepting of my skin, they too, learnt to accept it. Vitiligo became part of who I was and my identity and I made sure I didn't let it define me.
I found that my immediate family and the kids who knew me at school were really supportive of me and my unique appearance, but this wasn't always the case, especially when I was around people I didn't know. I found that some communities and cultures were less understanding and could even be rude or dismissive about my skin, which is something many others with vitiligo have experienced, including my research participants. I understand that the condition can be very challenging and I wanted to focus my research on something I had lived-experience of.
Despite the difficulties you faced, you still chose to conduct a study which focuses on the positive psychological impact of vitiligo. Why did you make this the focus of your research?
Whilst there is a lot more information available that explains what vitiligo is, there is very little that focuses on the positive aspect of having a skin condition. This was also reflected in the scientific literature I read. For me, this wasn't acceptable as I always felt optimistic about my skin, and I knew I wasn't the only one that had developed a positive outlook. As a researcher, I wanted to see science acknowledge this.
We know your research is currently being published; can you share any of your significant findings with us?
Through qualitative analysis of participant interviews, it was found that participants experienced both positive and negative attitudes from people regarding their visible difference. The impact of this, meant that they had built resilience to any negativity aimed at their skin and which ultimately started them on their journey towards developing a positive attitude towards their skin.
Participants felt passionately about the importance of normalising vitiligo in society and raising awareness through education to enable society to see the positive experiences that people with vitiligo can have. Through knowing the importance of protecting their skin and feeling passionately about their skin, participants also developed a strong awareness of their overall wellbeing and took steps towards adopting healthier lifestyle behaviours in relation to their body and their skin.
Through their own personal experience with vitiligo, participants expressed that they developed more empathy and appreciation towards other people similar to them – they understood that everyone has differences and the importance of being appreciated for them. Additionally, it made participants feel confident, empowered and comfortable in their skin. It enabled them to be more ambitious and achieve their goals and wasn't something they wanted to reverse as they felt it was something that should be celebrated and embraced.
Were you surprised by any of the results from your research?
I learnt a lot about myself through conducting my research and was surprised by the impact vitiligo had on so many aspects of my life. Participants shared a number of themes that I related to and didn't expect, and which weren't necessarily linked to vitiligo. For example, a strong focus on self-care (both physical and psychological), being more accepting and empathic towards other people's differences and the strong desire in normalising vitiligo in society (as other skin conditions are) so that other people wouldn't be so alarmed when meeting people with the condition.
What do you want people to take away from your research?
People with vitiligo have various experiences living with the condition and the impact it can have on their lives differs. They can go through a journey in which these experiences allow them to develop an appreciation for their skin including valuable positive characteristics, such as resilience, self-esteem and self-efficacy. Those included in my study were proud of their skin and felt that it had given them a desire to overcome the stigma associated with the condition and encouraged them to embrace their skin and educate others.
I hope my research will raise awareness and also encourage self-acceptance and confidence. I would like to think that I have provided some reassurance to parents of children with vitiligo, or adults newly diagnosed that there are positives to the condition that can really propel you to gain so much more from life through achieving self-acceptance, applying resilience to all areas of life and believing in your abilities.
I want to continue focusing on vitiligo and helping people to gain confidence in their skin. I also want to encourage society to be more tolerant of differences so that people living with vitiligo, like myself, don't feel any pressure to change how they look and can feel supported. I have created an Instagram page (@positiveliving_23) to help me do this in addition to raising awareness of vitiligo in general.
Main photo posed by models.