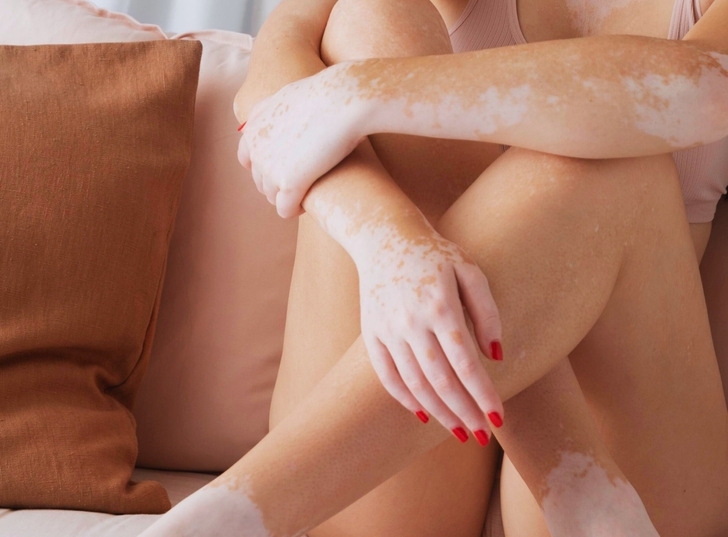 Ritlecitinib – a new vitiligo treatment?
Ritlecitinib (under the commercial name LITFULO by Pfizer) is an anti-inflammatory and immunosuppressive drug that was recently approved for treatment of severe alopecia areata in the USA and Japan. The drug is being tested for treatment of vitiligo, ulcerative colitis, and Crohn's disease, all of which are considered auto-immune disorders (Blair, 2023).
How does ritlecitinib work?
Vitiligo is an auto-immune disorder, meaning that the body's immune system mistakenly attacks and destroys its own cells – melanocytes (pigment cells), which results in formation of white patches. The immune system is incredibly complex and consists of various pathways and signalling molecules. Ritlecitinib is considered a kinase inhibitor, meaning it prevents kinases, which are certain proteins in the immune system, from working properly. This in turn blocks the immune pathways that are thoughts to contribute to development of auto-immune diseases, resulting in symptom improvements, such as repigmentation or stopping of disease progression in vitiligo (Xu et al., 2019; Pfizer Inc., 2023).
Ritlecitinib and vitiligo – a recent study

A 48-week long phase 2b clinical trial on the effectiveness of ritlecitinib in vitiligo treatment has been published in February 2023 (Ezzedine et al., 2023). The trial compared patient groups taking various doses of ritlecitinib with a placebo group. The study assessed the changes in the proportion of vitiligo lesions on the face (Facial-Vitiligo Area Scoring Index, F- VASI) and found that a 50 mg tablet taken once daily resulted in significant improvements (up to 75% reduction in F-VASI compared to placebo at 24 weeks). Repigmentation began as early as 8 weeks after the start date, accelerated after 28 weeks, and was observed until 48 weeks when the trial ended. There was another important way to measure the effectiveness of ritlecitinib: the Patient Global Impression of Change-Vitiligo (PGIC-V) score, which is a 1-item questionnaire asking patients to report how much they feel their condition has changed. The responses range from 'very much improved' to 'very much worse'. Patients across all treated groups reported meaningful changes, such as 'much improved' or 'very much improved' with the greatest proportion of patients reporting such changes at week 48 of the trial. The study also measured the safety of ritlecitinib and found it to be a safe drug with mild side effects, such as cough, sore throat, and headache. The side effects are likely because the drug lowers the immune defences of the body and makes it more prone to infections. Overall, the trial deemed ritlecitinib to be an effective and well-tolerated treatment for patients with active non-segmental vitiligo.
What happens now?
The trial by Ezzedine et al. (2023) was a phase 2b trial, meaning that it tested the efficacy and safety of ritlecitinib in vitiligo in a relatively small patient group. Currently, there is a phase 3 trial underway (NCT05583526; Pfizer, 2023) with an estimated completion date in June 2025. Depending on the results of that trial, ritlecitinib may be approved for vitiligo treatment.
---
Blair, H. A. (2023). Ritlecitinib: First approval. Drugs, 83(14), 1315–1321. https://doi.org/10.1007/s40265-023-01928-y

Ezzedine, K., Peeva, E., Yamaguchi, Y., Cox, L. A., Banerjee, A., Han, G., Hamzavi, I., Ganesan, A. K., Picardo, M., Thaçi, D., Harris, J. E., Bae, J. M., Tsukamoto, K., Sinclair, R., Pandya, A. G., Sloan, A., Yu, D., Gandhi, K., Vincent, M. S., & King, B. (2023). Efficacy and safety of oral ritlecitinib for the treatment of active nonsegmental vitiligo: A randomized phase 2b clinical trial. Journal of the American Academy of Dermatology, 88(2), 395–403. https://doi.org/10.1016/j.jaad.2022.11.005

Pfizer. (2023, October 10). A 52-week study of ritlecitinib oral capsules in adults and adolescents with vitiligo (active and stable) (tranquillo). ClinicalTrials.gov. Retrieved October 18, 2023, from https://www.clinicaltrials.gov/study/NCT05583526

Pfizer Inc. (2023). LITFULO<sup>TM (ritlecitinib) capsules, for oral use: US prescribing information. Retrieved October 18, 2023, from <span>https://www.accessdata.fda.gov/drugsatfda_docs/label/2023/215830s 000lbl.pdf
Xu, H., Jesson, M. I., Seneviratne, U., Lin, T. H., Sharif, M., Xue, L., Nguyen, C., Everley, R. A., Trujillo, J. I., Johnson, D. S., Point, G. R., Thorarensen, A., Kilty, I., & Telliez, J. (2019). PF-06651600, a dual JAK3/TEC Family Kinase inhibitor. ACS Chemical Biology, 14(6), 1235–1242. https://doi.org/10.1021/acschembio.9b00188