The Vitiligo Society collaborates with leading brand, Vita Liberata
The Vitiligo Society had the pleasure of collaborating with Vita Liberata recently, a premium organic skincare brand that specialises in quality sunless tanning products. The collaboration came to be after Vita Liberata received a touching email from a member of the Society who shared just how much their Body Blur, one of the brand's leading products, had saved her life. In the email, the member revealed that she had very discoloured skin and that it was incredibly difficult for her to function in society without constantly being stared at which often made her feel uncomfortable. After spending years trying to find the right product to disguise her Vitiligo, she discovered Body Blur, a body makeup that gives a flawless skin finish and reduces the appearance of imperfections on the skin.
After receiving the touching email, Vita Liberata naturally reached out to us and the conversation began about how we could work together and help others with Vitiligo who wanted a natural and safe way to disguise the patches on their skin.
The campaign, which featured four lovely ladies with Vitiligo, including Society trustee Natalie, was created to show just how well Body Blur works on the skin. Designed for women in general, Body Blur isn't aimed specifically at those with Vitiligo, but for those seeking to cover any imperfections on the skin and one of the many benefits of the product is that it works quickly, is easy to apply and most importantly, doesn't stain clothes once applied.
Interviewed by founder, Alyson Hogg, the amazing women opened up about their stories and gave an insight into what it can be like living with Vitiligo. Amy, who developed Vitiligo in 2015 said she had had spent many years experimenting with all kinds of make up on her face & body, which were often very thick & looked un-natural. She then started to follow other people on social media who had Vitiligo and started to notice that self tanning products were regularly being used which made her want to experiment herself.
"I was approached by the Vitiligo Society and asked if I would be interested in taking part in a self tanning shoot with a major brand which was definitely up my street! Arriving at the studio in London, I was so excited to meet everyone and try out the new Vita Liberata self tan and when I did – I was totally blown away by it! It really blends & evens out your skin tone like no other self tan brand I have tried. It's like a foundation for your body but it's not thick like the make up I have tried in the past. It leaves a beautiful, glowy finish and I'm so pleased I've been introduced to it! I had the BEST day at the studio and even got slightly emotional at the end when I said good-bye to everyone! I was so grateful to have been given the opportunity to experience being treated like a top model for the day as this is something I never thought I would be comfortable doing since having Vitiligo".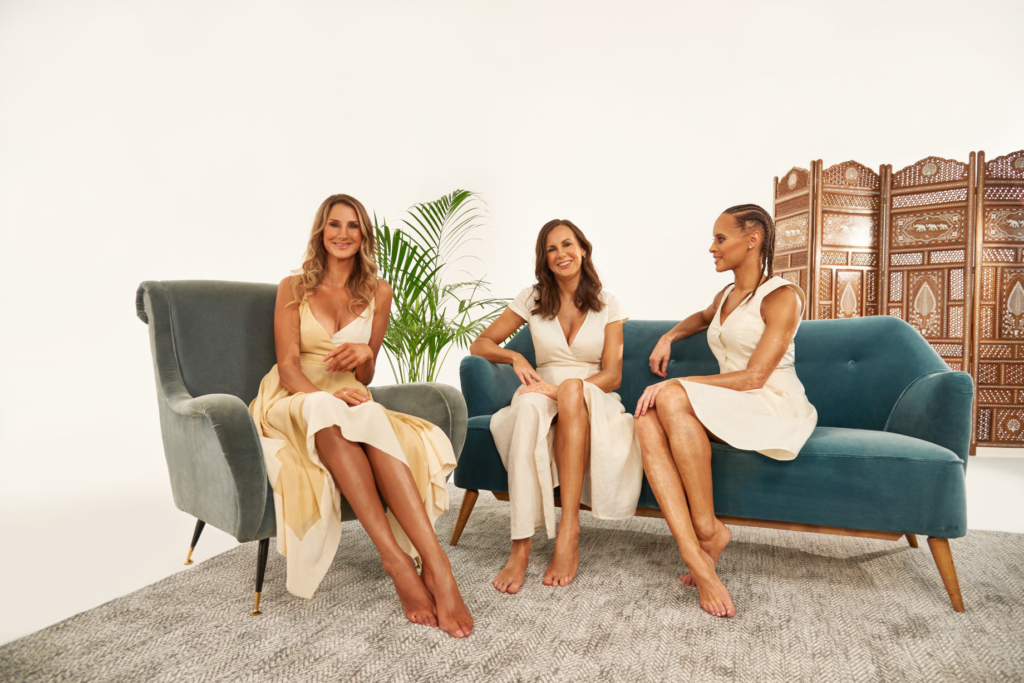 Another of the models was Abbie, who we'd met at our recent Vitiligo Society photoshoot. With her bubbly personality, we knew she would be a great fit for the brand. One of the highlights for Abbie was meeting other women with Vitiligo and hearing their stories.
"I was amazed at my transformation after using Body Blur, it looked gorgeous and made my skin feel so soft, unlike other cover creams and body make-up brands I've tried in the past. Body Blur is now part of my daily makeup routine because I often wear dresses to work. It's so quick and easy to apply and I love that I can cover my Vitiligo in no time at all! It really has helped my confidence, I can now go out without worrying that my patches are the first thing someone notices about me".
Completing the quartet was Angela who was also at the Vitiligo Society photo-shoot a few weeks prior where she revealed she had never shown her face in public without makeup until the Society photoshoot.
"I loved taking part in the shoot. It was such an amazing and fun experience. I felt fabulous and it all seemed a bit surreal. It was nice to feel accepted and in some context, important. It was nice to know that we were able to get the product out there for other people with Vitiligo. The product itself was so easy to apply as you don't need to be careful in the way that you apply to your skin and the end result was amazing and not to mention how light it is and the fact it doesn't create a mess! Although it doesn't fully cover up my Vitiligo it definitely blurred it. This product has definitely made tanning an option that I can choose for any occasion". 
This particular campaign sat very close to our Trustee, Natalie's heart as she started using self-tanning products in her teens. She recalls working her way through endless brands trying to find the right product that matched her skin tone, but always struggled because she was naturally darker. On discovering Body Blur, she quickly referred to it as a 'miracle product'.
"I have used Body Blur on a number of occasions and fell in love with it seconds after applying to my skin. I don't always wear makeup, but when I do, this is the product that makes me feel great, makes my skin look natural and has been the easiest to apply". Natalie also commented that "it was nice to work with three strong women who were open about their stories, had an amazing level of confidence and weren't afraid to share what they had been through in the past. It was a strong testament to how far they'd come as women with Vitiligo". 
DISCLAIMER: As a society that supports those with Vitiligo at various stages within their journey, we are well aware coverage isn't for everyone however, we also understand that the use of tanning products or camouflage makeup is a personal choice.