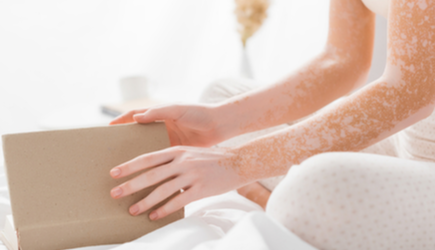 The Vitiligo Society Reading List 2022
There are so many incredible, inspiring and helpful books out there for anyone wanting to learn more about vitiligo or be inspired by some incredible vitiligo journeys!
Here is our list of books for vitiligo readers of all ages, all of which are available to buy online or order from your local bookstore:
The Skin You Live In
'With the ease and simplicity of a nursery rhyme, this lively story delivers an important message of social acceptance to young readers. Themes associated with child development and social harmony, such as friendship, acceptance, self-esteem, and diversity are promoted in simple and straightforward prose. Vivid illustrations of children's activities for all cultures, such as swimming in the ocean, hugging, catching butterflies, and eating birthday cake are also provided. This delightful picturebook offers a wonderful venue through which parents and teachers can discuss important social concepts with their children.'
"The Skin You Live In" is a wonderful book to help children understand the different skin colors that exist in the world and how one is not better than the other. This children book goes through the different tones and hues and skin variations that surround us. It compares skin colors to warm cocoa, spun sugar, lemon, and toffee wrapped cinnamon spice and it talks about how each of these are all "special and different and just the same, too!" Sophie Healy
I've Got Spots
'When her skin begins to lose pigment, a little girl learns how to embrace her changing appearance. This book is a heartfelt reminder for children (and adults!) to learn about and celebrate their differences.'
Lucy's Umbrella
'Lucy has vitiligo. She finds beauty in the patterns on her skin. She also finds beauty in the patterns she notices out in nature. Follow Lucy as she goes on a walk through nature, admiring everything she sees.'
"I absolutely love everything about this book! Other than teaching us a bit about vitiligo, I love how Lucy and her friends are so accepting of her different "patterns" and how Lucy sees beauty in everything around her. It gives such a positive message and is appropriate for all children, whether they have patterns to be proud of or just love to recognize the beauty all around them. Very well written with beautiful illustrations!" Shelly Hart
Snow White's Seven Patches: A Vitiligo Fairy Tale
'Snow White's Seven Patches: A Vitiligo Fairy Tale" is a modern-day story with the classical theme of good conquering evil. You'll find the age-old ingredients of a magic mirror, poisonous apple, dwarfs, and romance here. However, this adaptation includes a vain mother who's so clouded by beauty myths that she keeps her own daughter a secret, while plagiarizing the workings of her mind. Everything falls apart when the good mirror finally speaks the truth.
Young readers with vitiligo will look at their own skin patches with a unique lens, finding interesting shapes and stories behind each puffy cloud of white. Readers will be introduced to the first hand-hurt that plagiarism can cause through Snow White's experience. The loving dwarf family illustrates that helping people in need should be a priority in life. Readers learn that not all princesses look alike. The concept of "beauty is within the eye of the beholder" is exemplified by the prince and magic mirror.'
" I have seen people with vitiligo before but I never knew what it was. I like that this book has a princess who doesn't look like all the other princesses – just like people are all different. I think this is a great book to teach kids about vitiligo so they understand when they see someone with it. I also like the part of the story about plagiarism – how the evil Ivy stole all of Snow White's work and published it as her own." – Erik This Kid Reviews Books
The Boy Behind The Face
'This is James McLeod's first children's book. In it he shares his story of growing up with vitiligo, dealing with bullying and insecurity, and how he overcame both to become his own superhero! This is a perfect book for children dealing with bullying or self-doubt, or for any child, to teach lessons in kindness and bravery.'
A No Nonsense Guide to Vitiligo
A No Nonsense Guide to Vitiligo will always be very relevant when it comes to exploring vitiligo because it is exactly that; a guide to all things vitiligo which investigates topics such as symptoms, common triggers, diet, treatment, medical jargon and a long list of other topics that are prevalent amongst the community. Author, Yan Valle is a notable figure globally, who not only has vitiligo and speaks from experience, but is also the CEO of the Vitiligo Research Foundation and has been committed to vitiligo research and improving the quality of life of those living with the condition for many years.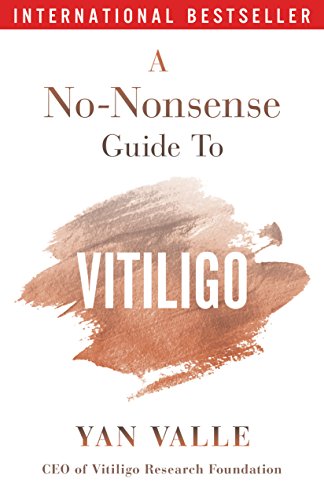 Authentically Addie
'Meet Addie!—A very special kid, with many characteristics that make her particularly unique. No matter what, Addie is always ready for an adventure—especially when she gets to discover what makes others different too. Follow along with Addie on her trip to the Zoo, where she meets amazing animal friends and learns about their many disabilities…By normalizing the ability for kids to explore their curiosity and ask kind questions about people they don't understand, they believe the world will be a less divided place.'
'This book is not only extremely informative and inclusive, but it is FUN! My children couldn't wait to see what difference each animal had next! I wish you could see the joy on their faces as I read to them and as they looked for the differences in the pictures! They asked lots of great questions which led to a sweet conversation about how unique and diverse our family is! The illustrations in this book are so beautiful which only adds to the joy this book brings! The author did a wonderful job of normalizing and explaining differences. This is a must read for all children AND adults!' – Tabby 
Skin Deep: A Child's Story
By Phyllis A Russell-Gilmer
'Loss of skin color, depigmentation of the skin, white blotches, milky spots…. These phrases all describe a skin condition called "vitiligo." Learn more about vitiligo and its effects from a child's perspective.'
Vitiligo Doesn't Scare Me
A book written by Author Kim Kirkland addressing the effects of vitiligo. It informs children on how to view and understand what is happening as well as how to deal with the condition.
'My 5 year old has this and I use it as a tool. His teacher reads this to the class in the beginning of the year so that his class understands what Vitiligo is and why he has the white spots.' – Amazon Customer
Demi Nicole: Little Miss Perfect
Demi Nicole, Little Miss Imperfect is about an adolescent girl that struggles with insecurity. She has two friends, who are sisters, named Insecurity and Confidence. Insecurity is a mean girl that appears to have it all together, but possesses a bad attitude. Her character fits who she is – Insecure! Deep down inside, Insecurity doesn't like herself, and she seizes every opportunity to say unkind words to Demi which causes her to experience feelings of pain and low self-worth. Insecurity's sister Confidence is always kind to Demi. Confidence suffers from a skin disease called Vitiligo. Confidence recognizes her flaws, but doesn't allow her skin condition to define her. She is a confident girl who accepts herself for who she is! Confidence always finds a way to lift Demi's spirits by speaking positively and encouraging her to always try to do her best. Demi eventually grows tired of Insecurity's bullying and put-downs and learns to accept herself for who she is because she'll never be Little Miss Perfect.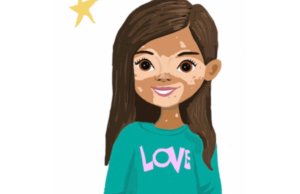 My Spots
'A vitiligo awareness book for young readers. Inspired by the first hand experience of Nakota Garee. Nakota imagines herself as beautiful animals of the world who are known for their spots. She discusses how vitiligo makes her feel and how reminding herself of the beautiful animals makes her feel beautiful!'
'There is nothing more important than the self-esteem of a child. Theresa has created a book that is perfect for any child trying to understand their place and value in the world as they battle vitiligo. If you have a child or know one who deals with Vitiligo, "My Spots" is a must have addition to the library.' – Jerry Roth
The Spot Spotter
'It's not always easy to feel good in your skin, especially when almost no one has skin like you. People stare! They stare at Cinnamon with her vitiligo spots. All the stares scare her, and she imagines the people have turned into a multi-monster that's after her spots. She's sure everything would be better if her spots were gone. Will this plucky little girl find a way to get rid of the Spot Spotter and of her vitiligo? Or will she find some other way to face the monster, spots and all?'
'This is all about being different but accepting that difference as being the beauty inside.' – F Grootte
All Bodies Are Cool
All Bodies Are Cool is a modern, body positive visual book that celebrates the beauty and uniqueness of all bodies. The focus is heavily on the illustrations which comprises of bodies of all sizes, types, shapes and colours and yes, it even features the body of a girl with vitiligo! The language tone is very warm and welcoming with a touch of humour and plenty of honesty about why your body is wonderful as it is. An inspiring book written with zero judgement, featuring empowering illustrations and plenty of self-love that encourages us all to welcome.
We're Going to Find a Monster!
'We're going to find the monster' follows Charlie and Eddie as they go on an extended adventure in search of a monster! Creatively written with plenty of fun and descriptive phrases, there is no mention that Charlie, the character with vitiligo, has the condition, which is truly significant because it creates a sense of normality without the desire to highlight the characters skin.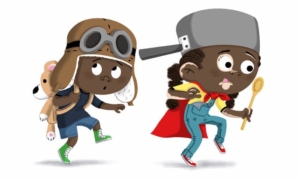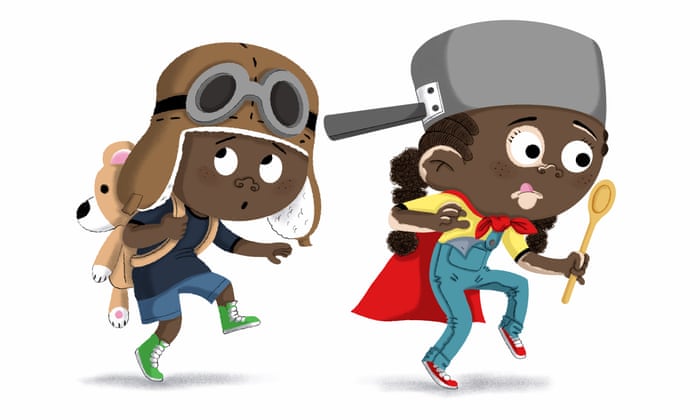 You Are Enough
Another great visual book designed as a reminder to simply 'be yourself'. This brightly illustrated story follows Sofia Sanchez, a 12-year-old model with Downs Syndrome as she connects with children from all backgrounds and abilities, including another character with vitiligo! Celebratory and positive, 'You Are Enough' is definitely one that highlights the importance of being proud of who you are. Currently available to pre-order on Amazon.
Strong In The Skin I'm In
Moving beyond the wonderful world of children's books, next up is Strong In The Skin I'm In by Joti Gata-Aura. This moving story, which is Joti's first novel, explores the many themes often associated with vitiligo such as diagnosis; treatment options, developing self love and navigating through a world where there is such a strong emphasis on the way you look. If you love books based on personal experience, then this is a must read for you.
How To Disappear Completely
This endearing read falls within the young readers category and shares the story of 12-year-old Emma who experiences immense grief after her grandmother passes away, whom she was incredibly close to. After the loss, Emma discovers strange white spots on her skin which is later diagnosed as vitiligo and leads to her feeling isolated at school and on the receiving end of taunts and bullies. However, beyond the despair, there are plenty of magical moments relating to her love of journaling. And in this story, one of her journaling moments leads to a response by a mystery writer which significantly changes her life. A great story for secondary school readers.
Ready for an Adventure!
Ready for an Adventure which follows the lives of two sisters who go on an adventure whilst being at home, and aside from the colourful illustrations and the story itself, one of the highlights is that one of the sisters has vitiligo!
The Definitive Guide to Vitiligo
A comprehensive and up-to-date guide on vitiligo, and the support and treatments available in the UK. Free to download from our website and now also available as an audio book!