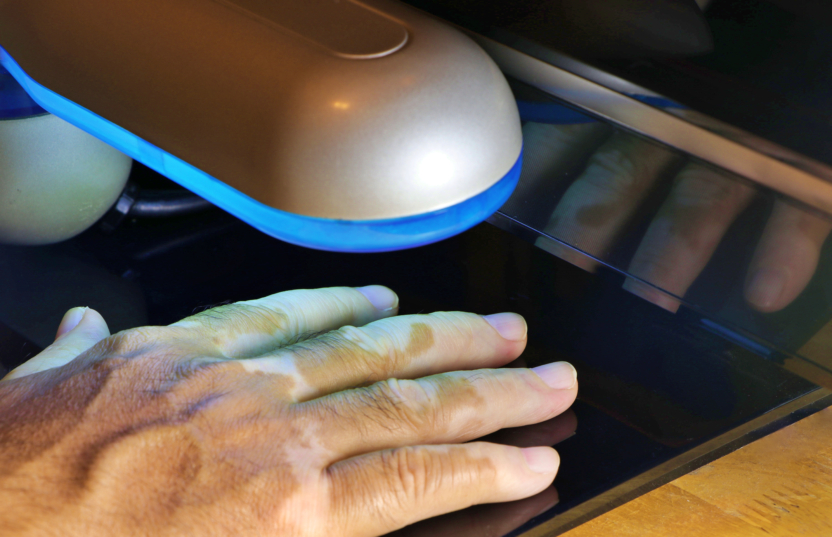 UV Light Treatment in relation to Skin Cancer
One of the common questions that is often asked by those considering UV Light Treatment is whether it can lead to skin cancer. Given the concern, we spoke to Dr Jonathan Batchelor, a Consultant Dermatologist at The Centre of Evidence Based Dermatology, for some guidance around what UV Light Treatment involves and the outcome of studies in relation to this type of treatment.
What are the risks of skin cancer with UV light treatment and is this treatment suitable for children? What should I be considering when deciding if this treatment is right for my child?
Ultraviolet (UV) light treatment is usually given for Vitiligo which has not responded to topical treatment such as topical corticosteroids, or topical calcineurin inhibitors (e.g. tacrolimus). It is also given when the vitiligo affects larger areas of skin and topical treatment becomes impractical. In the UK, by far the commonest form of UV light treatment given is narrowband UVB (NB-UVB), although some patients are treated with psoralen plus UVA (PUVA). NB-UVB tends to be used more often for various reasons, including the fact that it is more practical (there is no need for the patient to take psoralen tablets or to soak in water containing psoralen before going into the UV light cabin) but most importantly because the risk of skin cancer after NB-UVB is significantly lower than with PUVA.
There have been some very well-conducted follow-up (cohort) studies of people receiving NB-UVB, which assess the long-term risk of skin cancer in people who have received course of NB-UVB.
Probably one of the best-known studies was done by Hearn and colleagues, published in the British Journal of Dermatology1. This study found no significant association between NB-UVB treatment and the commonest forms of skin cancer (Basal Cell Carcinoma, Squamous Cell Carcinoma and melanoma). There was a small increase in BCCs amongst those who had also been treated with PUVA. However, the authors of the study suggested that the results should be treatment with some caution, as the cohort contained relatively few patients who had a high treatment number and because the slow evolution of skin cancers may result in a delayed peak in the number being diagnosed many years after UV treatment.
A more recent and even larger study conducted in Korea by Bae and colleagues2 looked specifically at patients with vitiligo who had received NB-UVB treatment, including some who had received more than 500 treatments throughout their lifetime. The study did not show any increase in skin cancer risk for these patients. It could be argued that this study was too short-term to look at the very long term risk of skin cancer in people who have received NB-UVB treatment, but results are certainly very reassuring for anyone considering this treatment.
If anyone is considering UV treatment for their child, I would certainly recommend that the treatment should be with NB-UVB and not with PUVA. Although there are no studies that look at the very long-term risk of skin cancer in people who have received NB-UVB treatment (including those who have received it in childhood), I think that the data from these two studies are very reassuring, and it is very unlikely that the treatment leads to a significant increase in skin cancer risk, even in those who receive the treatment in childhood.
Dr Jonathan Batchelor, BMedSci, BM BS FRCP.
1. Hearn RMR, Kerr AC, Rahim KF et al. Incidence of skin cancers in 3867 patients treated with narrow-band ultraviolet B phototherapy. Br J Dermatol 2008 Sep;159(4):931-5.
1. Bae JM, Ju HJ, Lee RW et al. Evaluation for Skin Cancer and Precancer in Patients With Vitiligo Treated With Long-term Narrowband UV-B Phototherapy. JAMA Dermatol. 2020 May 1;156(5):529-537