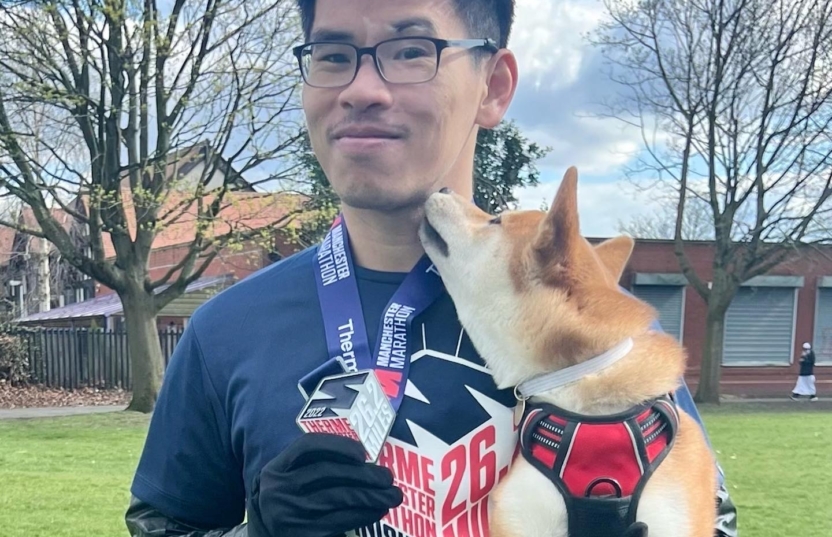 Vitiligo & Diabetes: How Running Helped Me Come to Terms with My Visible and Invisible Difference
When Harry Leung discovered patches on his skin in 2019, he had no idea that it was the start of his journey with vitiligo. It started on his face, which some might say is the hardest place to develop the condition because it isn't always easy to cover. It didn't take long for the small patch to develop, leaving him feeling vulnerable and with little control over what was happening to his body.
He recalls his first appointment with his local GP just a few weeks later "I went as soon as my skin started to change. My GP wasn't particularly helpful and didn't diagnose me with vitiligo straight away. The lack of diagnosis or understanding of what it was left me feeling very frustrated so I quickly made the decision to see a Dermatologist because I was desperate to understand what it was. The Dermatologist was incredibly helpful and was able to diagnose me with vitiligo straight away".
After being diagnosed, Harry felt a sense of relief because it meant that he could start learning about what vitiligo would mean for him, it was also comforting to know that it wasn't life threatening. However, despite this, his diagnosis was tinged with some sadness as it now meant he had to come to terms with have a condition that was incurable and unpredictable.
He says "at first it was really difficult to look at myself in the mirror so I avoided looking at myself for a while. There were times when I felt very self conscious of my appearance particularly in public places where I felt I was being judged because of my skin". Treatment, as in most cases, was suggested during his visit to the Dermatologist. "I was assigned to a hospital for UV light treatment. This happened around 2020-2021 during COVID so my treatment was delayed and postponed for some time. However, when I did start the treatment there was very minimal change and during that time I was starting to accept my skin which made lack of positive results from the treatment, easier to bear".
Harry's diagnosis came at a difficult time – just before COVID, which lead to a global lockdown where we were forced to stay indoors to avoid exposing ourselves to potentially contracting the disease. For many, COVID was an opportunity to avoid being outdoors and on the receiving end of staring, inquisitive questions and the feeling of exposure. It significantly reduced the feeling of anxiousness. "During lockdown 2020, I didn't have to commute to work so there were less opportunities to be in public and so I could avoid feeling self conscious about my vitiligo. I picked up running as a way to stay active and get out of the house during lockdown. I also have Type 1 (insulin dependent) diabetes so staying active has always been something I strive to do to help me keep my glucose levels in check". Harry continues.
Getting fit was one of the few ways that we were encouraged to manage our mental health whilst staying safe during such a difficult time and for Harry, not only was it was the catalyst to him developing a keen interest in (and eventually) running longer distances but it also gave him the personal space to publicly show his skin, allowing him to work on his confidence in the process. "Running during lockdown helped me to cope with vitiligo. It was a way to escape, particularly during the first lockdown where everybody had a lot of time to reflect. It gave me confidence to appear in public with my condition while working on myself. At times I would run past people with different medical conditions. I started to become more aware of other people with vitiligo and met other people with the condition whom I didn't realise had vitiligo. They all seemed to just "get on" with their lives and live the way they wanted. It made me realise just how different we are from each other, including our appearance. All my feelings of sadness and poignant moments were all created in my head. I learned that I can be in control of my own identity without letting the condition control me. I can accept vitiligo as part of who I am". Said Harry.
Harry's love for running continued to strengthen and after the first lockdown he found himself running after work and over the weekend, whilst challenging himself to run longer distances. This led to his desire in wanting to run his first half marathon, a 13 mile stretch on New Years Eve in 2020. He remembers the time fondly "I ran through the busiest part of town, through all the parks and out in public. I completed the run in a reasonable time. My legs ached but I felt so good afterwards". After his first run, Harry began to realise that having vitiligo and Type 1 Diabetes was no longer a barrier to him achieving and they certainly didn't define who he was. "After the run I made a New Years resolution in 2021, to run at least one half marathon every week until the end of the year. By the first week in December, I ran over 35 half marathons and 9 full marathons. It was then that I set myself a goal for 2022; to run 33 marathons in 2022.
Reading Harry's story is incredibly inspiring and gives a message of hope to those who struggle to see past their skin or any condition they might have. Not only did Harry develop vitiligo just before a global pandemic, which took the focus away from other illnesses and conditions, but it forced him to look after his mental health whilst making sure that both conditions didn't hold him back.
The number 33 became of significance to Harry because not only was he 33 years old, but it marked 30 years since he was diagnosed with Type 1 diabetes and 3 years since his diagnosis with vitiligo, and so he wanted to mark its importance by running and fundraising for The Vitiligo Society and Diabetes UK because of the support both charities have given him. 
On the 1 January 2022 Harry ran his first of 33 marathons. "Throughout 2022 I ran on average 3 to 4 marathons a month. They were mostly self guided runs planned by myself (I couldn't physically enter 33 officially run marathon races,) but I managed to run the marathon races in Cambridge, Manchester, Milton Keynes, Edinburgh, Richmond, London, and York. I ran in varying weather conditions, including the 40 degree heat we had during the summer right down to minus 2 degrees in the December. I met extraordinary, supportive people with inspiring stories and perseverance. In marathon races, participants of all different abilities, backgrounds, and appearances ran for a cause close to their heart". Harry says as he reflects on both training and the marathons themselves. He continues "Running in a marathon made me feel particularly emotional and grateful that through having vitiligo and diabetes I was able to met these people who can overcome adversaries and own their identity'.
Harry ran his 33rd marathon on New Years Eve in 2022. An incredible achievement. He raised over £3,700 for Diabetes UK and The Vitiligo Society. An incredibly generous amount that will significantly help the society to do the work that they do. Just 4 months after running 33 marathons in 2022, Harry continued to push boundaries and ran the London Marathon in 2023. He says "this time I was running the marathon for me. It was humbling to see reflect what my first run in 2020 lockdown has allowed me to accomplish and enabled me to accept vitiligo as just a part of me".
Since developing vitiligo, Harry has learned to live with the condition. He says "On a few occasions I've had people look and ask if I wear makeup to make my eye lashes and the tip of my eye brows white! To my surprise after I explained what Vitiligo was people still thought it looked cool and unique! I learned to find the humour in personal encounters and people's curiosity, which is completely understandable. My biggest learning in all of this is that it's up to me to be open and accepting of myself and others; being my authentic self, and pursuing things I would like to do, that's what really matters".