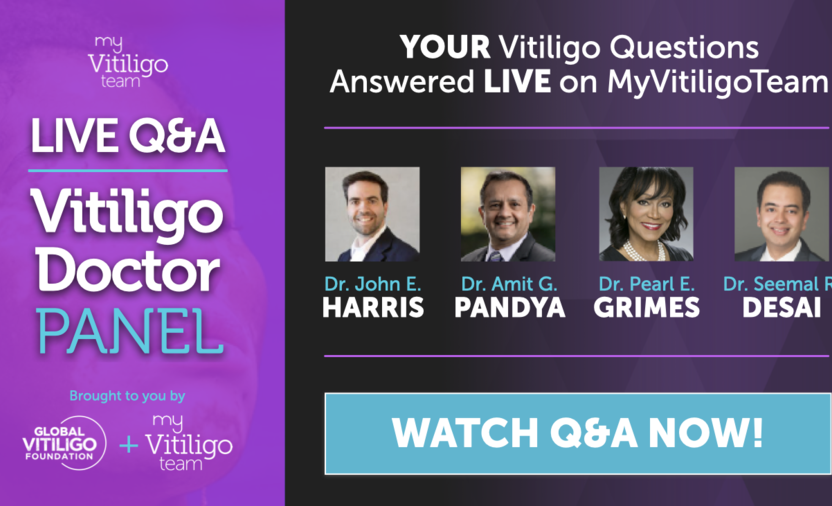 Vitiligo experts answer FAQs about the condition in live panel
Vitiligo Experts Answer FAQs About the Condition in Live Panel
This fall, leading vitiligo experts gathered for a live panel where they answered frequently asked questions about vitiligo. Moderated by Dr. Amit Pandya, the panel also included Dr. Pearl E. Grimes, Dr. Seemal R. Desai and Dr. John Harris. These leading experts weighed in on topics including the cause of vitiligo, genetics and autoimmune implications, pregnancy, diet, nutrition and treatments.
The live event was co-hosted by MyVitiligoTeam, a social network for those with vitiligo, and the Global Vitiligo Foundation, an organization dedicated to improving the life of those with vitiligo through education, research, clinical care and community support.
Here's some of what they shared during the event:
According to the panelists, vitiligo is usually caused by a combination of three things: genetics, autoimmune destruction of melanocytes (skin cells) and oxidative stress.
How does diet impact vitiligo?
While there is not evidence that diet and nutrition can cause vitiligo, panelists stressed that a healthy diet is important when living with any autoimmune disease, including vitiligo. Dr. Pandya recommended that those with vitiligo have five servings of fruits and vegetables a day.
Do hormonal disorders or pregnancy cause vitiligo?
The panelists agreed that they have not seen hormones playing a major role in vitiligo. Dr. Pearl Grimes shared that while some of her patients will experience a spread in vitiligo while pregnant, others will experience repigmentation.
What's the likelihood of passing vitiligo to your children if you have it?
The average person has a 1 in 100 chance of getting vitiligo. However, if you have a parent with vitiligo, you have a 6 in 100 chance of getting the condition. In other words, there is a 94% chance that if you have vitiligo, your child will not get vitiligo.
Can you get other autoimmune diseases if you have vitiligo?
Yes, you can. The panelists stressed that if you live with vitiligo, you should be screened for other autoimmune diseases too. In particular, those with vitiligo have a 15% higher chance of developing autoimmune thyroid disease. Regular screenings for this and other autoimmune diseases can allow for early detection and treatment.
How do you find a board-certified dermatologist who is a vitiligo specialist?
Can meditation help improve vitiligo?
There are interesting studies on mindfulness and controlling stress levels. While there's no evidence that controlling your stress could stabilize vitiligo, there are anecdotal cases about people changing jobs or moving to a relaxing space and experiencing repigmentation in their skin. Overall, it's recommended that you reduce stress through therapy, exercise and meditation.
Disclaimer: The information, including but not limited to, information from presenters, text, graphics, images and other material shared during this event are for informational purposes only. The information is not intended to be a substitute for professional medical advice, diagnosis or treatment. Always seek the advice of your physician or other qualified health provider with any questions you have regarding a medical condition. Never disregard professional medical advice or delay in seeking it because of something you heard during this event.