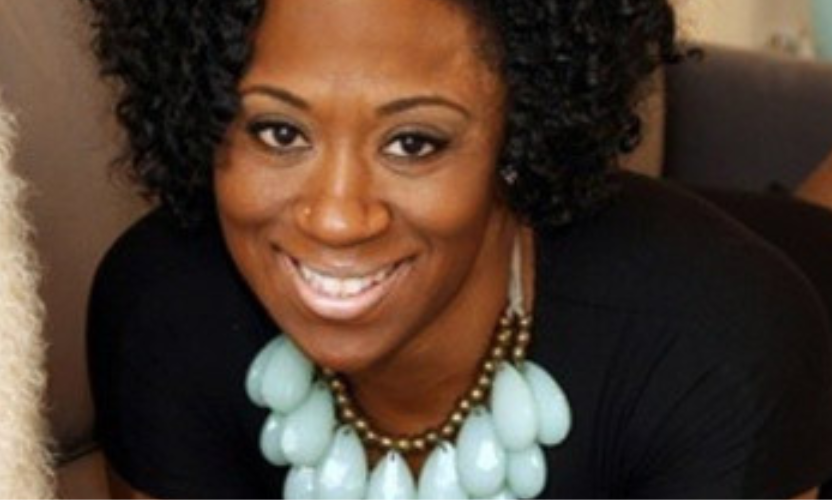 "Vitiligo has caused me to re-examine my beliefs & values"
Dayka Robinson is an Atlanta based interior designer and vintage furniture lover. She shared an open, honest and thought provoking account on being diagnosed, how it changed her world in the first few years and what having a visible condition has taught her…
Traumatic would be another good adjective to insert here. I'm not talking about an ailment you were born with and I'm not talking about pregnancy. I'm talking about literally waking up one day and noticing that the skin on the body you've known for almost 30 years is suddenly changing. Then, going to a dermatologist who confirms you have something called "Vitiligo" which has no known direct cause, no cure and an unpredictable prognosis. Up until then, I only knew it as the condition that Michael Jackson had. When I left that office visit, I realized that I had joined his ranks. What I didn't realize was how much it would change me…for the better.
I first noticed the handful of small, discoloured spots just below my belly button. They weren't particularly large, and they weren't extremely discoloured either–just a trail of four smallish spots that seemed to appear out of the blue. I didn't think much of them outside of noticing the inconsistency and filed it away in the back of my mind. It wasn't until many months later, as I took note that they were getting lighter and larger (and after a bit of frantic Googling), that I got a little concerned. When the dermatologist confirmed the diagnosis…I still remember walking out of the office in a fog. I was uncertain of what to expect…and I was devastated.
Vitiligo is an autoimmune condition which affects the pigment in your skin by causing your immune system to identify your melanin-producing cells as an "invader" and attack, so that the cells either die or stop producing melanin. The bright side is that there's no effect on your practical, day-to-day functioning & it doesn't cause any internal issues other than skin discoloration. The "downside"? Despite knowing that it's "just skin", still having to navigate a psychological forest of conflicting emotions that are very real. It's like trying to execute a full spin on a teensy tightrope launched 250 feet in the air, it ain't the easiest thing to manage. It is shocking…and frightening…and depressing to see something visibly take hold of your body that you can't control. And then there are those who minimize this experience because they think it's "just a superficial thing"…which is an incredibly dismissive position to take when it's not transforming your body. What many people don't seem to understand is what the effect of something like vitiligo can do to your mind: it will have you questioning your own beauty & value, reconsidering everything you think you know about yourself.
From my perspective, developing vitiligo as an adult is extremely different than having it as a child. I have, in effect, lived an entire life in one skin colour, high school, college & beyond only to develop a new skin as I approached 30. And of course, this is what we're supposed to do in our lives; grow & shed the skin we come to know as a means of expanding more into the people we're purposed to become. But when it's literally happening before your eyes!! Yikes. It can be a challenge to watch this process unfold and the uncertainty surrounding its progression (not knowing what to expect) used to cause a constant state of anxiety…which did not do much to help my immune system. Those early days were like a merry-go- round I couldn't seem to find my way off of.
For the first few years I was very diligent about staying covered because I was sure that I didn't want anyone to see what was happening to my body. And in those early days it was an easy task, if you didn't see my stomach or the center of my back, you wouldn't have caught a hint of what was taking place. But I pride myself on transparency and felt like a fraud during those years, aware that I wasn't owning my truth yet at the same time, having no idea of how to embrace what was happening. Because literally & figuratively, inhabiting a new skin changes you. But whether it's for better or for worse is ultimately up to you. In my case, it forced me to let go of how I visually imagined my life would be. And if I'm being honest, it forced me to rethink/re-examine who I thought I would be in this life.
It's safe to say I considered myself to be attractive. Secure in the knowledge that I was a decent person and just as confident in saying that I wasn't an ugly duckling, either. Yet, for years, seeing vitiligo spread across my body felt suffocating, being enveloped by something I couldn't control. Hours of perusing pics on Google Images didn't help much in those early stages, either.
Because you can get lost in looking at the photos, seeing the possibility of what could happen to your skin without the balance and understanding of the only thing this experience is REALLY requiring of you to become someone new. In and of itself, vitiligo makes me different from most people and while difference is something we tend to champion when it comes to businesses, personalities, music and fashion, we don't always celebrate "differentness" when it comes to appearances. For instance, sometimes people just stare uncontrollably.
I know that curiosity can get the best of people and they can't help looking at the white spots trailing down my shoulder or sneaking out along the neckline of my dress, but the blatant staring? Even to this day, it can make me feel like the main attraction in a circus. I don't think people mean to stare in amazement. I believe we all are inherently good, yet when you're insecure about your own body, seeing people fixate on it just magnifies everything that's already under the surface. But the feelings that come up for me in those moments speak more to the narrative that I believe about myself, and less about other people and what they may be thinking. Knowing this actually does make the stares easier to process because it gives me a sense of power to know that there is a major part of my experience that I CAN control. And that, when it comes to me, nothing is ever true until I believe it to be so. After all, this is my journey, my story and I'm 100% responsible for the meaning that I assign to the events in my life. This fact, I own.
When people say things like "it's not a big deal" or that it "shouldn't really matter", I understand that they're intending & wanting to be supportive but here's the thing, when it's happening to you and it's your body and changing your life, it kinda is a really big deal. My brown body now has varying shades of white spots across a good portion of it, and unless we're in the dead of winter, it's not as if you could look at me and miss them. But there's no denying that it has changed how others see me visually and also, how I show up in the world. But here's the good part: – It gets better. It gets easier to face and honour what's happening in my body each time because vitiligo has undoubtedly made me better, stronger.
I don't know if I can truthfully say I'm at 100% acceptance but I know this for sure: I'm not where I was seven years ago. I set out on my own to find my center and in time, that's exactly what I found. And time & time again I remind myself, just because my life doesn't look exactly like what I thought it would doesn't mean that I don't have a really good life because it is really good (incredible, actually), and I am happy. I've learned that it's okay to mourn that road that didn't chose me and the secrets it held while simultaneously being excited about the road that I do have. Yes, it's different, but it's also an incredible opportunity to practice what I believe, that things are always working out for my good, even if I can't see it just yet. And because of this core belief, I'm able to move forward knowing that everything at the deepest level is as it should be and that my purpose in this life is not diminished because of Vitiligo but instead made perfect through it.
This I know for sure. Vitiligo has caused me to re-examine my beliefs & values; to be clear about who I say I am and the ways that I am/am not showing up like I intend to. I believe in the power of intention and living in personal integrity, which is to honour yourself by being/doing who & what you say you are. This experience has expanded my faith and reminded me of what I know to be true, that I am not this body, but the essence of Dayka is created in my soul…the untouchable, undefinable, perfect, all-knowing source on the
inside. And I don't mean that in a cheesy way but truly, when we transition out of this life, our bodies remain but our souls, the very essence that makes us who we are, are what remains and THAT is what those who are still here, mourn over. So I continuously affirm to myself that I am not this body, and that everything I need for my journey on this path is already within. I am not devoid of anything, nothing about my life is a mistake, and how my body was created is intrinsically tied to who I'm supposed to be in this world. I would not be so clear about this truth without having journeyed through this experience.
So in the spirit of honesty, transparency and transformation, I wanted to share this part of my life with all of you. To share my story about a life change that started out so heartbreaking but more importantly, became so transformative in my life. Vitiligo led me to a new lifestyle which has done wonders for my health. I don't regret ending my relationship and I'm enjoying being single and relishing the beauty & peace of being alone (alone, not lonely, mind you). I have a career I love and a business that is doing really well. I love where I live and I'm very happy with me and the work that I've done on myself. Work that may not have taken place without vitiligo.
If you are looking for something to hold on to, needing to hear that it gets better. Well, I'll tell you this: it really does get better…but it's because of the work you do on the inside of you, not on the outside. In so many ways, I never imagined that I would have the life I know today. I'm grateful for what I didn't know back then about this journey that lay ahead–it would've seemed insurmountable to the 2007 version of myself.