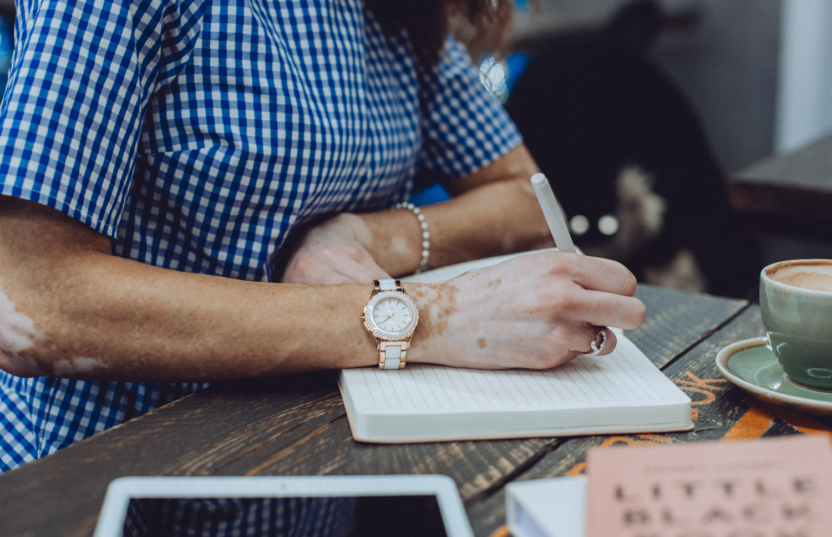 Vitiligo Influencers 2020
For many of those with vitiligo, the online community has been vital in relation to feeling supported and being reminded that 'we're in this together'.
Since vitiligo has become a movement for raising awareness, we have seen influencers and ambassadors taking to social media and using their voice to share their story and inspire others, instantly making them relatable and appealing to a range of audiences with the condition.
In this feature we want to globally celebrate those influencers who have been actively using their voice to raise awareness, have collaborated with brands and who have positively changed the narrative and stigma around vitiligo…
Sonya Danita from Kuala Lumpur, Malaysia is incredibly striking and not just because she is 5'9 in height. As someone who has always dreamed of modelling but thought her skin was a barrier to her pursuing her dreams, Sonya's first encounter in front of the camera was with a photographer who approached her about an editorial shoot. Within a few months, the shoot took place and once the photos were ready, she nervously shared the images on Instagram alongside a caption that revealed who she was with vitiligo. The response was incredibly positive. Since then Sonya has walked the runway for KL fashion week and has featured in magazines such as Harpers Bazaar, Cosmopolitan and Marie Claire in her home country. Last year in celebration of international women's day, global brand Levi's invited Sonya to share her story alongside other women inspirational women. Earlier this year she was voted as one of the top Asian models to follow by Harpers Bazaar, Singapore. Sonya continues to use Instagram to inspire her 7000 followers, actively promoting body positivity and the importance of self love.
Sharon King was diagnosed with vitiligo in 1999 when she was just 12 years old and like many who develop vitiligo at such a young age, she struggled to accept the life changing condition. In 2017 she founded Litty Ligo, a Boston based outreach and advocacy network that dedicates its time to raising awareness with a focus on social and mental health. Sharon's primary mission is to educate adults and children in hope to change the stigma that is often associated with the condition. Since forming the group, Sharon has globally grown the network, which now includes over 20 advocates worldwide. She has actively participated in the annual world vitiligo day conference, and at the event in 2019 she facilitated the women's vitiligo forum. Most recently she was a panellist at Beyond Skin Deep, a virtual event that focused on the psychological effects of those living with a skin condition.
Also known at The Vitiligo Man, Shankar is a firm favourite within the vitiligo community. With a strong presence on Instagram and a distinctive white patch of vitiligo around his eye, Shankar uses his profile to uplift others, promote body positivity and raise awareness of mental health especially within the male population. Last year he launched, The Adventures of the Vitiligo Man, which is a marvel inspired series that covers topics, such as relationships, misconceptions around vitiligo and anxiety.
Ava Bright, 14 is a vitiligo child star and has grown so much since posting her first photo on Instagram back in 2018. In just a few years Ava's confidence has grown significantly which has naturally made her an inspiration in the eyes of teens and adults with the condition. Ava was just 4 years old when she developed her first spot which appeared on her back. She recalls experiencing some difficulty as the spots spread to other parts of her body and being at the receiving end of inquisitive questions, especially at school. Now part of her past, Ava is on a mission to raise awareness and show others that it is possible to love your skin the way it is. Ava has been photographed by some incredible photographers throughout 2020 and recently featured in campaign with luxury children's clothing brand, Asiabobo.
Ashley Soto, also known as Radiant Bambi to her 170k followers on Instagram, is best known for the stunning artwork she creates from the patches on her skin. Residing in Florida, Ashley developed her first patch when she was 12 years old and felt instantly helpless as the patches started to spread. Having spent many years covering her skin, especially during her school years, she finally plucked up the courage to create an Instagram page as she was tired of feeling so negative about herself. Since learning to love her skin and confidently sharing photos on her social media page, Ashley has been featured in the Huffington Post, Metro, Good Housekeeping and Allure.
In 2019, Angela joined The Vitiligo Society for a group photography shoot which we held as part of our website re-design. It was the first time Angela had given herself permission to be photographed without makeup and so publicly. It was a huge deal and revelation that has remained poignant in my mind, as I've personally continued to watch Angela's journey. Having signed with Zebedee Management, a revolutionary modelling agency for those with disabilities, this year Angela featured in a campaign with clothing brand Lucy & Yack and has just collaborated with Refinery 29 who have partnered with Dove for a self love campaign called 'In Full View' which interviews women with various visible differences.
Strikingly beautiful, Shahad Salman famously appeared on the front cover of Vogue Arabia in 2019 with none other than community icon Winnie Harlow. She has amassed a following of 95k on Instagram where she shares captivating images of the brands she has worked with including Paco Rabanne, Tory Burch, Maybelline and Ounass. In October, Mercedes Benz in the Middle East launched the 'How to' campaign in collaboration with Fashion Forward which focused on creatives, new artists, designers and musicians and which featured Shahad as an emerging model from Saudi Arabia.
A post of this type isn't complete without the mentioning of Living Dappled, a highly successful platform created by Erika Page that brings together women and girls with vitiligo. As one of the first lifestyle blogs of this type, Living Dappled is like the 'glue' to the community, bringing females together globally to talk about vitiligo and some of the heartfelt topics surrounding the condition. Earlier this year Erika excitedly launched the Dappled Darlings Community, which is for those that want more support, inspiration and a chance to share their story in a safe space and having personally attended previous sessions via Zoom, I can honestly say this is one of the best supportive groups currently serving the female population of vitiligans….