What I learnt from World Vitiligo Day
Is vitiligo a skin condition or a disease?
The simple answer is; both. However, how it is referred to in the US compared to the UK differs. This is mostly because of the connotations of both terms. Doctors, Dermatologists and those with the condition tend to refer to vitiligo as a skin condition in the UK. It doesn't sound so harsh, it's more socially acceptable and in a way it doesn't make vitiligo sound so bad. Here in the UK, you can be treated for vitiligo through the NHS, however in the US, the healthcare system is very different. Vitiligo is widely referred to as a disease because it's the only way a medical condition can receive financial funding. One of the points raised around it being called a disease was that it sounds contagious which I think many people are sensitive too and whilst some were more balanced with the term, a fair point that was raised was that vitiligo should be referred to in a way which is necessary if it means money will be put into research and development.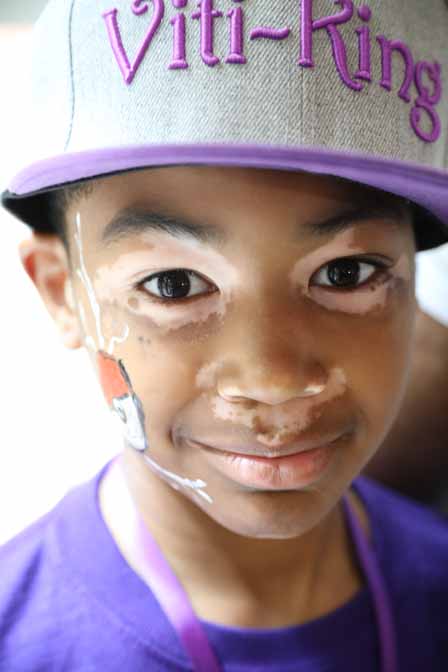 Parents are more concerned than the children
Naturally, parents worry about what others might think, what they might say and most importantly how other kids, especially at school will respond to them. Will they be called names? Will they be isolated? Will it lead to a knock in their confidence? Parents understand that they won't be around their child all the time and so need to provide them with the necessary tools to answer any questions or deal with potential negative remarks. One mother I spoke to said of her eight year old daughter "I did worry about her, but I quickly understood that she's fine. I've explained to her what it is and if anyone ever asks me what's on her skin, I tell them to ask her and she tells them she has vitiligo". Another point that was raised by parents is whether to automatically explore treatment. Does suggesting treatment as soon as the patches arrive give the child the impression that they aren't normal and that something should be done about it, or do you avoid the idea of treatment until the child raises a concern or is old enough to decide for themselves? Dr Pearl Grimes, a Dermatologist from Los Angeles, suggests that you have the conversation with your child. "You don't need to have all the answers in order to start a conversation with your child. Answer the questions your child has as best as you can and encourage them not to hide. Negotiate with your child about treatment. Ask them, if they start whether they want to have a 3 month break. Have those conversations with them". The subject around parents and children was a reminder of my own childhood and whilst I was in a completely different generation where vitiligo wasn't something to embrace, I recall trying plenty of steroid creams and being signed up for trials that had a 50% chance of working. It was the natural thing to do back then; discover a patch, get a diagnosis and then start treating it. Things are very different now because kids are more open to accepting it and embracing the skin they're in.
People STILL think vitiligo is contagious.
In today's world, I'm still surprised this comes up. It feels like an old point that is often raised through a real lack of education. Speaking to others at the conference, I really wanted to understand why people still think vitiligo is something you can catch and it is simple…it's down to a real lack of education which is something we are all trying to change. Admittedly, it isn't something I have heard for a while, but that doesn't mean people aren't thinking it or are avoiding coming too close in case they do. Who knows? I think it's really important that we keep repeating that it is not contagious, as it will eventually change this idea that vitiligo can be 'caught'.
Not everyone is looking for a cure
It is naturally assumed that if you have vitiligo, or any skin condition for that matter, then you must want to cure it and whilst this was likely the case ten years ago, this is certainly not the case now because people with the condition are more accepting of it. With social media playing a big part in acceptance and models such as Willie Harlow and Diandra Forrest showing the importance of diversity and the beauty in being different, it is making others appreciate and recognise their own beauty. During his presentation Dr John Harris spoke about the results of a new treatment that could reverse vitiligo called Ruxolitinib and whilst for some this a positive and exciting breakthrough if it could lead to a cure, for others it won't be something they are likely to try or explore. As Dr John Harris later said during a Q&A session, "things have changed and there are many people out there embracing their skin, however, I do still have patients who come to my office looking for a cure and these are the patients I have to work with". Everyone's journey is different and it's the individual's choice as to whether they decide to invest time in treatment.
During the break I asked one of the attendees why he wasn't attending any of the presentations. He simply told me 'he wasn't interested in a cure and that more needs to be done about managing vitiligo'. He raised a very fair point. With the evolvement of social media allowing those with vitiligo to connect globally and the increase in brands now using people with vitiligo in their campaigns (Gillette, Dove, American Eagle), people are now more accepting of their uniqueness and are realising the empowering benefits of being different. Our skin gives us a story. Why would we want to erase it?
The importance of support groups
Research has shown that support groups have a positive impact on those with severe cases of vitiligo. Often, the emotional effects of vitiligo can mean that people feel isolated, alone and as though they have no one to talk too. Now, in an age where social media is ingrained into our daily lives, it has allowed the evolution of support groups, both physically and online allowing us to communicate with those in the same country as us, and equally those from across the globe. Growing up, the only support I had was that of the vitiligo Society. Social media didn't exist until I was 16, so before that my main support network was family and friends. Now that has changed as I've connected with groups internationally on platforms such as Facebook, Instagram and Twitter. Online support groups allow us to talk openly, feel supported and safely ask questions in an environment where you'll get answers back from those who share the same condition as you. Support groups are a reminder that you aren't alone, that there are people to talk to and most importantly, without the online community many of us wouldn't know that support groups exist….and I would never have known about the World Vitiligo Day conference that takes place every year.