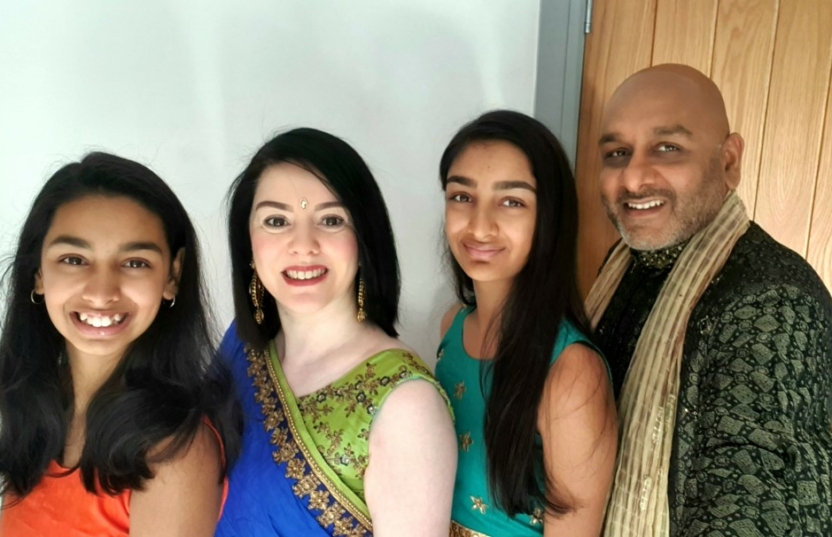 What it's Like to Live with Universal Vitiligo as an Indian Woman
Sheetal Surti was just seven years old when she first got vitiligo. By the time she was twenty-two, the UK resident had lost 100% of her skin's pigment–and, she felt, her identity as an Indian woman. With her brown pigment replaced by pearly white skin, Sheetal was beginning a new journey. But that didn't mean it was an easy one.
Growing up with vitiligo, Sheetal was used to staring eyes and being told that vitiligo was going to ruin her life. Both were a constant in her life, whether it was judging glances from strangers or insensitive and unwelcome comments about her skin. The spotted patterns on Sheetal's skin were a magnet for this kind of negative attention. That all changed when she lost 100% of her skin's pigment–but the struggle did not.
Today, the daily stares and comments are gone and Sheetal is thankful for that. But those challenges have been replaced with others–namely, the loss of her identity as an Indian woman and a continued struggle to embrace the skin she's in.
"I lost who I was and my identity as an Indian girl," said Sheetal, sharing what life is like with fully depigmented skin. "I'm still working through that and trying to figure out how to get it back."
For Sheetal, it feels like she has to prove her Indian identity to others regularly. Whether she's dressing up in traditional clothing or speaking in Gujarati, she often finds others–who assume she is English–in complete shock. But perhaps what hits home the hardest is family gatherings when a camera is pulled out–and Sheetal often finds that she doesn't look like she fits in with the others in the photo.
Moments like these feel isolating–and often trigger emotions that tie back to years of living and struggling with vitiligo. The spots might be gone–but the emotional trauma is still very much alive as Sheetal thinks about her vitiligo daily, and sometimes multiple times a day.
"People assume that because I no longer have visible patches, that I no longer have anything to worry about," said Sheetal, who says she's still working on accepting her skin today. "Or that I should count myself lucky." In fact, people consider her so lucky that they reach out to tell her just that–and ask for her secret.
"I quite frequently have Indian women with vitiligo contacting me privately through social media to ask how they can get their skin like mine so they can be happy," said Sheetal, who finds it upsetting to be so misunderstood. "They refuse to believe me when I tell them that I didn't take medication for my skin to be the way it is."
Moments like these have only further motivated Sheetal to take action to drive awareness and education around vitiligo, using her own story to do just that. Starting with a single post on social media, Sheetal was amazed at the supportive feedback she received. From there, she continued posting on social media and eventually started sharing her story with the media.
"I'm trying to turn this around to raise awareness about vitiligo and universal vitiligo," said Sheetal, who has been featured in outlets like BBC, The Sun, Insider and Living Dappled.
Today, Sheetal lives in Majors Green, England with her two daughters and her husband. She volunteers for the Vitiligo Society where she helps run VitChat, a service where those with vitiligo can chat directly with Sheetal about their experiences and seek information. Together with sharing her story, Sheetal has found that advocating for the vitiligo community has started to help restore her confidence.
"I realized the power I had if I chose to accept my vitiligo," said Sheetal, who has found happiness in being able to support others through her work. "Sharing my struggles is helping others, so for that, it's worth it."