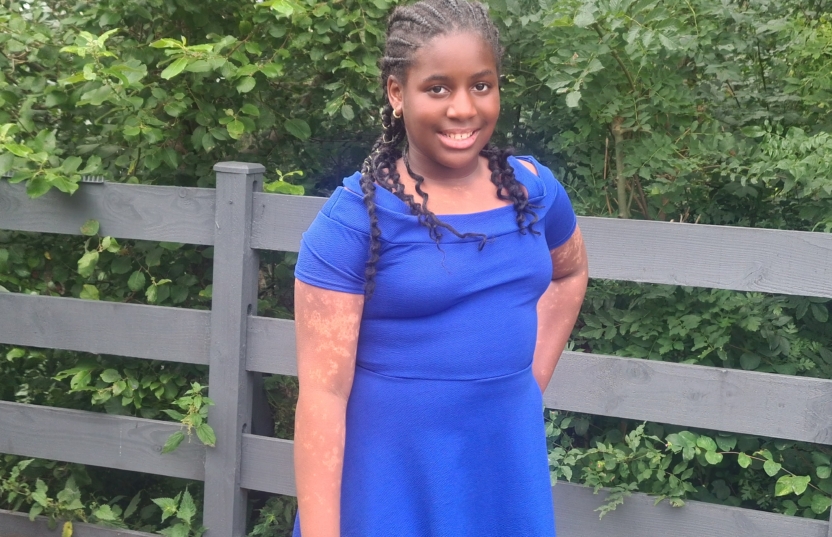 "Why Fit In When You Were Born To Stand Out" says Olivia Oleforo who developed vitiligo at seven.
Olivia, from Manchester, UK, was just seven years old when she discovered her first patch of vitiligo just beside her eye, and whilst she developed it at such a young age she was old enough to recognise that something unexpected was happening to her skin.
As with most kids of primary school age, often the first worry is 'what are my school friends going to think', followed by an overwhelming rush of thoughts that they will respond negatively. For Olivia, she thought her school friends wouldn't want to come near her because of her skin, and that it would attract unwanted stares that she knew would make her feel uncomfortable.
There is no history of vitiligo in Olivia's family neither did she know anyone with the condition, so quite naturally she thought she was the only one in the world with the condition. That thought alone is bound to make anyone feel alone with the condition and had she known there was a wider community out there experiencing similar feelings of confusion and acceptance, things may have been different.
In July 2021, Olivia underwent Phototherapy treatment which she did for 12 months. She says "My skin didn't respond very well to the treatment. I didn't see much change which eventually became confirmation to me that my patches were permanent. In that moment, my confidence started to go downhill even more".
Now 10 years old, Olivia can reflect on her earlier school years. She remembers how difficult it was to take part in activities such as swimming. She says "The first time I went swimming with my friends in my new school I was terrified because I looked so different to everyone else. It made me feel so self-conscious. Over time, I started to gain self-confidence which helped me to feel comfortable in my skin. I haven't felt the need to cover my arms and can freely wear short sleeve shirts to school and a swimsuit without feeling judged". Thankfully her family and teachers were on hand to encourage Olivia to step outside her comfort zone and over time she learnt to 'be brave' by letting her guard down in front of her friends.
She says of her support network "My family and teachers gave me a lot of confidence. They encouraged me to go swimming and show off my skin. I also became a health champion and well-being warrior in school to help other kids that were struggling with their problems. I recall helping one little girl in particular whose parents were separating. She was frightened and confused and needed someone to speak to and that's when she reached out to me. We discussed how she could remain calm in such a difficult situation and how she could take her mind off things and staying focused at school".
Navigating school and pre-empting the reaction of other children when they see your skin is often a worry for many children with a visible difference. Olivia, who will be starting secondary school in September, says "I would want my skin to clear up as I am going to high school this September. But I feel a lot better now even when people stare. My family think I am beautiful so it doesn't matter what anyone else thinks". A lot of how we feel is based on the response we get from others which can be mixed, however, the most anxiety is often from the stares that we can't control and unfortunately, can lead to negative self-image, something Olivia reflects on. She says "I wish I liked myself more when I first developed vitiligo because I recall feeling a strong sense of sadness when I noticed my skin changing, however, I am thankful that it hasn't stopped me from doing well in school and taking up leadership positions such as representing my school at the council. I have also passed three high school exams which I'm very proud of".
It has been three years since Olivia developed the condition and it's clear from her story that she feels wiser, more educated, stronger and most importantly, confident in her skin and says that she would like to meet and help more children like her, especially those struggling to cope with how they look. Olivia is an inspirational example of how we'd like all children to respond and cope if they have vitiligo.
As a final message, Olivia wants to encourage other children with vitiligo to be confident in their skin. "My year five teacher told me, why try to fit in when you were born to stand out. It's something that has always stuck out for me. I want to tell every child that there will be people throughout their lifetime that won't understand and may stare because it looks different, but ultimately they are the problem, not you and as long as you love yourself for who you are, those people who stare will never matter to you".