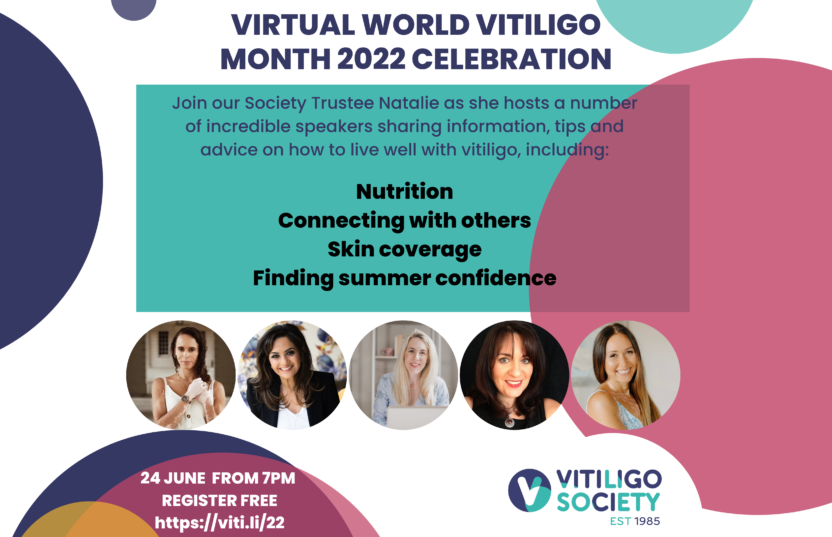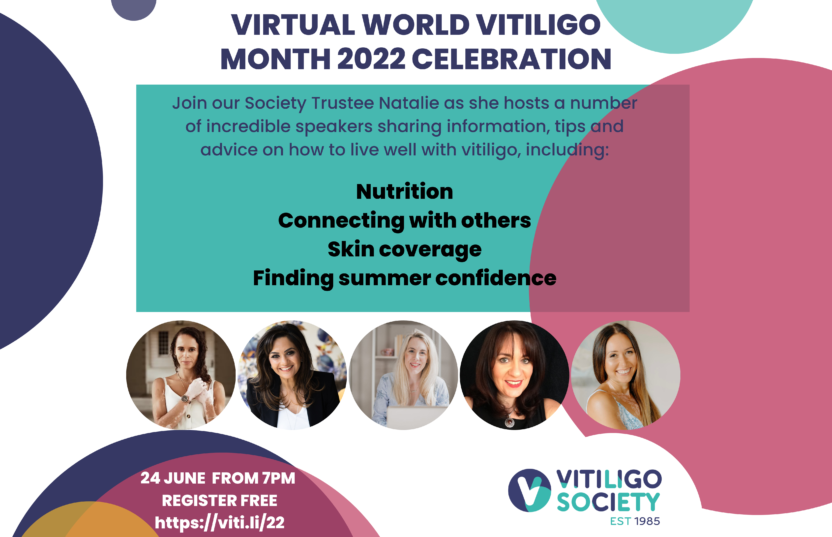 Join us as we celebrate World Vitiligo Month 2022
On 24th June, at 7pm our trustee Natalie will be hosting a number of incredible speakers sharing information, tips and advice on how to live well with vitiligo. 
'The connection between lifestyle, nutrition and mental wellbeing'
Kay Rai, Registered Nutritionist
Kay has personally been diagnosed with multiple autoimmune conditions including vitiligo. After seeing first hand the effects of adapting to healthier food choices had on her health, she enrolled to study at the London College of Naturopathic Nutrition (CNM) to understand more. Armed with clinical practice and a deep knowledge of nutritional science, Kay launched Inspire Nutrition to help others through their health battles. ​
Following her recent VitLife article, Vitiligo & Mental Wellbeing; Food, Mood and Gut', Kay will explore the connection between lifestyle, nutrition and mental wellbeing.
'The Power of Community'
Erika Page, Blogger & Living Dappled Founder
The founder of Living Dappled, the #1 women's lifestyle blog about vitiligo, Erika Page got vitiligo as a child and ultimately lost 100% of her skin's pigment to the condition. Erika Page serves as the editor and spokesperson for the brand. She has spoken at the U.S. World Vitiligo Day conference and has been featured on DermHealth.Co's Heal Thy Skin podcast, Channel Kindness and The Pretty Pimple. In 2021, Erika Page was named the #4 most influential vitiligan for the second year in a row through a survey conducted by Unite for Vitiligo.
Erika will share her personal story about connecting with others with vitiligo and why this can be such a powerful, transformative tool for finding healing and confidence when you live with vitiligo.
'Vitiligo Camouflage and Coverage Techniques'
Nina Brown, Camouflage Practitioner at Changing Faces & Beauty Therapist.
Nina has 37 years experience in the beauty industry, and her career spans many fabulous therapies and experiences. She is most passionate about providing treatments and services which give confidence, making a difference to the way we see ourselves. As well as working in theatre makeup she has also lectured in Beauty and Holistic Therapy, Electrical Epilation and Media Make-up.
Nina will be talking about the use of camouflage in giving us a choice over our appearance and a sense of control over how we want to look day to day. She will discuss the use of different coverage techniques in building confidence and self-esteem so that we feel empowered to lead the lives we want.
'Feel confident with your vitiligo this summer'
Natalie Jones, Coach at Every Body Beautiful
After developing Vitiligo and feeling low self worth and confidence as a result, Natalie spent the past decade researching how to heal her skin and restore her confidence. She studied how nutrition, lifestyle habits and mindset work together to support and nourish our skin. Along the way, she gained valuable insight into what really matters most when it comes to the wellbeing of our skin and truly being happy in it. She felt so passionate about sharing what she's learned to help others with skin conditions, she trained to become a coach and now enjoys sharing her unique approach to help skin journeys feel easier.
On World Vitiligo Day, Natalie is excited to share some helpful tips for feeling more at ease in our own skin during summer. Natalie understands how we can have mixed feelings about revealing our skin, so she wants to share some key mindset strategies that helped her shift her attitude towards summer so she could actually enjoy it more freely again. Natalie believes we all deserve to feel good in our own skin and she's excited for you to feel more at ease this summer too!