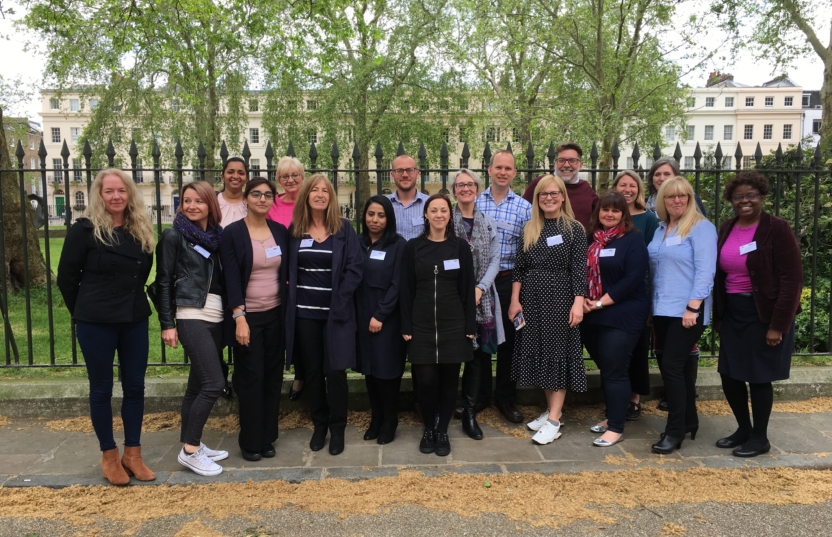 Results of the Hi-light Vitiligo Trial
It's been a pleasure to share updates about the HI-light Vitiligo Trial in The VitLife and we'd like to take this opportunity to thank everyone who has supported the trial over the years. We're delighted to share the much-anticipated results of the trial with you in this latest edition. Further information can also be found on our study website.
Thanks to the HI-LIGHT Vitiligo Trial, we now have a better understanding of the effectiveness, safety and acceptability of topical corticosteroids and home light therapy, and the results are being shared with clinicians responsible for the care of people with vitiligo.
We have also produced a brief animation about the trial to help people with vitiligo to understand the results.
Standard vitiligo treatments include steroid creams and narrowband UVB light (NB-UVB). However, there is limited evidence about how well these treatments work. Recently, it has been possible to buy handheld light therapy devices at a reasonable cost. Availability of these devices now means that vitiligo can be treated at home, without the need to attend hospital two or three times a week for long periods of time.
This is why the National Institute for Health (the part of the NHS that does research) funded a trial assessing the use of steroid cream and handheld NB-UVB light devices to treat vitiligo at home. The trial compared how well these treatments work, both alone and in combination, for treating small patches of vitiligo, and whether there were any side effects.
What treatments did we test?
The participants were split into three groups. To make sure participants didn't know what treatment(s) they were using, all were given a cream and hand-held light emitting device:
Steroid cream only group – this group received a steroid-containing cream and a dummy light (light produced was not NB-UVB light)
NB-UVB only – this group received a dummy cream (a cream with no steroid in it) and a NB-UVB light device
Combination – this group received a steroid-containing cream and a NB-UVB producing light device
What did the results show?
After 9 months of treatment, we asked participants to judge how noticeable their vitiligo was at a 'target' patch (a patch which they'd treated and where they most wanted to see an improvement). We considered the treatment to be a success if the participant said that their patch was 'a lot less noticeable' or 'no longer noticeable' at the 9-month timepoint. This was measured using the Vitiligo Noticeability Scale, which we had previously developed in collaboration with patients (Figure 1).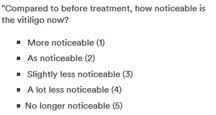 Figure 1: Vitiligo Noticeability Scale
The results showed that using both treatments in combination was better than using just steroid cream or NB-UVB on their own (Figure 2). Combination treatment was also likely to achieve a treatment response more quickly.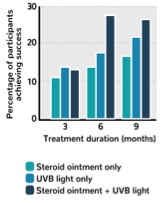 Figure 2: Graph showing the percentage of trial participants with treatment success at the target patch during the treatment period of the trial.
Patches on the hand and feet were less likely to respond well to treatment than patches on other parts of the body.
Almost two-thirds of people using combination treatment achieved at least partial treatment response by 9 months (27% said their vitiligo was no longer noticeable or a lot less noticeable, and 35% said their vitiligo was slightly less noticeable).
Using steroid cream alone was also a useful treatment for some participants and is likely to remain the first treatment recommended for use (17% using steroid cream alone said their vitiligo was no longer noticeable or a lot less noticeable, and 24% said their vitiligo was slightly less noticeable).
People who used treatment more often were more likely to have a successful treatment response. The trial also showed that these treatments are safe to use at home for up to 9 months with minimal side effects.
The most commonly reported side-effect of treatment was accidental burning of the skin (like sunburn), and some people reported thinning of the skin. For these people, treatment was stopped until the symptoms improved.
Unfortunately, for many people, the vitiligo returned once treatment was stopped, suggesting that ongoing maintenance treatment might be needed.
This trial showed that using steroid cream and NB-UVB in combination is likely to be better than steroid cream used alone, although for some people steroid cream alone can be effective and remains a useful treatment. If the treatments are to work as well as possible, they need to be used regularly, and this requires a significant time commitment over many months.
Further research is needed to find the best way of maintaining any improvement in the vitiligo over the long term. With no known cure for vitiligo, and very few treatment options available, combination treatment with steroid cream and handheld NB-UVB is a reasonable treatment option for people with small areas of vitiligo
Hospitals that took part in the HI-LIGHT Vitiligo Trial are being encouraged to use the trial devices to start homebased phototherapy services, but for the moment, home NB-UVB treatment is not offered as normal care in most parts of the UK.
If people with vitiligo wish to purchase their own light therapy device for home treatment, we would recommend asking for advice from a dermatologist prior to use. We have made available the treatment schedules & treatment log and training videos from the trial on our website as helpful resources for clinicians.
The HI-Light Vitiligo Trial was funded by the National Institute for Health Research's Health Technology Assessment Programme (project number 12/24/02) to inform NHS care. The views and opinions expressed herein are those of the HI-Light Vitiligo Trial Management team and do not necessarily reflect those of National Institute for Health Research's HTA Programme, NIHR, NHS or the Department of Health.