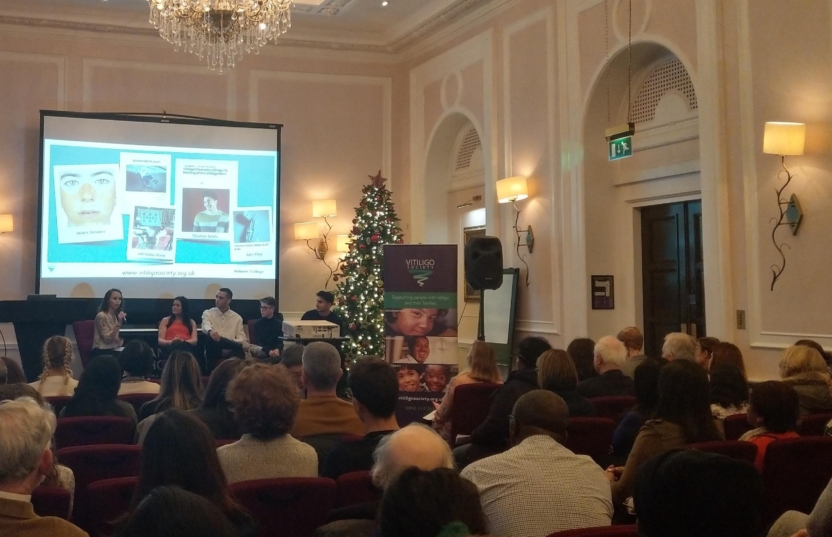 2018 Vitiligo Society Annual Open Day roundup & videos
On Saturday 1st December 2018, we held our Annual Open Day and AGM at The Amba Hotel in Charing Cross, London. The event, which we fittingly themed 'Vitiligo Under The Spotlight', given the recent media coverage of Vitiligo across multiple platforms, was attended by both members and non members, making it our most successful open day to date.

The conference started with opening remarks by Trustee Natalie Ambersley just after 9am and continued with Society Patron, Vitiligo Spokesperson and Fox News Presenter, Lee Thomas, who we were incredibly fortunate to have join us for the day. As our highly anticipated keynote speaker, Lee delivered a remarkable speech which gave insight into his life in the public eye. A mixture of both humour and emotion, Lee shared stories about his life as a TV presenter, interviewing the likes of George Clooney, Tom Cruise and Charlize Theron, as well as what it's been like living with a visible condition that is exposed for so many to see. For the majority of the audience members, the most poignant moment was hearing of Lee's chance meeting with a 3 year old girl who was scared of his face after she ran into his leg and became frightened when he bent down to pick her up. Ultimately, it was an incident that changed his life upon reflection. It was no surprise that the room fell silent throughout his 30 minute slot which had the entire audience fully engaged and wanting to hear more about his interesting life in the US.

After the tone was set for the day, Simon Parker, Trustee and Digital and Technology lead, provided the latest on one of our exciting new initiatives, Skin Deep, a new guided meditation mobile app designed to help those living with various skin conditions. During his presentation, Simon provided us with some interesting stats behind the Mindfulness market which is currently worth a staggering $1.21 billion and also explained the benefits of meditation, how breathing can help the skin and what's next for Skin Deep as it moves forward into the next phase. After a highly interesting morning, it was a great opportunity to have a mid-morning break and refresh with tea, coffee and cake whilst allowing our guests to get a little social with each other. From our point of view, it was great to see everyone engaging and having positive conversations about the event and meeting with those they recognised from previous open days or simply meeting others for the very first time.

Once re-seated and ready for the next session, we welcomed to the stage Joti Gata-Aura (BBC Misfits), James Stewart (Brock Elbank Vitiligo series), Shankar Jalota (Model) and Alec King (Model) for an honest, but equally informal conversation around Vitiligo, covering topics such as initial diagnosis, the challenges and the impact of social media as more and more people are opening up about their skin. During this session, what was empowering, was how each of the panellists had used their story to positively raise awareness across multiple media platforms. Much of the audience found this session incredibly insightful because it was an opportunity to hear directly from those who live day to day with the condition whilst bringing to light just how differently everyone copes with the condition. There were moments of emotion when James Stewart spoke openly about how he had suffered at the hands of bullying and how he dealt with slightly darker periods, whilst at the other end of the scale, Alec King, who has carved out a successful career as a model, spoke about the opportunities he has been given including walking the runway at London Fashion Week!

Straight after the panel session we held our AGM, a session we are legally required to have as a Charity. As part of the AGM, we reviewed the minutes from the 2017 AGM and voted on the following 2 Resolutions, which were both passed:

Resolution 1: That Marco Singh be re-appointed as a director of the Society under Article 34 of the Articles of Association the Society.
Resolution 2: That Simon Parker be appointed as a director of the Society under Article 34(1) of the Articles of Association the Society.

Time seemed to be moving quickly as we announced lunch just after 1pm. Courtesy of the hotel, an impressive buffet lunch was served for all to enjoy. Most people used the lunch break to mingle with others, purchase some of the Vitiligo memorabilia that was on sale and speak to Polly Gotschi (of Dragon's Den fame) who was giving demonstrations of Vitiliglow, a great camouflage product range designed especially for those with Vitiligo who have a preference to cover their skin. There was also ample opportunity to have one to one conversations with Lee Thomas who was more than welcoming and open for photos with those who asked!

After a hearty lunch, we kicked the afternoon off with Fabio Zuchelli, a Research Associate from the Centre for Appearance Research at UWE Bristol, who spoke about Psychological Flexibility which focuses on being aware, open and accepting towards your moment to moment experience, and focusing on doing things that you care about. For the next session we changed the tone a little with Brock Elbank, who returned for his second year running to give an update on his photography series, which has featured over 60 subjects with Vitiligo and at the time of the open day, was coming to a close. He shared with us some of the newer subjects he has featured in recent months along with the connections he created as a result of meeting so many people with the condition.
After seeing some visually striking images through Brock's work, next we welcomed Professor Celia Moss OBE, a Consultant Dermatologist at Birmingham Children's Hospital, to the stage who gave a short presentation on the newly released children's booklet, Vitiligo; My Story (download here – https://vitiligosociety.org.uk/files/Vitiligo-My-Story.pdf) which features the inspiring stories of the younger generation as they share with us what its like to be different in a world where being perfect is so highly regarded. It was a booklet in which The Vitiligo Society had the pleasure of working on in collaboration with the hospital, and given it was ready in time for the open day, meant we could provide copies for our guests to take home with them. With the day almost through, it was a great opportunity to introduce a guest we've never introduced before; international DJ and music producer, Simon Marlin, who joined us for a session! As one half of English – Swedish duo, The Shapeshifters, Marlin is best known for the single 'Lola's Theme' which went to number 1 in the UK singles chart in 2004. As someone who also lives under the media spotlight, it was interesting hearing his story from the point in which he developed the condition to how he manages his jet setting lifestyle, which often means long lengths of time absorbing the sun. To finish the day, Dr Viktoria Eleftheriadou, from the Dermatology SpR at Leicester Royal Infirmary & Specialist in Vitiligo at the Centre of Evidence Based Research, who explained how healthcare treatments are developed, the explanation behind the outcomes of treatment and the challenges behind the outcomes in Vitiligo trials.

Closing Remarks
The day officially closed at 17:30 with Natalie thanking all our guests for joining us on such a positive and insightful day. It was great to have such a wonderful audience who engaged in conversion, asked questions and shared positive feedback. On behalf of the Trustees, Natalie showed gratitude towards the guests speakers who had given their time to share their knowledge and expertise. The atmosphere from start to finish was incredibly upbeat and for us, as Trustees, the most rewarding of all, was knowing we'd put together an event that was well received and offered new insight into Vitiligo.