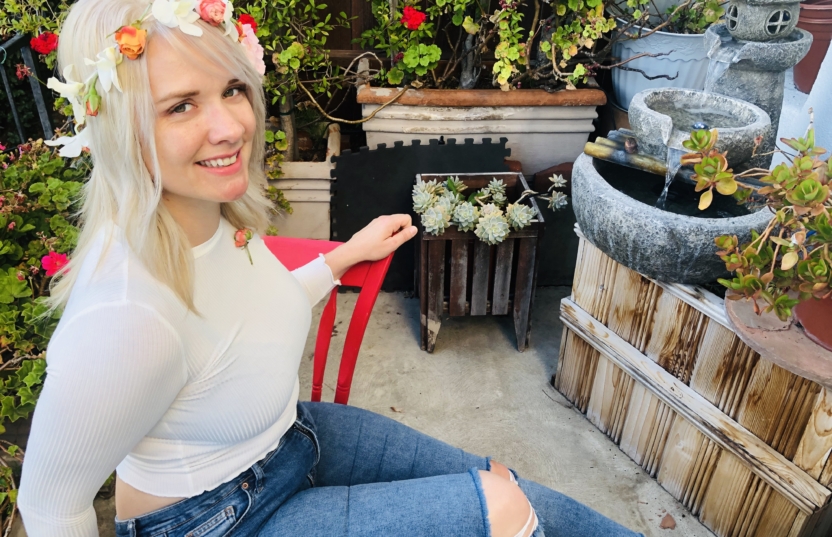 A pandemic diagnosis, my year one journey & why I am here to stay.
My name is Emily Krasch, and I was diagnosed with vitiligo at age 31. I noticed my first spot approximately 4 years ago. One day while shaving I found a small white patch under my right armpit. I didn't know what it was, but it wasn't visible to others, so I thought nothing of it. Nevertheless, as time went by, the small patch began to grow larger. Then, in January 2020 I noticed another white patch on my right hip. As the year continued white patches across my body started to rapidly appear. In a period of two months the white patches had multiplied across my hands, on my thighs, my forearm, my face and so on…I had no idea what was going on, but I was concerned.
We were at the beginning of the pandemic lockdown, so I made a virtual appointment with a dermatologist and as of March 2020 I was diagnosed with vitiligo.
I had never been to a dermatologist before and the doctor who diagnosed me stated she did not specialize in treating vitiligo. She referred me to a doctor who I was told was an expert in vitiligo. He has been my focal point for treatment, however, my experience with him has not been short of frustration and disappointment.
From the moment he entered the exam room all he could talk about was getting me to start a phase 3 clinical trial and if I did not want to do that one, he had plenty of other trials coming up – including one that involved injecting something into my body.
His first examination of my spots was not even focused on me as the patient, but on if I would qualify for the specific trial he wanted me to enter. He briefly described the traditional treatments to me (topical cream, UVB light treatment), but did his best to keep the topic of conversation focused on doing a trial.
This was an incredibly stressful experience for me. I had no idea what I was doing, what was going on, or what to ask the doctor, and to top it all off I wasn't allowed to bring anyone with me to my appointments due to COVID.
They say you shouldnever over-Google your symptoms/diagnosis, but since my doctor was no help to educate me, I had to educate myself. As I started to learn about the condition, I quickly became overwhelmed. I learned that stress, diet, and sun exposure can have a drastic effect on the condition. I learnt that while there is treatment, there is no cure for vitiligo and that no one knows the true cause of the condition.
I had also learned that loss of skin pigmentation meant loss of melanin, which is what gives your skin it's colour. This meant that as someone with vitiligo, I was at severe risk of getting sunburn because of the lack of pigmentation in my skin.
That's exactly how the vitiligo on my hands started, I got sunburn, and my pigmentation never returned. On top of all this, in a later visit to my doctor, I was told my vitiligo was a classic case of "thyroid induced vitiligo" – which means my first autoimmune disease caused my second. That was a lot to swallow.
This information coupled with the fact that white patches were rapidly appearing all over my body completely stressed me out. I was worried about many things like (1) did having vitiligo and thyroid disease (two autoimmune diseases) put me more at risk for COVID? (2) how would I function in the sun and during the summertime? (3) how was I going to look? (4) how would my spots develop? …so on and so forth!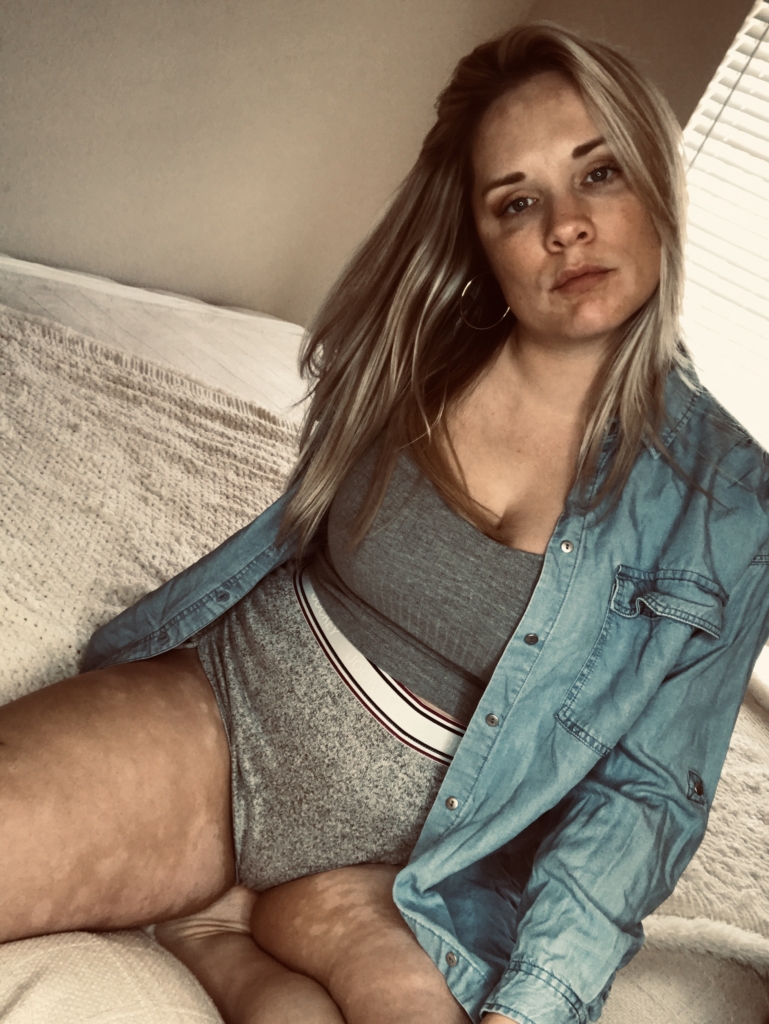 I even got to the point where I was so concerned about sun exposure that I started wearing hats (which I never do), was applying sunscreen continuously, and wore long sleeve shirts in extremely hot weather to cover my skin. I was so afraid I was going to cause more vitiligo that I entered into a very unhealthy mindset about something that I couldn't control.
I broke down a few times and got sad because I didn't want to look like this. I didn't understand why this was happening to me, you know? I was really concerned and embarrassed about it; especially because it was becoming more visible on my face. Because I am white and at the beginning stages of the condition, it is much less visible on me than it would be on a person with darker skin, but nonetheless, I was my worst critic.
After a month or so of freaking out I recognized that my response was unhealthy and one day I just decided to refuse to let myself enter a place of shame or embarrassment. I decided I didn't want to hide this from people or spend my days trying to cover it up. I had decided to move forward with the phase 3 clinical trial.
My original plan was that I would write a blog about being diagnosed and my decision to take part in the study. I was then going to post updated results of the trial on a monthly basis. But then I decided this wasn't good enough. I wanted to research other people who have had/have this condition – those who have had it since childhood and those who developed it in adulthood. I wanted to learn about how it affected their life and how they approached it. I wanted my response to be healthy and I was unwilling to hide.
Not just surviving, but thriving
I have learnt so much about the journey of my fellow vitiligo beauty's, about the years of trying to hide the condition with make-up and clothing and so on. I learned about their long path to acceptance and how so many people who have this condition have learned to love their skin. I learnt how they refer to their body as pieces of art and how they believe people in the vitiligo community were meant to stand out and be different.
I listened to a podcast called The Thriving Community of Vitiligo where many good points and perspectives were shared. All of this was eye opening and impactful. So much so, that in a period of seven months, my opinion, outlook and approach to this condition drastically changed.
I didn't end up pursuing the clinical trial, but I did undergo the traditional forms of treatment (topical cream for my face and UVB for the rest of my body) for approximately 6 months before deciding to forego treatment all together. I didn't end up posting monthly blogs for tracking my progress, but I did publish Loving the Skin, You're In in October 2020. The response I received was heartwarming.
The importance of my support circle
Everyone I know has been supportive since day one. And while I am truly blessed to have so many amazing people in my life, I think many people underestimate the global support network we have today. Whether you have a skin condition, suffer from anxiety and depression, or something else, people are much more understanding, empathetic, and supportive today when it comes to being different.
No one should ever have to suffer alone or feel like they have to hide. That's the worst thing anyone can ever do. I know this because I spent most of my life believing that showing emotion was a weakness. For many years I battled my struggles alone, but I have worked extremely hard in life to break down walls and barriers I created. While my outlook on vitiligo was not always so positive, I've been told my journey to acceptance and love of my skin was remarkably quick. I can attest that without God, and without the years I spent struggling to no longer hide, show emotion, and lean on others with full transparency that this rapid transition would not be possible……
I officially stopped treating my vitiligo in Dec 2020 and I am not inclined to treat it ever again! I wanted to stop 3 months into treatment, but I had promised someone that I would give it a shot for 6 months. For me personally, it felt like a waste of time and money. I hated using the topical cream. It was greasy and would get in my hair, on my hands, and my desk/keyboard while working. For the UVB light treatment, I had to drive 30 min only to be in a machine for less than 2 min and drive 30 minutes back. I had to apply the cream twice a day and do light therapy 2-3 times a week. It was a lot of time and money spent on something that wasn't guaranteed to help, and the honest truth is I was starting to fall in love with my vitiligo.
By month 7 I was no longer ashamed of nor embarrassed about it. I decided I would no longer try to cover it up or live-in fear of the sun, and most importantly, I had vowed that I would not waste years of my life trying to treat something that I cannot control and that in my opinion, has produced millions of imperfectly beautiful individuals of all shapes, sizes and colors.
My spots are now a part of my beauty
It's been three months since I last treated my vitiligo, and I have many new spots, with the majority of my spots on the right side of my body and on my inner thighs. I think my spots look awesome. I think they are beautiful. I think perhaps, just like the millions of other people who share this condition, I'm meant to be different, and to stand out in the crowd.
I feel blessed to be where I am in my journey and I hope that reading my story has helped inspire you to love the skin you are in. Loving your skin may mean one thing for you and a completely different thing for another, but I hope this blog helps you to see the beauty in imperfection. May you become inspired by the millions of people who are imperfectly beautiful.
Some of the resources that helped Emily understand and learn about vitiligo which may be of interest: