Yvette – Being photographed with vitiligo by Brock Elbank
Yvette from Jersey talks to The Vitiligo Society about her cathartic, one-off experience as she stood under the spotlight as a subject for Brock Elbank's inspiring Vitiligo Portrait Series.
Brock first came to my attention through my daughter, a photographer and filmmaker. She had seen his 'Beard' exhibition at Somerset House and followed his work on social media, where she learnt about the 'Vitiligo' series. She told him about me in April and it was thanks to Brock's persistence and his desire to help raise awareness about vitiligo, that they kept in touch and I finally sent some sample photographs.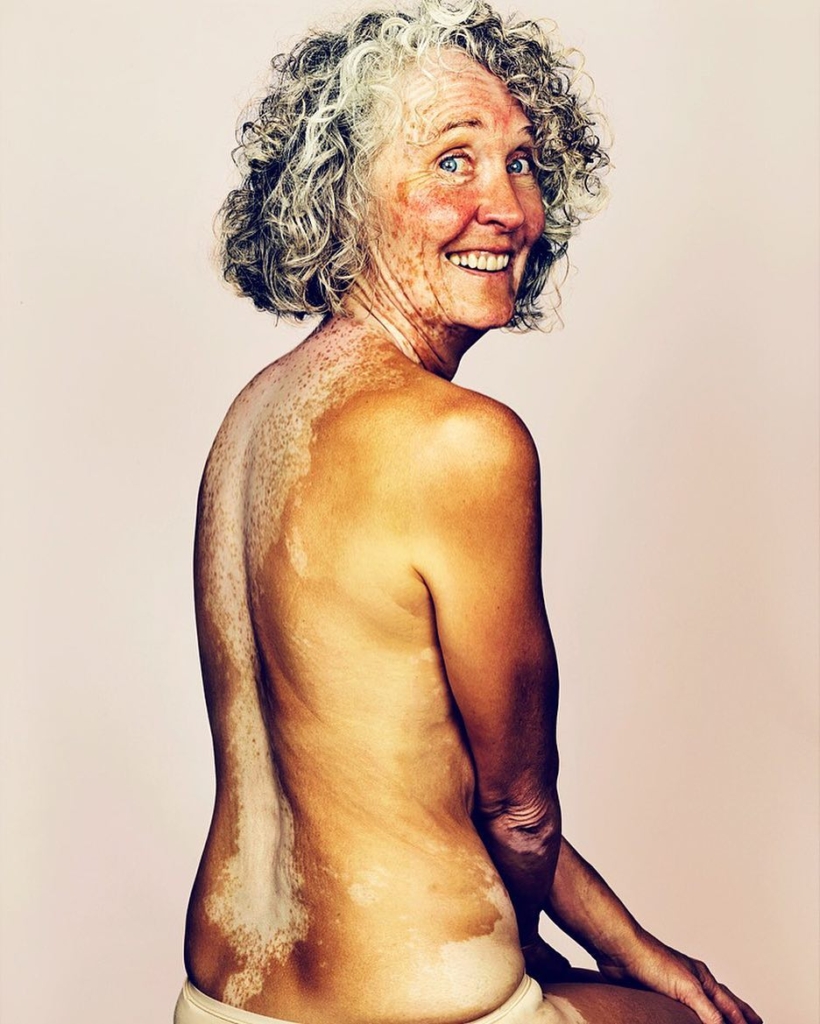 I couldn't quite believe that Brock wanted me as part of his vitiligo series! When my daughter told me, I was shocked "why would anyone want to photograph me?" I thought. 56, starting to sag, grey hair!…especially having looked at the beautiful young models he'd photographed previously.
Nevertheless, I felt a little excited.
To be honest I initially sent the photographs as much for experience for my daughter as for myself and the greater good for vitiligo. When I did reflect on what I had agreed to do, I wasn't sure how I felt. I had a knot in my stomach and was nervous about being the centre of attention, but I was also a little excited and intrigued.
I could tell when Brock greeted me that it was going to be a relaxed, fun experience. My husband and daughter came with me and Brock and Monty (his dog!) welcomed us warmly. We chatted amicably for an hour. He got to know my family, as well as getting to know me and who I was. It turned into a bit of an emotional conversation, as I shed a tear or two talking about how it felt to live with vitiligo and my feelings of vulnerability about exposing my body. Brock was incredibly empathetic and understanding. He was very positive and complimentary about me and the photos that my daughter had sent him, so when the time arrived to start the photography session, I felt positive, confident and very much up for embracing and celebrating my patches! Brock is a lovely man, considerate and caring and I felt very relaxed in his company, so when he asked me if I was ready to start it was a case of "Hell yes!"
Brock's professionalism, experience and passion shone through during the shoot from start to finish and truly there was no time for me to feel embarrassed or shy. In fact I loved every moment! It was an incredible, cathartic, one-off experience, which I would encourage everyone, who gets the opportunity, to take part in.
As I look at Brock's amazing portraits, I can honestly say that I do not just see vitiligo. I am rather drawn to my eyes and the expression within – pride acceptance and yes….. beauty!
We need to publicise vitiligo and celebrate our skin and if I have helped others even a little by bearing all to the masses, it was worth it! I hope it helps you realise that we are all unique, beautiful and could also help others by taking part in Brock's series.