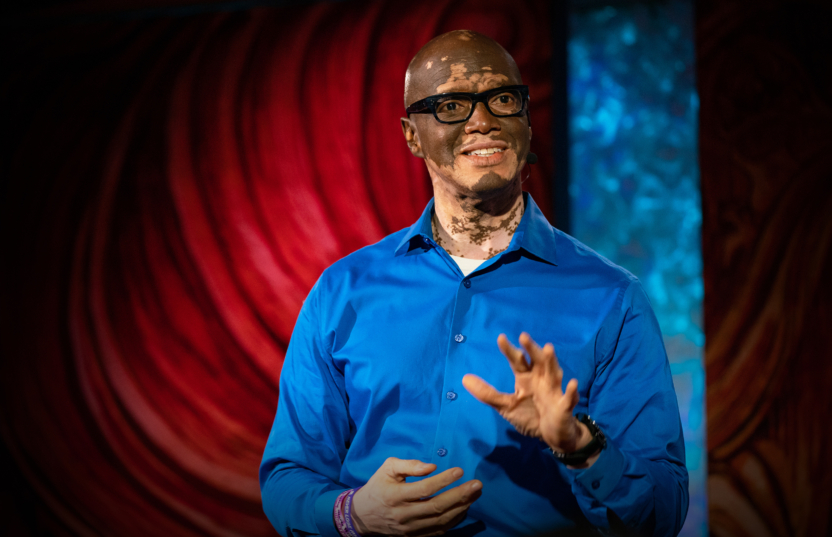 How Lee Thomas is helping people understand vitiligo
The Vitiligo Society patron, Lee Thomas is no stranger to public speaking. In 2009 he appeared on stage at TEDx Detroit and spoke about his personal journey with Vitiligo and now ten years later, in June this year, Lee returned to the main stage to deliver a speech that still focused on Vitiligo, but from a completely different perspective called 'How I help people understand vitiligo'.
I don't want to give too much away as I strongly recommend you watch for yourself, but what I will say is, this just under 16 minute talk is an incredibly honest and open account that captivates the audience from the moment he starts speaking….and not just with his words, but his actions, also. Appearing on stage, Lee looks like the average audience member and if you've seen him present on Fox News or his weekly movie review show 'CriticLee Speaking', you'll know exactly what I mean. However, after just under a minute of speaking, Lee removes his makeup live on stage and reveals exactly what he looks like underneath the layers he often wears on TV. I don't think I blinked once as I watched him wipe away his 'day to day' face in front of a mirror centrally placed on stage. In fact, I wouldn't be surprised if that was the same reaction from the audience who were sat watching Lee in the auditorium.
Delivered with light humour, Lee spoke candidly about the harsh realities of living day to day with Vitiligo, the tough times, the challenges and some personal moments that have shaped his outlook and formed some of the significant moments in his journey….like the time when a little girl accidentally bumped into his leg whilst at the supermarket and on seeing his face, she screamed loudly. It was in that very moment he understood that he frightened small children. Probably one of my favourite stories I've heard him share…and the most difficult to hear as someone with Vitiligo also.
That is one story of many that Lee has to share and already I feel like I've given you too much insight. Check out his latest appearance here and let us know what you think…