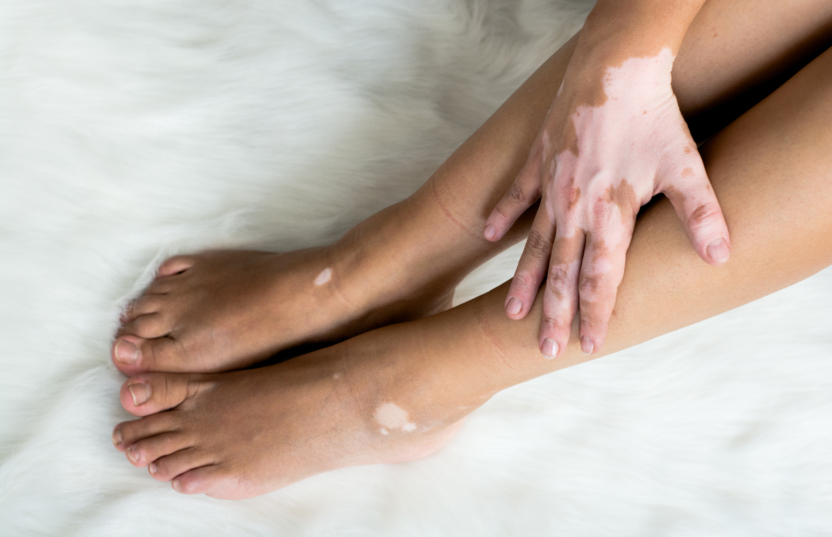 Is there a link between Vitiligo and itchiness? To find out, we asked Dr Anthony Bewley a few questions…
Over the past few months, we have had a few of our members ask about the link between itchiness and vitiligo. Although little research has been conducted on the exact relationship between the two, the symptom is far from uncommon and up to almost a third of patients have experienced some form of itchiness. We wanted to better understand what itchy skin could mean for someone with vitiligo and have therefore asked Dr Anthony Bewley, a consultant dermatologist with a special interest in vitiligo, a few questions on the subject.
Can vitiligo be itchy and is it normal?
While vitiligo is usually perceived as asymptomatic (1), studies find itchiness a not uncommon symptom, with it being reported by 10-29% of vitiligo patients, depending on the subtype (2,3). Itchiness in vitiligo often worsens the daily quality of life of patients, with both daily and night disturbances. This, in conjunction with social stigma surrounding vitiligo, may result in significant psychological distress of the patients (4).
Can a specific vitiligo stop being itchy; does the itch mean anything?
The itch in vitiligo can disappear spontaneously; this can sometimes mean that the vitiligo has become less active. It is difficult to establish a clear correlation between the episodes of itchiness and progression of vitiligo, however, it has been proposed that itchiness may indicate that vitiligo is active, especially regarding patients with Koebner phenomenon type IIB (5). Koebner phenomenon is defined as an onset of vitiligo lesions at an injured, previously unaffected area of the skin, typically due to a cutaneous injury (6).
Is there anything that might make vitiligo itchy or worse the itch?
Itchiness in vitiligo is commonly aggravated by dry skin, hot environment and, more rarely, sunlight. Altering the skin surface lipids, pH and cytokine levels could influence the sensation of the itch (3). Skin lipids are released by the epidermis, the outermost skin layer, and act as a hydrophobic barrier that prevents water and electrolyte movement, as well as microorganism invasion (7). Naturally acidic skin pH helps with these functions (8). Skin pH and the surface lipids can be altered by various skin care products, for example harsh hand soaps that wash away the lipids leaving the skin dry and irritable. Cytokines are molecules that mediate the immune response, and their imbalance is thought to be a factor in vitiligo pathogenesis due to its autoimmune nature (9). Cytokine levels are influenced by various allergens, as well as some immunosuppressive drugs (10). As vitiligo is an autoimmune disorder, the patients are also at higher risk of developing allergies than healthy individuals, hence their cytokine levels rise more often, which in turn may trigger itch. The symptom can be also worsened by stress, sleeplessness, and irritant dermatitis (3).
Is there anything to treat the itchiness?
The most effective treatment for itchiness is topical corticosteroids. Other medications include oral antihistamines and anti-inflammatories (topical calcineurin inhibitors). Emollients in topical medications may help with alleviating the itch. UV light treatment can also prove effective. Home remedies such as cold showers can help with itchiness, however, cold environment has shown to both alleviate (more cases) and aggravate the symptom, depending on the individual (3). In certain instances, vitiligo has been known to resolve spontaneously on its own, hence removing the symptom altogether.
We'd like to thank medical student Kasia Stefańska, for her help in putting this feature together.
Yaghoobi R, Omidian M, Bagherani N. Vitiligo: a review of the published work. J Dermatol. 2011 May;38(5):419-31. doi: 10.1111/j.1346-8138.2010.01139.x. PMID: 21667529.
Vachiramon V, Onprasert W, Harnchoowong S, Chanprapaph K. Prevalence and Clinical Characteristics of Itch in Vitiligo and Its Clinical Significance. Biomed Res Int. 2017;2017:5617838. doi: 10.1155/2017/5617838. Epub 2017 Jul 30. PMID: 28828385; PMCID: PMC5554571.
LEVAI M. The relationship of pruritus and local skin conditions to the development of vitiligo. AMA Arch Derm. 1958 Sep;78(3):372-7. doi: 10.1001/archderm.1958.01560090088018. PMID: 13570695.
Lotti T, D'Erme AM. Vitiligo as a systemic disease. Clinics in dermatology. 2014 May 1;32(3):430-4
van Geel N, Speeckaert R, De Wolf J, Bracke S, Chevolet I, Brochez L, Lambert J. Clinical significance of Koebner phenomenon in vitiligo. Br J Dermatol. 2012 Nov;167(5):1017-24. doi: 10.1111/j.1365-2133.2012.11158.x. Epub 2012 Sep 5. PMID: 22950415.
Goh BK, Pandya AG. Presentations, Signs of Activity, and Differential Diagnosis of Vitiligo. Dermatol Clin. 2017 Apr;35(2):135-144. doi: 10.1016/j.det.2016.11.004. PMID: 28317523.
Pappas A. Epidermal surface lipids. Dermatoendocrinol. 2009 Mar;1(2):72-6. doi: 10.4161/derm.1.2.7811. PMID: 20224687; PMCID: PMC2835894.
Blaak J, Staib P. The Relation of pH and Skin Cleansing. Curr Probl Dermatol. 2018;54:132-142. doi: 10.1159/000489527. Epub 2018 Aug 21. PMID: 30130782.
Singh M, Kotnis A, Jadeja SD, Mondal A, Mansuri MS, Begum R. Cytokines: the yin and yang of vitiligo pathogenesis. Expert Rev Clin Immunol. 2019 Feb;15(2):177-188. doi: 10.1080/1744666X.2019.1550358. Epub 2018 Nov 30. PMID: 30462555.
Ter Horst R, Jaeger M, Smeekens SP, Oosting M, Swertz MA, Li Y, Kumar V, Diavatopoulos DA, Jansen AFM, Lemmers H, Toenhake-Dijkstra H, van Herwaarden AE, Janssen M, van der Molen RG, Joosten I, Sweep FCGJ, Smit JW, Netea-Maier RT, Koenders MMJF, Xavier RJ, van der Meer JWM, Dinarello CA, Pavelka N, Wijmenga C, Notebaart RA, Joosten LAB, Netea MG. Host and Environmental Factors Influencing Individual Human Cytokine Responses. Cell. 2016 Nov 3;167(4):1111-1124.e13. doi: 10.1016/j.cell.2016.10.018. PMID: 27814508; PMCID: PMC5787854.