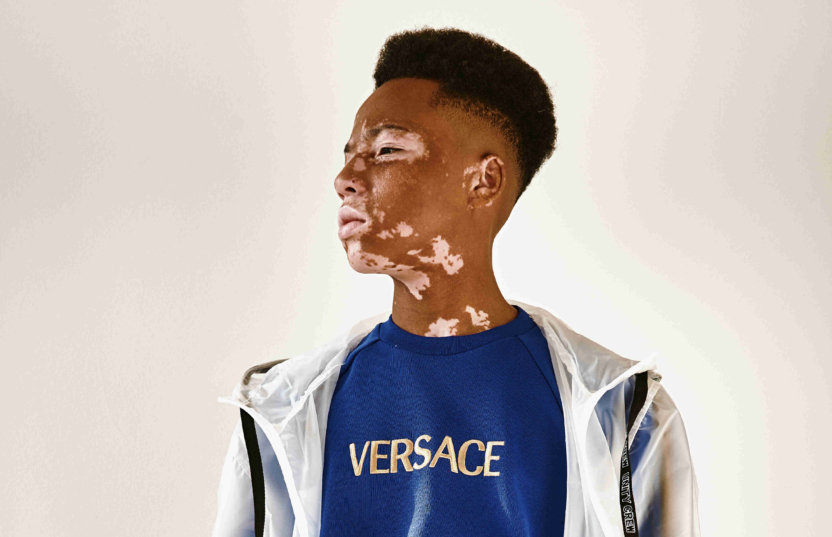 Kaiden Williams: Child star of Primark
Unless you avoid watching the news, reading newspapers or browsing in one of the UK's biggest retailers, Primark, chances are you would have missed all the excitement around 13 year old Kaiden Williams. However, given his recent exposure across the media and social media as the face of Primark, my guess is you would have come across him somewhere!

In December last year, Primark unveiled a new kidswear campaign that featured Kaiden, who prominently has the skin condition on various parts of his body, most notably his face. The little sensation who could be seen across multiple stores, was part of a new campaign promoting their children's sportswear range. It didn't take long for the campaign to go global during its month of release and within a matter of weeks, Kaiden's story was being covered in newspapers such as the Metro and The Independent and also featured on the BBC News.

Currently signed with children's modelling agency, Ray and Robin, Kaiden is enjoying his new found fame as a face of Primark and judging by his fast growing Instagram page (kaiden_model_) where his profile describes him as having a 'unique look with a bubbly personality', he can definitely be regarded as one of Primark's most prominent stars. We caught up with Kaiden, who developed Vitiligo when he was just 4 years old, to ask him about the campaign that went viral, being recognised and what life has been like living with the visible difference.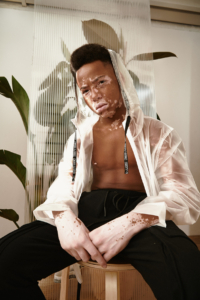 What was it like modelling for a global brand like, Primark?
Modelling for Primark was a privilege. Initially, I thought I'd see myself on the Primark website alongside a few small posters in-store, so when I saw my face looking back at me on posters that were 10ft in size, I was completely shocked! It was so overwhelming when my friends started sending me photos from the different branches where my photo appeared. It was then I realised the impact I was having as a face of the children's campaign. Shortly after the campaign went public the images went viral and the media frenzy started. I couldn't believe just how much interest was generated on the back of the shoot. Even today, I'm still shocked at how well it's been received.

How did you feel when you first saw face on posters in Primark?

When I first saw my picture in one of the stores, I actually cringed especially as the store assistants were tapping each other and whispering about the fact they'd seen me on the posters. I felt really shy when I first saw myself, I remember thinking "Oh my gosh, that's me!". I didn't feel one particular way I felt a mixture of emotions – embarrassed and proudness. I also wondered what my friends would think.

When did you develop Vitiligo and what has it been like for you growing up?
I was diagnosed with Vitiligo when I was 4 years old, my first patch appearing on my bum. Initially, my Mum thought I'd been burnt by nappy cream that she often used on my skin. Shortly after, a second patch developed on the side of my face and that was when I was officially diagnosed. Between the ages of 6 and 10, Vitiligo had spread right across my body. When I first understood that I had Vitiligo, I wasn't sure how to feel so I relied heavily on my Mum's support as she tried to regulate my emotions. I felt really confused by what had happened and questioned why I'd developed the condition. However, because my friends at school had watched my skin change over the years it was as though we were all experiencing Vitiligo together which was comforting. It also meant that they learnt about my condition as I learned more about what was happening to me. My Mum had always taught me to be comfortable in my own skin and how to handle inquisitive questions by making sure I understood what Vitiligo was and knowing what to say when people asked. Because of this I always felt confident and was in fact one of the popular kids in school! The biggest challenge was joining a new Football team (which I loved) and changing schools because it meant I started to question whether the other kids would accept me. When I started secondary school, I recall instantly feeling very anxious about how they would respond. When it came to changing into my Football shirt, despite those feelings, it was easier to get it out of the way rather than giving to much thought to the reactions of others. It was so strange. I was asked one or to questions and then nobody else cared. I've never experienced any form of bullying thankfully, and have always been outwardly confident, however, I do have my moments. When I was 10 years old, I was diagnosed with anxiety and because my Mum works as a children's therapist she has taught me how to manage my emotions and also be open about how I feel. I think that being a model has really helped my anxiety as behind the camera I am able to be myself. A lot of my friends and family say they don't even notice my Vitiligo anymore because they simply know me as 'Kaiden'. When I first started modelling I was a model, but now it's more than that. It's me being a model with Vitiligo.

What advice would you give to others trying to accept their skin?

If I had to give advice to others who have Vitiligo, I'd say not to turn to camouflage creams or makeup in order to disguise your skin. I found this particularly troubling as it made it harder to accept my condition and taught me that I shouldn't be comfortable with who I was. When my Mum said that 'I didn't have to wear makeup if it was going to make me uncomfortable', it was like she knew exactly how I felt. I instantly interpreted that as being made to cover my skin rather than just being myself with Vitiligo. My Mum saying those words to me, was what stopped me from using camouflage creams. I quickly became comfortable and learned that I shouldn't be afraid to leave the house with my skin on show. Sadly, I've had a few nasty messages from ignorant people on Instagram, but I am well aware these are small minded people and to be honest, I feel sorry for them more.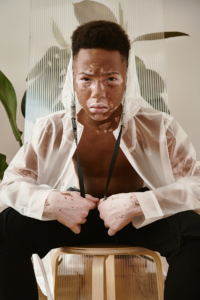 Now, I feel happy that I live in a country that accepts my condition and has lead me to do wonderful things, such as become a model. In some countries people with Vitiligo really suffer psychologically because of the stigma associated with having Vitiligo, and so I count myself lucky this isn't something I have to face. Life has dealt me with such good cards so my advice would be, to look on the bright side as we live in a society that will mostly accept you and most importantly ignore the small minded people. Be yourself, love yourself and show off the marks that make you, unique.

Kaiden, we couldn't agree more!