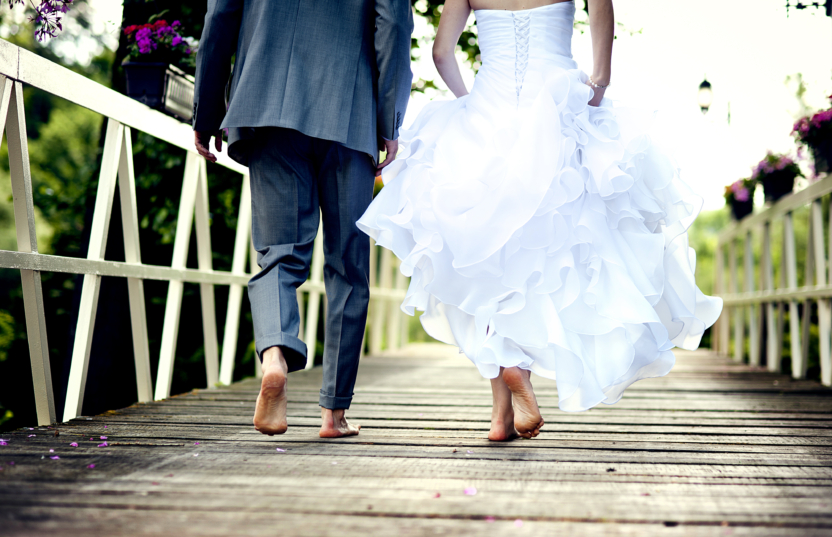 'Vitiligo doesn't mean your wedding day will be any less perfect'.
Getting married is considered to be one of the happiest days of your life. Planning your big day, finding the perfect dress and making sure you find the perfect venue are just some of the things that go with planning a day you are likely to remember for the rest of your life.
Getting married is a very different experience for everyone, especially for those with a visible difference like vitiligo. For some, visualising their big day can fill them with nerves and anxiety given there is so much pressure to walk down the aisle in a dazzling dress that makes heads turn, because after all, we all want to feel stunning on the day without feeling as though our skin is what people notice first. Despite such feelings, vitiligo doesn't have to impact such a special moment. Just look at recent bride Kandice Benford for inspiration. Her vitiligo suddenly worsened before her wedding day and she "really freaked out". "I was worried about how other people would see me," says Kandice, who developed vitiligo when she was 18 years old. Despite the sudden breakout, Kandice didn't let it ruin her big day and decided to opt for minimal makeup. "I didn't really want to cover everything up. I just wanted to embrace my beauty." 
Now, Kandice never hides her vitiligo. "I can honestly say having vitiligo has made me a stronger person, and more confident in myself," She continues "I love it, it makes me unique. To anyone else going through this: love yourself. Be patient with yourself. You are stronger than you think!".
Indeed, if you're about to get married, vitiligo doesn't have to mean your day will be any less perfect. With some careful planning and preparation, you can throw the wedding of your dreams without your skin impacting how you feel on the day.
Plan an intimate engagement party
Your engagement party is a fun pre-wedding celebration that doesn't require a huge budget to be memorable. For example, you can easily cut costs by deciding to make it a small, intimate affair. By inviting your closest family members and friends, your engagement party will be extra meaningful, as well as affordable. In fact, the rest of your non-local wedding guests will likely appreciate only having to travel for your actual wedding and not have to make a long trip twice!
When it comes to planning your engagement party outfit, don't be scared to go second-hand and wear something that makes you feel good and if that means showing your vitiligo, then be proud doing that. Brides often sell beautiful engagement party outfits that have only been worn once; browse Facebook Groups, along with clothing resale apps like Mercari, Depop, and Poshmark, for the best deals. With some smart forward planning, you can certainly throw an amazing engagement party that doesn't break the bank.
If you have vitiligo on your face, your first instinct might be to opt for heavier makeup to disguise any patches. However, this needn't be your only option. Lighter, more minimal makeup can also look beautiful while complementing any patches you have (rather than camouflaging them completely). And, if you would prefer to keep your makeup to a minimum, then MAC Studio Fix liquid foundation is recommended for vitiligo, whilst a good matte powder like Bare Minerals foundation powder will provide lasting coverage. Moreover, if you'd still rather have a professional handle your makeup, you could visit the makeup counter at your nearest high street department store who often offer pre-wedding makeovers, so you can get an idea of what suits you. Not only will you get a great professionally finished look, but you'll also learn some handy makeup tips without the expense involved with hiring a makeup artist.
Choosing the right wedding dress is probably one of the biggest and most important jobs for any bride and ultimately you want to strike the right balance between comfort and style. While you may be tempted to choose a long-sleeved dress that covers both your arms and legs, you should embrace your natural skin and not be afraid to show it off if that's what your dream dress entails. Just remember: you'll be sharing your wedding day with your closest friends and family. They love you for who you are and are there to celebrate your marriage and happiness — no one will be judging you on how you look, rather complimenting you on how beautiful you look! So, you really do have a lot of choice when it comes to choosing a dress. Spend some time thinking about styles you like — for example, do you prefer dresses that are sleek and minimal or lacy and embellished? Also keep in mind your dress should complement your wedding theme and venue. Otherwise, you'll risk clashing.
Your wedding day is likely to be one of your happiest moments as you join together and marry the person you want to spend the rest of your life with, and so you want to make it memorable.
Planning a personalised wedding is key to making your big day as unique and meaningful as possible. For instance, you can customise your ceremony to ensure it reflects both the beliefs of you and your partner to be, even if they're different. So, as an example, traditional Catholic wedding vows could be combined with the Jewish tradition of breaking the glass to honour two different religions in one ceremony. And, if your venue allows it, you can even get your pet involved by walking your furry friend down the aisle with you. On the other hand, pets don't necessarily have to be there in-person to be included in your big day. You could alternatively name a drink after them or feature their picture on signage around the venue.
Other aspects of your wedding can also be personalised to ensure it's full of the things that make you and your partner the happiest. So, if you have a favourite drink, for example, make sure it's served. You can even serve some of your friend's favourite drinks' to create an extra-special experience for your guests.
Opt for an outdoor wedding
Outdoor weddings feel extra special thanks to the combination of natural scenery, fresh air, and a romantic and airy ambiance. A wedding marquee and the right lighting is all you need to set a beautiful, fairy-tale scene. Moreover, opting for casual and comfortable furniture can further create a laid-back feel that helps your guests truly relax and enjoy themselves. For example, huge armchairs and sofas paired with soft pillows and blankets is a must for comfort, as well as enhancing wedding photos. If you do decide on a wedding outdoors, especially if it's during the summer months, don't forget to apply a good sunscreen to avoid the risk of burning your skin.
Stress is known to trigger or exacerbate vitiligo, which you probably want to avoid in the run-up to your wedding. Although planning your wedding is exciting, it's also stressful for most people, so it's important to not neglect your mental health during this time. Above all, make sure you have a good support network around you. Get trusted friends and family to help you with planning and preparation — you don't need to handle it all alone. For example, you can enlist people to help with jobs like confirming supplier arrangements, boxing up items you need to bring to the venue with you, and other simple wedding tasks. And, if it's within budget, you can even consider hiring a wedding planner to ensure your big day runs smoothly. Offering a range of different packages to suit various budgets, a wedding planner can have as much or as little involvement in your wedding as you'd like. Ultimately, by keeping stress at bay, you're free to enjoy the build-up to your wedding while preventing any more patches from developing.
Aside from the planning and all the effort that goes into preparing for your wedding, ultimately your wedding day is all about you and creating memories that you and your partner can remember for many years to come. Those you choose to share your day with, are those you value, love and are special to you in their own way. Don't let vitiligo come between you and your big day. Your guests will see past your skin and you should too…..