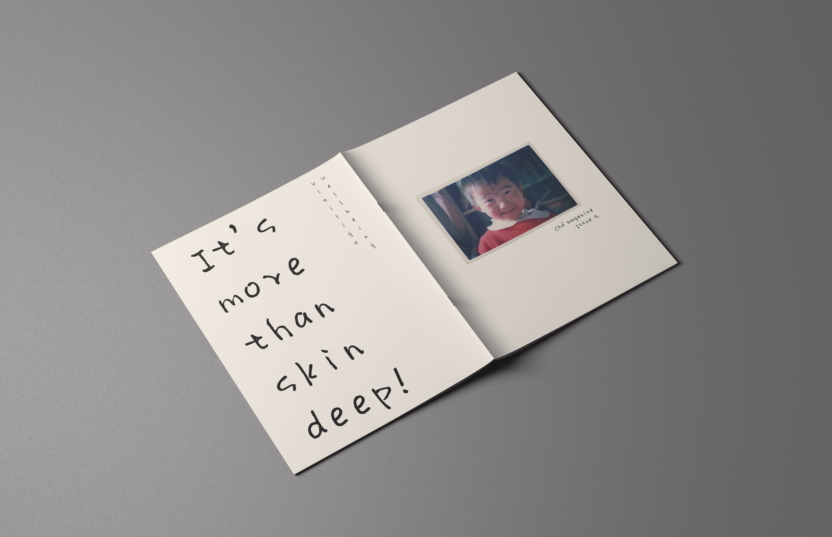 How Art Therapy Has Helped Me Change The Way I Feel About Having Vitiligo
Yilan Wang, an illustrator and tattooist, developed vitiligo when she was three years old. It started as a patch around her eye, which later spread to other parts of her body and turned her eyelashes and hair white.
Developing vitiligo so young, Yilan didn't realise she was different and of course didn't understand that she had a skin condition that would exclude her from a majority group. She says "At first I didn't understand that I had vitiligo so I didn't feel ashamed or indifferent. It was only when I was a bit older and I heard people whispering that I looked weird and started behaving differently around me, that I began to feel insecure about how I looked".
As with many young children who develop vitiligo, it's the parents who embark on a journey of understanding the condition whilst searching for answers from experts and making decisions on whether they should put their child through treatment or let the child decide when they are old enough. This was the case for Yilan's parents. "When they discovered my very first patch, my parents took the lead and I just followed them. I started seeing different Doctors so that we could get a range of opinions on what to do next. I did feel a bit confused after being diagnosed but at least it meant that we could move forward with treatment. I never recall being asked by anyone how I was feeling or whether I was scared or sad because of my skin, the focus was on trying to make me better", Yilan continued.
Originally from China, it's always interesting to hear how other cultures respond to vitiligo because as we know, viewpoints and attitudes in other cultures vary significantly. Reflecting on her time in China before heading to London, Yilan says, "We didn't have professional organisations, societies or platforms like The Vitiligo Society that provided a space to talk or connect. There was no way of educating the public or raising awareness. It's definitely something I wish I'd seen growing up. I feel so grateful that I'm surrounded by supportive friends and a caring family who were always checking in on me and making sure that I was okay, mentally. I could always confide in them and they gave me the space to talk about how I was feeling".
She continues "I recall being on a fair ground ride when I was four years old. I was so excited when it started but then I noticed the people next to me looking at me weirdly and then I overheard them talking about my skin. Suddenly the feeling of excitement was taken away from me and I just wanted get off the ride. I was so embarrassed".
In 2022 Yilan graduated from Kingston University with a BA in Illustration, which elevated her interest in using creative art as a form of personal therapy and exploring her inner feelings in relation to vitiligo. "I found it so much easier being able to express how I was feeling through art and tattooing. It helped reduce stress and felt like a more playful way to get my feelings onto paper, compared to writing. It is so important to have conversations with people that can relate to you, because they understand the emotional impact vitiligo can have. Now, my research focuses on people with skin conditions, in particular vitiligo and how it affects their mental health. Combining my knowledge in art psychotherapy and the collection of images I have created has enabled me to encourage people to express their emotions through art".
Yilans story is very relatable. For many of us, vitiligo has shaped our personalities and has given us the ability to be empathetic and understanding of the many indifferences that exist today. "Not only have I become more emotional and sensitive towards others, but I've become more compassionate because I am often reminded that I look different".
As lasting words, Yilan says "Vitiligo isn't just a journey for the person with the condition, it is also a journey for loved ones and friends who remain by our side and invest time trying to understand the condition and how it makes us feel. Accepting the difficult times whilst hugging the good memories is so important as is reaching out to the people who are similar to you. Try not to run away from your fears and be kind to yourself when those embarrassing moments arise. In the end, you may find out that having vitiligo isn't as hard or scary, at all"
You can check out Yilan's work via her website: https://yilanwangart.squarespace.com/