"I don't identify with my old self anymore" – An interview with Kirps Bhogal
Kirps Bhogal, from London, first developed vitiligo when he was 10 years old. Now in his 30's, he recently signed with modelling agency Zebedee Management, has featured in the Vitiligo Awareness calendar and recently recorded his first podcast which is due out soon! Since sharing his story, he has seen his online presence grow from strength to strength and from what we've seen so far, this is very much just the beginning….
How old were you when you developed Vitiligo and did you know what it was straight away?
I was 10 years old when I first noticed a patch of Vitiligo on my skin. I had no idea what it was, at first. In fact, I thought it was just an infection from one of the many grazes I got on my knees (the area where it first began) when I was younger, as I loved playing football in the school playground.
The majority of focus when it comes to Vitiligo is around how women manage and accept the condition. What's it like from a males point of view? Have you ever experienced any difficulty with having the condition?
I don't believe there is any difference, nor should the focus come mainly from women. The main thing I'd say is that it's probably a lot harder to hide for a male in terms of not using makeup as a woman would let's say. I have found having the condition difficult on many occasions mainly throughout my teenage years. Perhaps if more male celebrities opening up about the condition like Winnie Harlow, you'd see a hell of a lot more men coming out and understanding that its okay to be different. I think having a role model really helps. I think what Harlow is doing is nothing short of genius and has helped towards vitiligans including myself feel more accepted.
As someone with children, did you have to explain to them what vitiligo is?
My son is 3 years old and asks me why my skin is not like his or mummy's, I simply tell him God created daddy this way because God wanted me to be different and special which is why he also gave me you. Also, I have found teaching him about animal stripes, spots and patches has been a great way to explain my skin (I have stripes like a tiger, spots like a cheetah or patches like a cow or giraffe). Now he loves it more than me!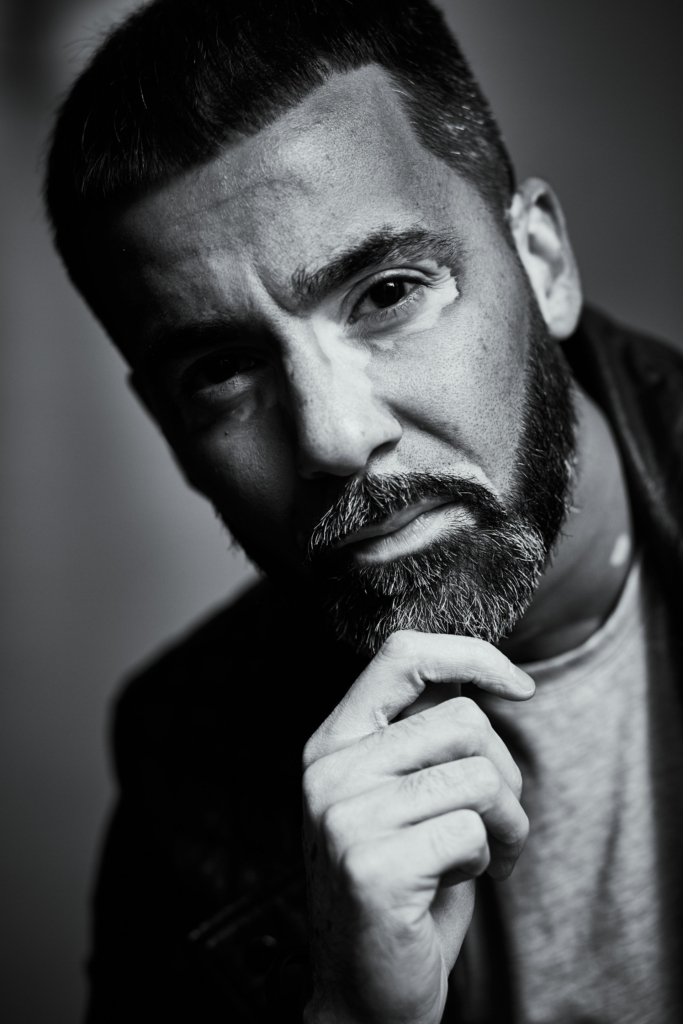 What has been the biggest battle for you when it comes to Vitiligo?
The biggest battle for me was the mental and emotional sides of having vitiligo. I found myself hiding a lot, not wanting to go out and worrying about what people would do or say. I also hated it when people stared. I was skipping functions, wearing clothes that covered my vitiligo and wore gloves during the summer…. anything that would hide it and make me feel comfortable. There was a time when I really hated my skin and wished it just looked "normal". I also found I lost and gained a lot of friends throughout my teenage years, which was a big battle – some good and some bad. Being accepted in my community where having a disability or difference can sometimes be frowned upon – that was hard to overcome in the beginning. It was mainly down to ignorance, not being educated and the fact there was no cure or successful medication. Its only now people are really starting to accept and realise we are just human beings the same as everyone, our skin maybe different colours but we bleed red just like anyone else.
How do you feel about your skin now?
I love my skin more than ever. When I look back at old pics now, I don't see myself… I don't identify with my old self anymore and that speaks volumes as it took me almost 24 years to accept and have the confidence to be comfortable in my own skin. I now rock it and have recently been signed by a top UK modelling agency which pretty much tells you how I feel about my skin now. I finally feel like I'm "normal" and having a really good support network has helped so much. No one has helped me overcome my battles with my vitiligo more than my mum and my wife.
---