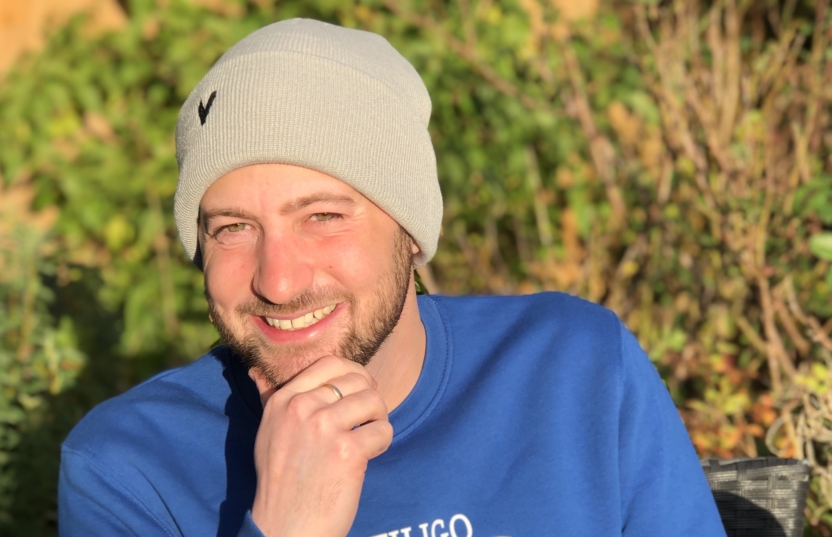 "I thought my career was over after I was diagnosed with vitiligo"
Dale Jon Biermann, who joined The Vitiligo Society as a trustee in 2020, was diagnosed with vitiligo when he was 20 years old. Dale works in the aviation industry as a flight attendant, where your physical appearance is often under strict scrutiny because cabin crew are a reflection of the airline they work for. From being well presented in their uniform to maintaining a good skincare and makeup routine, flight attendants need to be image conscious to ensure they meet the high standards often set by the airline they are working for. Having developed vitiligo whilst working as a flight attendant for a well known airline, Dale believed his career would be severely impacted because of the change in his skin. In this honest interview, he shares his story on how vitiligo changed his life and what it means for him as a flight attendant moving forward…
How and when did you develop vitiligo?
I developed my first small patch, which appeared on my thumb in 2012 whilst I was living in Cape Town, South Africa. I had originally thought the patch had appeared after i'd burnt myself on the oven and the mark turning into a scar. After a few months and rather alarmingly, more patches started to appear so I decided to visit my Doctor to see if it was anything to be concerned about. Whilst speaking with the Doctor, I began to understand that she didn't know what it was especially as she was flicking through an encyclopaedia for possible answers as to what the patches might be. It was only then that she able to say that it was very likely to be vitiligo. I had never heard of the condition before and as she read the words from the page, my heart started to sink because I began to understand that this was an incurable condition that could develop into something much more than what it already was.
She prescribed me with a steroid cream and suggested I try it for the next few weeks. Unfortunately, the cream didn't work and as discussed with her, more patches gradually started to appear on my body. A few years later, I visited a dermatologist who examined my skin and re-confirmed it was vitiligo and that I should just learn to live with it. I was devastated to hear that I'd developed an incurable condition.
How was your experience in terms of being diagnosed?
Because I had no idea what was happening to my body, the uncertainty around what it was and the lead up to my diagnoses made it one of the worst experiences I'd been through. I remember coming out of the Doctors office when I initially got my diagnosis and sitting in my car on the phone to my Mum and repeatedly saying "I do not want to look like a cow, if this does not go away, I will kill myself" and I remember, at that time, meaning it. I did not want to accept that I had vitiligo, that I wasn't going to be cured and that I had to live with a highly visible condition.
I honestly thought that my life was over and that I would not be able to continue my career as a flight attendant because of my skin. I was emotionally distraught. I was angry and frustrated that my body was betraying me and that there was no way of fixing it.
Did you notice any immediate changes when you were diagnosed and did it affect your confidence?
Yes, most definitely. My confidence and self esteem went completely haywire. I have always suffered with low self-esteem and this was just the 'cherry on top' to run that right into the ground. For years, I hated showing my hands and always tried to hide them as much as possible. When patches of vitiligo started to appear on my face and neck, it was even more daunting. I was in an absolute state for many years. My family supported me by encouraging me to speak about how my skin made me feel, but this made things worse and would often leave me feeling angry. I struggled to accept this was my fate, especially as I believed it would severely impact my career in the airline industry. I didn't want to people to start judging me because I was different.
On reflection, the only person that was creating a problem was me. I was the one shying away from people and magnifying what this would mean for me long term. Friends, family and those I was closest to, still saw me as the person I was before vitiligo but I naturally assumed their opinions of me had changed.
You work in an industry where there is a great deal of emphasis placed on appearance and looking 'perfect'. Did that concern you?
I was really concerned that having vitiligo would end my career aspirations. Had I had a job that didn't involve close contact and dealing with the public on a daily basis, then I might not have been so phased about the diagnosis. I was honestly concerned that I would lose my job as well as the ability to do what I do because of my skin. When something like vitiligo suddenly becomes a threat and a potential barrier to life's choices, it can cause extreme amounts of stress and anxiety, which is exactly what it did for me.
I have heard other stories within my industry from people who have not been able to continue in their job because of their indifference, whether it be medical or a visible difference. It caused me many sleepless nights and made me feel inferior amongst my peers. Despite what I had been through, I was diagnosed during a period of change where skin conditions and visible differences were being celebrated with a view of being normalised. Seeing models with vitiligo and other skin conditions did bring me a small amount of comfort.
I recall one a particular memory that sticks out for me. I went for an interview at a company where I was open about having vitiligo. Subsequently, a few weeks later I was told I didn't get the job which I felt was down to me disclosing that I had the condition. Nevertheless, I now work for a great company that is accepting of everyone, regardless of a visible difference, as long as it does not inhibit you from completing your daily tasks. The interview experience made me realise that I shouldn't let anything deter me from aiming high and achieving and that the world is so much more accepting than what I thought it would be, which i'm so thankful for.
How did your colleagues respond to your skin?
Because of how my diagnosis had made me feel, I assumed others would view it negatively as well. I was terrified that I would be seen as an outcast or 'shunned' within my working environment and by my colleagues. I went through a phase when my vitiligo spread to my face and neck (I was working in Africa at the time and my skin became very tanned so the vitiligo became much more noticeable) and my colleagues would comment that my skin looked darker, which made me want to hide away. Despite this, my colleagues weren't phased by my skin and were very supportive. As I became more comfortable, the comments became easier to manage but there were still many moments when it made me feel very alone.
What has been the hardest thing about having vitiligo?
The hardest thing was the conflicting thoughts that ran through my mind and how unfairly I started to treat myself. I was so depressed and anxious. I look back now and think "Why were you so hard on yourself for something that you couldn't control and was part of who you are'? I also think about the times when I would withdraw myself from people who cared about me and accepted me for who I was. It really can be a struggle when something is forced upon you so suddenly, that you have no control over.
Also, watching my mother go through it with me was hard. She was so worried about it spreading, if I would be rejected by others and the impact it could have on my life. She constantly sent me information on treatments and cures that she had researched on the Internet or by talking to other people. My family and friends have been my rock and have been so supportive. My friends and I spoke about it once and I told them how it made me feel and that it wasn't something I wanted to discuss unless I raised it with them. They completely understood, however, most people weren't privy to the internal struggle that I was faced with daily and so it was difficult for them to ascertain just how much damage my skin had caused to me personally.
How do you feel about vitiligo now?
Things changed for the better when I met and started working with a new colleague. On the second day that we were working together she suddenly grabbed my hand and said "This! I absolutely love this! I wish I had it, it makes you so unique and I love that you stand out from the crowd!" She was obviously referring to my vitiligo and in that moment I thought to myself 'well, if someone who does not have vitiligo loves it and can see it as a positive then why can't I?' And from that moment on, I started to fall in love with my 'spots'. It was then that I decided that I needed to take charge and embrace my differences to create a better life for myself.
Now, I cannot think of a life without my vitiligo. It is part of everything that I am and stand for. I now have a voice and the confidence to speak out and I believe in myself as a true ambassador. I decided to volunteer for The Vitiligo Society so that I can help other people who have experienced what I have. I am truly passionate about vitiligo and it fills me with pride to know that I too, can spread the word. I find myself wanting people to ask about my skin so that I can raise awareness and inform others about what it is. Even now, all those years on, i'm still thankful to that one person who made the comment and which effectively changed my life. You will be pleased to know that we are really good friends to this day.
What tips would you give to someone who has been recently diagnosed?
It is really hard to take this into account but, for all those dreadful feelings that you might be feeling, try not to let them impact your life in a negative way. My first suggestion would be to open up to those closest to you who you can trust will listen and support you. The more you talk the better you will feel in the long run. Do not let vitiligo stop you from living your day-to-day life and instead try to embrace it like so many others are doing so across the globe. Those around you do not see you as any different; they simply see you as the wonderful person that you are….with or without vitiligo.
My final message; be true to yourself and do not change for something that makes you unique and strong. Flaunt it and be proud!