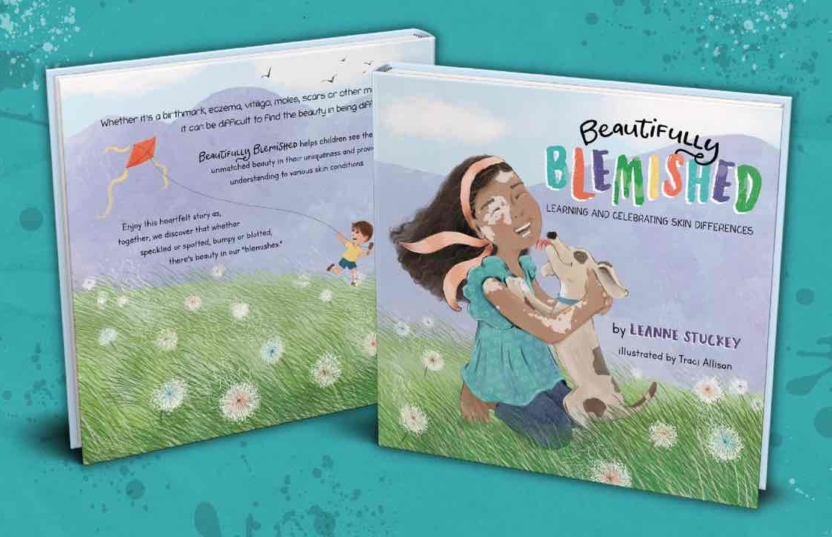 "I Want Children to Feel Inspired, Empowered and Appreciative of the differences they have".
In recent years there has been a positive influx of authors publishing children's books that feature characters with visible differences, which has been wholly welcomed by the community. One of those authors is Leanne Stuckey whose new book, Beautifully Blemished, was written with a desire for children to see value in their uniqueness.
Leanne, who has a facial birthmark, says "I was inspired to write a children's book with diverse characters and diverse skin differences because having grown up with a visible skin difference myself, I understand the feelings of insecurity and self-consciousness it can place upon us. With my book, Beautifully Blemished, the goal is to empower young boys & girls, whilst spreading awareness and helping to shift society's narrative of what beauty is and what it looks like". As a society, this is something we strongly want to see happen, as self-consciousness and feeling insecure is very prevalent in the lives of many of those with Vitiligo.
Historically, there was once a huge gap in the market for stories of this type with many children's books being designed based on a very narrow view of what society really looks like. Leanne is helping to change this. She continues, "It was important for me to showcase other skin differences apart from my own in this book. I realised, this reality is true for not only those with birthmarks, but also other visible markings and skin conditions like vitiligo, eczema, psoriasis, rosacea, keloids, burns and other scarring. I wanted to create a book that shined a bright light on these various differences and the emotions behind those who possess them, whilst also bringing a sense of normalcy to the topic".
As someone with vitiligo who wasn't exposed to books of this type growing up, I can honestly say, stories like Beautifully Blemished are welcomed and appreciated. I've been fortunate enough to have seen a copy of the book and the images perfectly depict a society that is diverse in such a beautiful way for children to understand. Leanne continues, "This book is a lyrical picture book, which uses poetic language to tell the story. It's written from the perspective of the skin-different child (in a general sense) and takes the reader on a social-emotional journey through their internal dialogue. It goes from questioning to self-awareness to self-acceptance to self-love to self-confidence to empowerment". She continues "The children in this book have fun, strong and courageous personalities that shed a positive light on adolescents who possess these differences. Throughout the book, blemishes are compared to breath-taking elements we see in nature and encourages the reader to find the beauty in being different".
As I flick back through the story, I am in awe of the colours and boldness of the images, which are the main focus. I also love the sense of imagination and comparisons the kids make to their visible difference, for example one of the characters refers to her long wide scar as being like a 'marvellous mountain range'. This really does help children to understand and think outside the box.
As someone with Nevus of Ota, Leanne understands what it feels like to be stared at and feel excluded. It's the reason why she wanted to give children a voice and a chance to love and appreciate their differences. Leanne continues "We live in a world that is both directly and indirectly conditioning us daily to believe that flawlessness, blemish-free, perfection is the standard of beauty. And I think the best place to begin to help shift that narrative is in the hearts and minds of young children. It was very important that I create characters who loved and appreciated their differences so that boys and girls could see images of visibly skin-different characters accepting and embracing their uniqueness".
So, what is it like living with Nevus of Ota, a condition where hyperpigmentation occurs around the eye and the skin is noticeably darker than other areas on the body. We had to ask the question. Leanne says "I'm thankful to have had a great childhood with parents who loved me and made sure I knew that I was beautiful exactly the way God made me— but that didn't stop others from having their own opinions. It wasn't uncommon for my mom to be continually confronted with questions about what happened to her child or receive stares and comments that insinuated their belief that I was abused". Hearing this, I know this is commonplace for many parents who have children with vitiligo; the stares, the questions and assumptions others make about what is 'wrong' with our skin. She continues, "As I got older, I would continue to get stares and was asked direct questions like, "Oh my, Is that a black eye?"…"Are you okay!?"…"How'd you get that shiner?"…"So, how does the other guy look (with an awkward & sarcastic chuckle to follow)?" I quickly grew tired of the unwelcomed stares and unsolicited comments. I was teased here-and-there by my peers in grade school, but as the appearance of my birthmark was normalized to those I went to school with, over time, it didn't last long".
Thankfully, how Leanne views her skin now is completely different to how she did as a child and she commends being part of an incredible community who are learning to celebrate their skin. She says "The journey to true acceptance of my skin-difference and even getting to the point where I'm excited to show it, has been just that — a journey. I remember a very pivotal point for me being when I had the opportunity to get my birthmark removed and I chose not to because I realized that being without it would remove a large part of what made me, me! It was at that point that I realized I would never remove this element of myself that made me unique in such a special way. Being a part of the visibly skin different community, as a whole, has really helped me a lot on this journey".
As with many of the books in the market that celebrate our community, Leanne's ultimate aim is for all children to learn the characteristics of various skin conditions and what they look like. "I want to help educate and normalize visible skin differences. I hope each child who reads (or has read to them) this book, arrives at the end with an understanding that they were each uniquely created with beautiful intention. And that the differences showcased outwardly on our skin makes us one-of-a-kind and valuable beyond measure. Most importantly, I hope that with the last turn of the page, children are left feeling inspired, empowered and appreciative of the differences they possess".
Hard copies of Beautifully Blemished, can be purchased at LeanneStuckey.com and paperback copies can be purchased from Amazon.