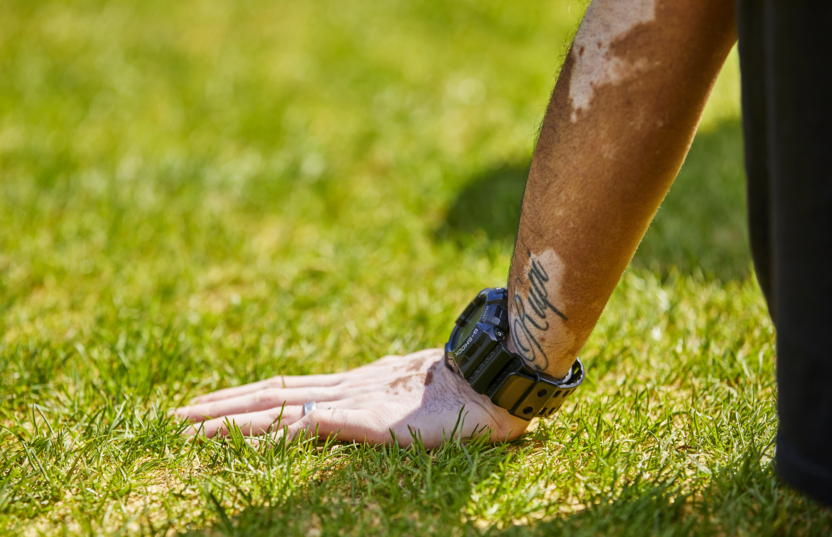 If you are reading this, it probably means that you are seriously thinking of having a tattoo. There are always risks for anyone having a tattoo but if you have vitiligo there are a lot more things to consider.
I'm sure there are many reasons why you have considered having a tattoo. For many people tattoos are a way to commemorate something important in life, whilst for others they are an artistic statement or a way to express individuality. In recent years, many people have explored semi-permanent makeup which is applied through tattooing or microblading procedures. For people with vitiligo and other skin conditions, tattoos may also offer a way to cover up the skin or distract the eye away from the condition. Of course, there are also many people who simply just love tattoos!
Many questions have been raised by those with vitiligo around the safety of tattooing, with many people concerned as to whether a tattoo on the skin would aggravate vitiligo and cause more patches to appear.
For that reason, some people have decided against tattooing because of uncertainty. However, for some, they have decided to go ahead anyway. Alma Halliwell, who developed vitiligo when she was 21, was one of those who decided to go ahead. She shared this with us;
Since having the idea that I wanted to cover my spots with tattoos, I wanted to make sure I carried out my own research, so that I felt reassured if I decided to go ahead. I saw many photos of others who'd had tattoos and you could see that the ink had faded slightly because of the pigment loss which I discovered can be accelerated by tattooing. It doesn't always happen but it's a possibility.

Although there aren't any spots around my first tattoo, finding the information that I did, made me feel very discouraged, so I was reluctant to get another one. I was thinking about it alot, especially as I find tattoos so artistic and a great way to express yourself.

After some thought and realising that I will never get my pigment back and that spots would appear regardless of anything I was doing, I decided to get my second tattoo and so far, it hasn't impacted my vitiligo.

I didn't ask my dermatologist for any advice because I had already stopped undergoing treatment for vitiligo. I'm not sure if having a tattoo will encourage pigment loss in the space where the tattoo is, but whatever happens, I would consider more tattoos for sure.
Are you considering a tattoo? Do you have questions around whether it's safe to do so? Before you go dashing off to the nearest tattooist, here are our top 5 things to consider:
1) Make sure that you are aware of the stability of your vitiligo, which type you have and how long you have lived with it.
2) Some tattooists recommend that anyone diagnosed with vitiligo should wait for a period of 7 years with no active or new patches before having a tattoo. There is a risk that if the condition is not stable the trauma from the needle could cause new patches to form, something known as the koebner phenomenon.
3) Most tattooists advise against tattooing an area that has lost its pigmentation especially when trying to match skin tone. Not only is matching skin tone difficult but the colour of your skin changes with the seasons, sun exposure and age. Also vitiligo patches can get larger which would leave a distinctive area between the tattoo and the skin it was matched to.
4) Have a think about the size and shade of the tattoo – will you still like the tattoo if your skin becomes lighter due to a new patch forming?
5) Lastly, and probably the most important of all, make sure to consult your doctor before making any final decisions.
I hope this has been of some help to you and, whatever you decide, just make sure you do as much research as you can first.
By Guest Author Jane Hurrell