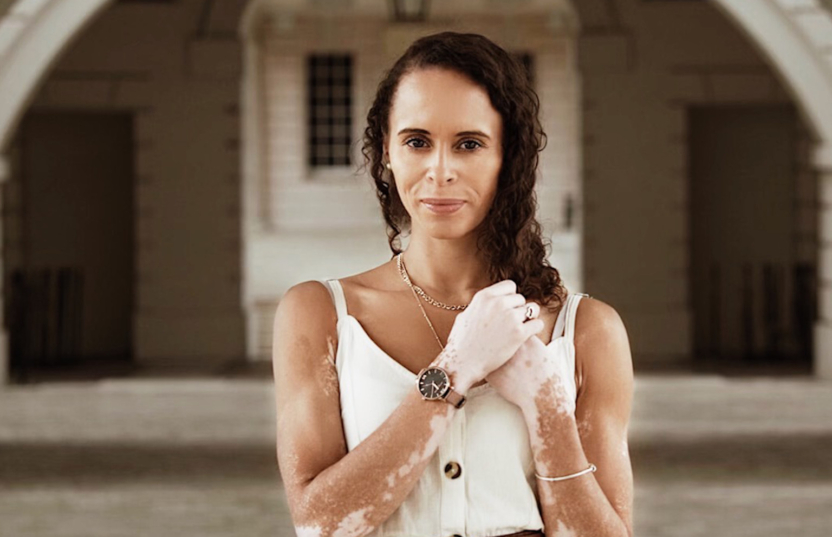 Meet Natalie Ambersley, the vitiligo trustee who got vitiligo at three years old
Most people living with vitiligo remember getting their first spot – and life before it. That wasn't the case for Natalie Ambersley, a Vitiligo Society trustee and the organization's social media community lead. Natalie got vitiligo on her arms and legs at just three years old – and doesn't remember life before the condition.
After her diagnosis, her parents pursued treatment for vitiligo, starting with topical steroid creams and eventually moving on to various tablets and new trials.
"The hospital felt like my second school," said Natalie, who is from East London. "I would go so often for new creams and so my mum could be informed about new treatments."
When nothing worked, her family decided to stop treatments. Natalie was 13 years old and was just beginning to struggle emotionally with the condition.
"It was as a teen that I realized I wasn't 'normal,'" said Natalie, who started noticing the differences between herself and her friends. "Flicking through magazines was hard because I never saw anyone that represented me."
The older she got, the more uncomfortable she felt in her skin. In her twenties, Natalie struggled with the frequent stares and occasionally intrusive questions from strangers. She started experimenting with various foundations to cover the patches and eventually found a fake tanning product that she wore daily to hide the condition.
"I constantly felt self-conscious," said Natalie, who would avoid wearing shorts and going swimming in the summer because of her fear of being judged. "It severely impacted my confidence and self-esteem."
In her early 30's, Natalie decided to try treating her vitiligo again. She had lost 70% of her skin's pigment and was eager to stop the progression – and get some of her pigment back. After 12 months and 102 sessions of UVB narrowband phototherapy, her vitiligo re-pigmented significantly. Around the same time, Natalie started connecting with the vitiligo community online. Her confidence soared.
"Before social media even existed, I thought I was the only one that had vitiligo," said Natalie, who credits he online support network as being fundamental to her acceptance of vitiligo. "Seeing so many others embrace their skin has really helped me look at my own in a much more positive light."
Then in 2013, Natalie spoke on London Live, a national UK news program, about her vitiligo. The response from family and friends was overwhelming and it inspired her to continue sharing her story. Since then, Natalie has appeared in campaigns with Dove and Vita Liberata and been featured in magazines including Cosmopolitan, Stylist and The Daily Mail. She's also spoken on BBC Women's Hour, a radio show in the UK, and appeared on the Victoria Derbyshire Show as part of her work with Changing Faces.
"Sharing my story has helped me to stop shying away from who I am," said Natalie, who also has a blog and Instagram page called 'Being Just Us' where she writes about life with vitiligo. "It's okay to be different. I want others to know that."

Today, the East London resident works as an executive assistant for a global telecoms company and enjoys writing, traveling and yoga. She also remains incredibly active in the vitiligo community, supporting social media and VitLife content at the Vitiligo Society and running her own blog about vitiligo, Being Just Us.
"I'm the most comfortable I've ever been with vitiligo," said Natalie, who still has vitiligo on her legs, feet, arms and hands. "I've learned to accept myself for who I am."
Follow her journey on Instagram @being_just_us